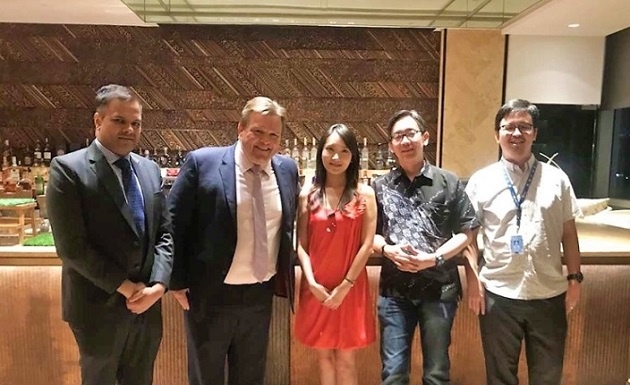 OAG's real-time-schedules solution is critical to meet rapidly expanding demand for online travel booking boom
Singapore, 24 October 2018 – tiket.com, Indonesia's fastest-growing online travel agency (OTA) has partnered with OAG, the leading global provider of digital flight information, to differentiate its flight selection offerings and bring greater value to its customers by using OAG's real-time schedules solution- Dynamic Schedules. As part of the deal, tiket.com will also consolidate to deliver better quality day-of-travel information to its customers.
Delivering real-time updates 24/7, tiket.com will integrate OAG's solution to offer more choice and accuracy to its customers. The partnership is a part of its wider ongoing business transformation programme undertaken by tiket.com to enable it to deliver a seamless booking experience for its users through extensive air and travel product offerings.
Phil Callow, CEO of OAG, said: "Indonesia is one of the world's fastest growing air markets and we are delighted to work with the team at tiket.com to accelerate their ambitious growth plans. Demand for real-time schedules information is thriving and being at the forefront of this market means we can help market leaders transform and delight their customers".
Online travel booking is expanding fast in Indonesia as demand for air passenger travel continues to diversify. Indonesia is the 6th largest air market in the world in terms of seat capacity and the 3rd fastest growing market over the last three years. With 286 new routes operating to Indonesia this summer season compared to last year (OAG Analyser), current growth rates indicate Indonesia will overtake the United Kingdom to become the 5th largest air market during 2019.
The country expects to welcome a record 17 million international arrivals this year, a figure that is targeted to reach 20 million by 2019, a goal set by the Indonesia government.
George Hendrata, CEO of tiket.com said "We are very enthusiastic about partnership with OAG as it helps us to expand further into regional and international markets. We are confident that with this partnership, tiket.com will reach broader markets and deliver enhanced value for our customers."
-ENDS-
About tiket.com
tiket.com is an online travel agent pioneer that stood since August 2011. tiket.com became the top agent in all Indonesian airlines, and occupies the number 1 online partner for PT Kereta Api Indonesia. The products that tiket.com offers to customers are related to travel and entertainment, namely airline tickets, hotel reservations, train tickets, entertainment tickets (Event & Attractions) and car rental reservations. For every transaction at tiket.com, users get a Tix Point that can be used to enjoy a discount from airline tickets, hotel reservations, train tickets and car rental in the next transaction. Transactions with tiket.com can also be repaid with periods ranging from 3, 6 and 12 months.
About OAG
We are the leading provider of digital flight information and our customers span the entire global travel ecosystem from airlines, airports, government agencies and aircraft manufacturers to travel technology leaders and service providers.
At the forefront of the travel market for years, we have the world's largest network of air travel data including the definitive schedules database of more than 980 airlines and the most extensive flight status information database in the market, tracking 96% of commercial flights.
We help our customers solve strategic, commercial and operational problems through a wide variety of solutions, from data APIs and dynamic multi-frequency data feeds to the delivery of high-value business insight through our analytics platform.
Today, OAG's customer network includes the world's largest airlines and airports, online travel agents (OTAs), the largest booking engines in Europe and the top travel, technology and e-commerce leaders across China, India, Indonesia, Latin America and North America.
Headquartered in the UK, OAG has global operations in the USA, Singapore, Japan, Lithuania and China.
For more information, visit: www.oag.com and follow us on Twitter, Facebook or LinkedIn.
For further press information:
Esther Molina
ETM Marcom
T : +86 136 7179 3896 / E : esthertsj@outlook.com