Birmingham Airport once again takes a top spot for on-time performance and London Heathrow shows strong on-time performance in new 'Mega' airport category
Luton, 03 January 2018: British Airways and easyJet rank in the top 20 for annual on-time performance (OTP) of the world's largest airlines, according to the results of the OAG Punctuality League 2018 – the industry's most comprehensive annual ranking of OTP for the world's airlines and airports.
The report from OAG, the global leader in flight information, ranks the two UK-based airlines at 10th and 15th respectively amongst the world's largest carriers: BA with 79 per cent and easyJet with 75 percent of flights both departing and arriving on time. The 2018 report also places easyJet in the top 20 low-cost carriers (LCCs) for punctuality, while Europe-based airBaltic took the top spot as the most punctual airline in the world, with over 90 per cent OTP.
John Grant, Senior Analyst at OAG, said: "BA and easyJet are certainly holding their own amongst their global counterparts. In a highly competitive environment, it's great to see the UK-based airlines reporting an impressive OTP."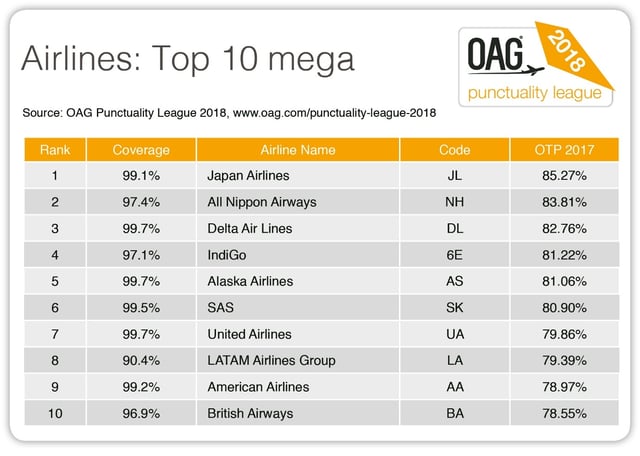 Moving from airlines to airports and further highlighting the UK's strength, Birmingham Airport ranked first in the Medium airports category for the second year, with an OTP of 90 per cent. In addition, Liverpool ranked 7th in the Small airport category, charting 86 per cent OTP. London's busiest airport, Heathrow, ranked 10th worldwide in the new Mega category, showcasing airports with 30 million or more departing seats. Heathrow ranked 6th amongst UK airports, with an OTP of 75 per cent.
Grant commented: "The success of Birmingham and Liverpool, is an example of how the UK's regional airports have created world-class facilities and networks that both connect their regional communities to the world, and provide valuable economic growth. As one of the busiest airports in the world and one of only a few of their peers to improve OTP versus a year ago, Heathrow's appearance in the top 10 for punctuality demonstrates the airport's commitment to continuing to provide a timely service to passengers."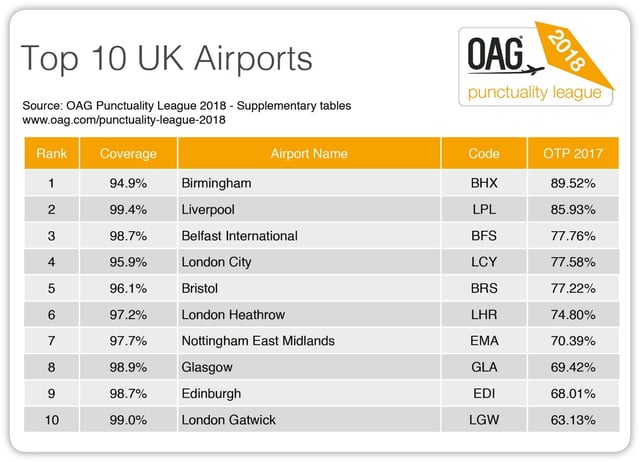 Finally, this year's report sees the introduction of the top 20 busiest international routes and explores the punctuality of the airlines that operate those routes. London Heathrow is included in four routes and resident carrier BA records an average OTP of 75 per cent across the following key routes – Dublin to London Heathrow, London Heathrow to New York JFK, Amsterdam Schiphol to London Heathrow and Frankfurt to London Heathrow. Despite the good OTP, other carriers are more punctual on these routes, with London Heathrow only taking the top spot on the Frankfurt route.
"Routes such as Heathrow to JFK are very competitive," says Grant. "Although transatlantic, the in-air travel time and the number of carriers operating flights for this route means that BA needs to replicate success with other routes to increase OTP from its hub both to and from this popular destination."
The OAG Punctuality League 2018 is based on approximately 57 million flight records using full-year data from 2017.
-ENDS-
View the full results from the OAG Punctuality League 2018 and download a copy of the full report.
Notes to editors:
The 2018 OAG Punctuality League is based on approximately 57 million flight records using full-year data from 2017 to create the best performers in an expanded range of categories. To qualify for inclusion in the OAG Punctuality League, the OAG Schedules database must have received at least 80% of all scheduled flights to and from an airline or airport.
Airlines
OAG's sample is based upon the 'sum' of arriving flights within 15 minutes of scheduled time as supplied to OAG and included in its database. This includes cancelled services.
OAG applies a minimum coverage of 80% to qualify for inclusion in the Punctuality League; 'coverage' being defined as the percentage of scheduled flights for which OAG has on-time performance records.
Low-cost carriers are as per the classifications in the OAG schedules database.
For all mainline, low-cost and mega categories, airlines must be ranked among the Top 250 operators globally, in terms of Available Seat Kilometres (ASKs) and have operated more than 30,000 scheduled flights.
The regional airline categories are defined by carriers operating from the IATA geographical region of their registered base and must have operated a minimum of 18,000 scheduled flights to qualify for inclusion.
Airports
OAG's sample is based upon the 'sum' of both the departures and arrivals within 15 minutes of schedule. At least 80% of scheduled flights are reported, schedules being defined as what has been provided by airlines to the OAG database.
Small Airports (2.5 – 5 million departing scheduled seats per annum)
Medium Airports (5 – 10 million departing scheduled seats per annum)
Large Airports (10 – 20 million departing scheduled seats per annum)
Major Airports (20 –30 million departing scheduled seats per annum)
Mega Airports (greater than 30 million departing scheduled seats per annum)
Routes
OAG has published OTP for the Top 20 busiest international and domestic routes. The Top 20 are based on the largest global routes by total number of flights (arriving and departing) for domestic and international routes.
About OAG
OAG is the leading global provider of digital flight information and provides accurate, timely and actionable information and applications across the travel sector to the world's airlines, airports, government agencies, aircraft manufacturers, consultancies and travel related companies.
OAG has the world's largest network of air travel data, including the definitive schedules database of more than 900 airlines and over 4,000 airports. With the most extensive flight status information database in the market, OAG handles more than 57 million records of flight status updates per year, processes 1.4 billion requests and continues to deliver more than 54 million dynamic flight status updates daily.
For more information, visit: www.oag.com and follow us on Twitter @OAG Aviation.
For further press information:
Emma Jefferies / Jenny Choules
Berkeley
T: +44 (0)1189 090909 / E: oag@berkeley.global