HOPPER TRANSFORMS THE TRAVELER EXPERIENCE WITH FLIGHT INFO DIRECT
Hopper, a travel tech start-up turned unicorn, is a leading travel app helping users book flights and hotels at the most competitive prices.
With over 70 million downloads it is the 3rd largest online travel agency, and according to Apptopia, it was the #1 most downloaded OTA App in the U.S. in 2021. Hopper uses 8 years of historical data, over 70 trillion data points and proprietary machine learning algorithms to predict future flight and hotel prices with 95% recommendation accuracy.
Hopper's Story
Founded in 2007 and having now raised over $590M, Hopper have taken the OTA market by storm. Adding one million users monthly, and having stronger mobile growth than any other US OTA, they are an exciting player, selling over $1.5 million daily in app.
Hopper's virtual interlining product required access to global airline schedules to understand what flights are out there, which are still operating and any changes, so they can predict what the viable paths are to get a customer from point A to B.
To minimize risk for customers, Hopper required minimum connection time data for their trip construction algorithm. This exposes what the minimum connection times are for specific airports and carriers, which is vital in creating a baseline that ensures Hopper are constructing flights that balance price savings, time savings and flight quality.
Why Hopper Chose OAG
"It's all about the data storage. Access to the data in Snowflake made it easy for us to build a pipeline around. This was a game changer for us compared to other solutions on the market. Additionally, the quality of OAG's account management and customer service has made this a terrific partnership."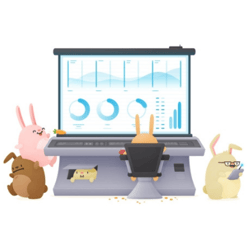 "When considering different vendors, it was OAG's coverage confidence, transparency and uptime that made them stand out, not to mention the support and technical documentation available. It's so important for us to have accurate data that we can always access, which is why we selected OAG."
"Another major selling point for us is the sheer breadth and volume of OAG's data coverage. For example, we now can get a realistic picture of historical flight data information so we can better predict upcoming flights for our customers. We didn't have this insight before working with OAG."
How Hopper use Flight Info Direct
Flight Info Direct provides instant access to the freshest airline schedules data in the cloud across the Snowflake platform. It saves a lot of time because Hopper can construct the information offline and keep updating it without needing significant computation from other data sources.
With Flight Info Direct, Hopper can provide customers with the most accurate real-time booking information so they can make informed purchasing decisions and minimize risks. For flights with likely delays, customers can add Flight Disruption Guarantee for peace of mind.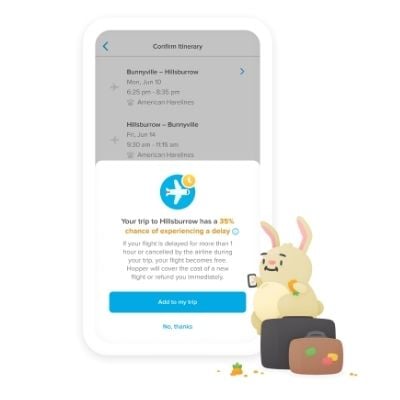 With OAG data, Hopper is able to be completely transparent with customers when they book. If a particular flight has a high chance of being delayed, customers can choose to add Flight Disruption Guarantee for added peace-of-mind. That predictability factor has increased customer booking volumes.
The Results
"It has been amazing working with OAG. The data and value we've gotten out of the partnership has directly impacted our successful development and launch of our virtual interlining product. This is a major milestone for Hopper to offer this type of inventory to our customers.
We're seeing that there is a lot of appetite in the market for this type of solution that adds not only value to our customers but also to airlines. It started out as a beta product, but we are launching this to all users in the next couple of weeks, and we're really excited to have partnered with OAG on it."
"We are designed to get our customers to their final destination, no matter what. Working with OAG has only empowered us to help protect our customers' trips even further."
OAG has the most flexible frequency delivery capability in the market. Its fast and easy to use data solutions and APIs ensure flexible integration and enable technology providers to manage and control their own supply of air travel data – which maximizes efficiency, saves money and creates an unrivalled competitive advantage. OAG's schedules and flight status data solutions have become the number one choice for technology providers, travel management companies and innovators.