Africa's 'Lego' Airline Proves Unbreakable
It is only September, but the challenges of surviving the forthcoming winter season were highlighted over the weekend by the collapse of Philippine Airlines, who filed for bankruptcy. It has been a sad but inevitable outcome for the carrier. The airline has 22 aircrafts of varying ages, sizes, engines, and conditions for sale before they relaunch in early 2022. Good luck to all the staff impacted by this development.
This week also saw South African Airways confirm that they will relaunch on the 23rd of September after a fifteen-month break. The African market isn't short of capacity, but the carrier was always going to return since they are rather like Lego, an unbreakable national toy! Good luck to them this time around, although I remember writing something similar a few years back.
Global capacity continues to hover close to 80 million seats a week, at 78.4 million, a slight reduction on last week's numbers and still more than 30% below the same point two years ago. More positively, capacity for the same week last year was 57.1 million, so this week is 37% up year on year; does that mean that by this time next year we will be back to normal capacity levels? Unfortunately, putting things into perspective, airlines around the globe this week removed 24 million seats from their schedules to the end of the year, some of that is housekeeping, but some is also the commercial reality.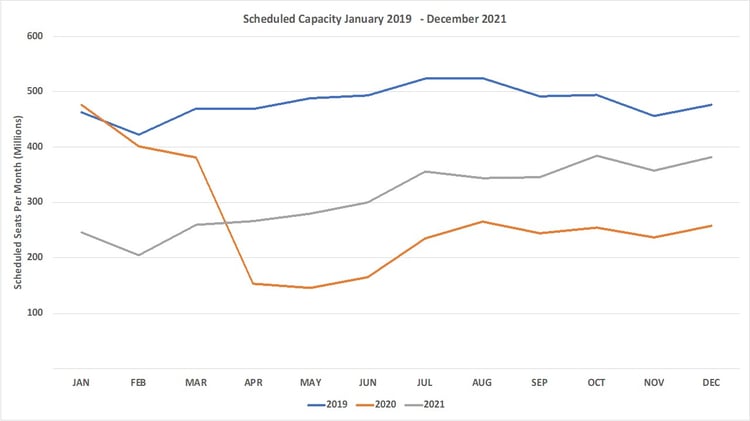 Source: OAG
Three-quarters of the world's global regions report reductions in capacity week on week, with Southwest Pacific dropping another 170,000 seats week on week as lockdowns continue in Australia and New Zealand. More optimistically Qantas have scheduled the return of QF9, their Perth to Heathrow service, from December, just in time for England to bring back the Ashes a few weeks later - we can but dream…
The impact of schools returning in Europe this week is reflected by capacity cuts in many regional leisure markets. Western and Central Europe both report small capacity cuts, whilst the Caribbean has a 9% cut in capacity; the downward trend in those markets is likely to continue through to the end of the summer season. Finally, supporting the point that Southern Africa needs another airline right now, existing operators have cut capacity by over 3% this week; not exactly the indicator of a new airline being required.
Source: OAG
Fourteen of the twenty largest markets saw capacity reductions this week in line with the regional market patterns. China has continually been an outlier in terms of capacity trends through the whole pandemic and this week, capacity has increased by another 6%, with all major carriers adding more seats. You must wonder how many of those will be empty seats, and if those services are both profitable and necessary from an environmental perspective. India's more modest growth reflects the latest bounce back from another round of Covid-19 activity. However, the market remains 20% below the same level two years ago.
Amongst those markets shrinking, Indonesia continues its 'rubber ball' rollercoaster of capacity with another 13% reduction this week. I think we can confidently expect that to bounce back in the next few weeks, then probably drop back again. Capacity cuts in Greece reflect the holiday season closing after what must have been a busy season. Similar trends are seen in Italy, Spain and Turkey.

Finally, on the good news front - Canada welcome back to the world!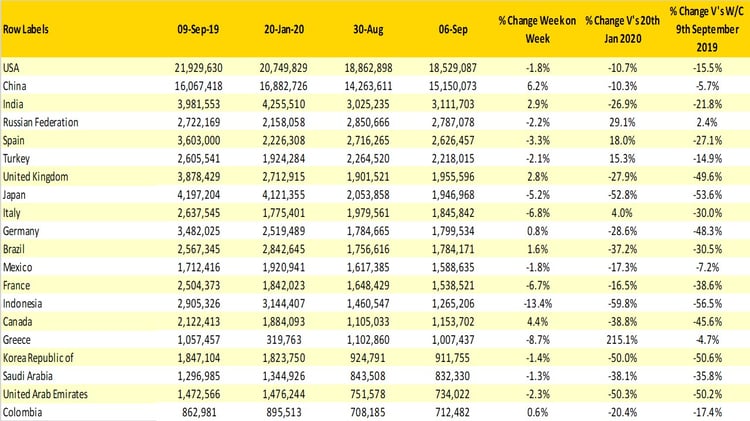 Source: OAG
Last week Ryanair announced their latest earnings and projections for the rest of the year, which, as you would expect from Michael O'Leary, were confident of an improvement. However, they did acknowledge yields would be soft and demand 15-20% down on normal seasonal performance. Given that context it's no surprise that whilst EasyJet have cut capacity by 9% this week and Wizzair by 3%, Ryanair's capacity has remained static; they must have a clearer crystal ball than their rivals.
Similarly in the US, both Delta Air Lines and Southwest have cut capacity by over 4% this week, whilst American and United are broadly flat on seats available. JetBlue and Spirit have also cut capacity week on week- in total there are around 333,000 fewer seats on offer across the United States. This is despite the Labor Day holiday, when you would normally expect to see capacity at least remain constant. Airline CEOs in the US are hoping that the latest Delta variant has peaked; let's hope so too.
Source: OAG
The madness, or indeed excitement, of the aviation industry is captured in this week's data and surrounding stories. An airline failure, a legacy carrier relaunching, rumours of a major airline starting a new carrier in the UK, sharp insight from Ireland's favourite horse race owner and a Caribbean Island seeking services to an airport from which international flights are limited to Canada. The crazy but addictive world of aviation.
Stay safe everyone.
---
Read next:
Is there a Link Between Vaccination Rates and Opening Up International Air Travel?
Fresh Mint from JetBlue: Expect Disruption to Transatlantic Flying
Following the Paper Trail to Ticketless Travel