If last week was busy with IATA Slot, the Dubai Air Show and new aircraft orders, then this week is as flat as a pancake! Either nothing is happening, or everyone is taking a deserved break after the frantic activity of last week. In truth, it may just be this time of the year - pre-Thanksgiving, Winter ski season yet to start, and everyone saving their holidays for Xmas… we need the corporate traveller to return, any sightings anywhere?
This week's headline airline capacity number is 76.5 million which is less than one-tenth of a percentage point more than last week which is nothing in the grand scheme of things and keeps us at -28% against both the same week in 2019 and at the start of the pandemic. The good news in that headline number is that despite the latest outbreak of Covid-19 in Central Europe it has yet to impact capacity and in truth, unless there is a total lockdown somewhere that should be the case. Relief all round for those double vaccinated.
Market confidence does however remain fragile as a forward look at the next few months' capacity data highlights; from November through to the end of February 2022 some 9.2 million seats were removed in the last week. Some three million of those seats were removed for the last ten days of November with "only" 1.7 million removed for December that appears to be the "stickiest" month for capacity, good news for all those who have already booked their holiday travel. It is also important to put those 9.2 million seats into a broader context, it is under 1% of capacity being adjusted on a weekly basis for the rolling four-month period; that is a stable situation compared to the early half of the year.
Chart 1 - Weekly Capacity Changes by Region, Forward Quarter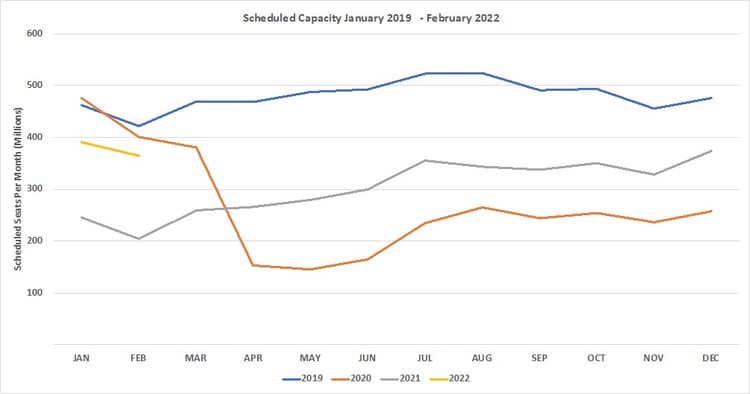 Source: OAG
The market stability is reflected in no global region seeing weekly capacity move up or down by more than 4% this week; that has not been the case for quite some time. The largest regional growth, at least in percentage terms is the Caribbean at 3.5% or 24,000 seats followed by the Southwest Pacific at 3.1% although that is only some 32,000 more seats, neither region really impacting the global numbers at the moment.
Across North America this week there will be some 4,200 fewer flights than last week as the holiday season begins. Whilst at headline level that may appear odd, in 2019 there were 30,200 flights the day before Thanksgiving and 19,500 on the day itself: a one-third reduction in scheduled services. This year, there will be 25,500 scheduled flights on Wednesday and then 17,000 on Thursday a similar proportional reduction in flights operating so we are at least seeing similar patterns of capacity planning.
---
Recommended:
---
Despite many regional markets in China remaining restricted, there is some capacity returning to the domestic market which in turn explains the 2.5% increase in capacity across the North East Asia region. In the medium term, the outlook for any further capacity improvement in this region is limited; the position of China is well known but what is perhaps not as well understood is that Japan continues to remain a very restricted market for international capacity with current capacity at 161,000 weekly seats; that may sound a lot but is only 13% of pre-Covid levels. Of course, much of Japan's international capacity is to and from China which again highlights the ripple effect of China's stance on other markets around the world.
Table 1 – Scheduled Airline Capacity by Region

Source: OAG
Saudi Arabia is the fastest growing country amongst the top twenty this week with a near 5% increase week on week and is inching ever closer to the one million seats a week mark, could next week be the breakthrough? New services have been launched by Fly Dubai to Al Ula marking the first international service to what will be a major tourism destination in the future. And of course, it is only a matter of time before scheduled flights from Saudi Arabia to Newcastle are launched for weekend breaks to the City to watch the locally owned team compete in the Championship.
Colombia is now the closest market to its pre-Covid capacity levels, just 2% or just 17,000 seats below capacity operated in the week of the 20th January 2020 but positively slightly ahead of the same weeks capacity two years ago. The domestic market in Colombia has always been strong with limited alternate means of travel between major cities and with more low-cost services being launched capacity is up by over 7% compared to November 2019.
Table 2 - Scheduled Capacity, Top 20 Country Markets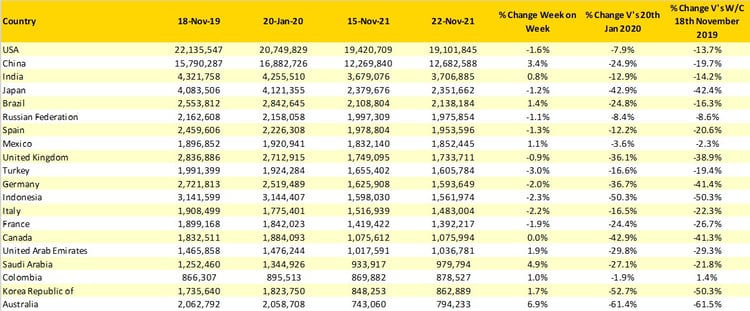 Source: OAG
The week-on-week airline capacity cuts across the major legacy US carriers appears to be purely a function of everyone having a rest day on Thursday; it must be a historic thing since the major low-cost carriers in the US all have increases on capacity week on week. Journalists will be watching the dispatch reliability of all the major airlines in the US this week as resources become stretched, a spate of operational cancellations would create all the wrong headlines for any carrier at this time of year although of course make for a great family film at some time.
China Southern are leading the capacity recovery amongst the domiciled Chinese carriers with a 9% increase on weekly seats which accounts for over 40% of the country's capacity increase this week. The airline now ranks sixth in the top twenty global carriers although remains some distance away from joining the top five with Ryanair the first overseas carrier to break up the US dominance of the listing.
Table 3 – Top 20 Scheduled Airlines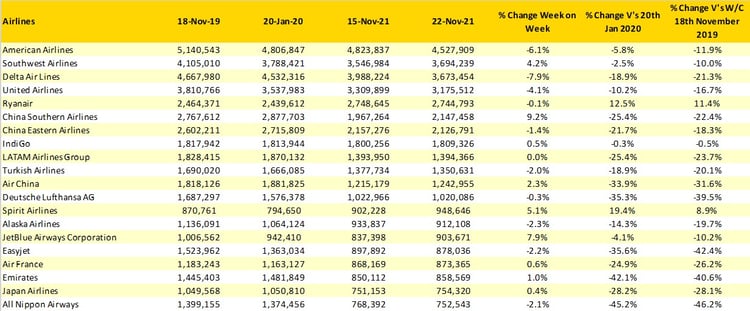 Source: OAG
The current pattern of capacity adjustments is likely to remain with us at least for the next few weeks, so for anyone holding their breath for something dramatic to change, take a very very deep breath! These next few weeks have historically been amongst the slowest of the year, and if we are now following a similar pattern in some ways that is a positive development - normality is returning to the market. It would of course be better if that normality was back at pre pandemic levels, but that will come with time, or some very recent aircraft orders will look like bad calls in coming months.
For those planning on taking a holiday break this week then enjoy and don't splash all the cash on Black Friday.
Stay Safe Everyone!