It's a summer of love for Greece as the masses head back to the one European country that combines sun, sea and sand with a consistent message that its borders are open to tourists. While across Europe scheduled airline capacity lingers at around 31% below where it was two years ago, Greece has bucked the trend with capacity for August 2021 now on a par with a typical pre-pandemic August.
Competitor summer sun destinations are faring more in line with the European average with Spain capacity still 25% below 2019, France 31% below, Italy 25% below while the United Kingdom remains a disappointing 55% below August 2019 levels of capacity.
Chart 1 – Airline Capacity to Greece by Month: 2018-2021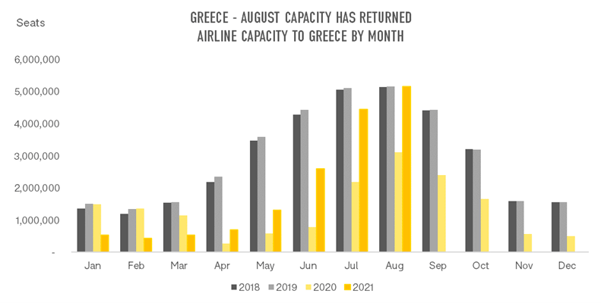 Source: OAG Analyser
In the past just under a third (31%) of capacity to Greek airports was domestic, with the remaining 69% international. This year has seen a steady improvement in both but it has been international airline capacity that has witnessed a sudden improvement in the past few months, taking August 2021 levels to 2.3% over August 2019, and just shy of 4 million seats.
Chart 2 - Capacity to Greece by Month 2021 v 2019
Source: OAG Analyser
The UK, formerly the largest market in terms of airline capacity to Greece, now ranks second, behind Germany. This August will see almost 800,000 seats from Germany to Greece, a 25% increase on two years ago, and making Germany by far the most important origin market for Greece.
Chart 3 - Source Markets by Capacity to Greece - August 2019 v August 2021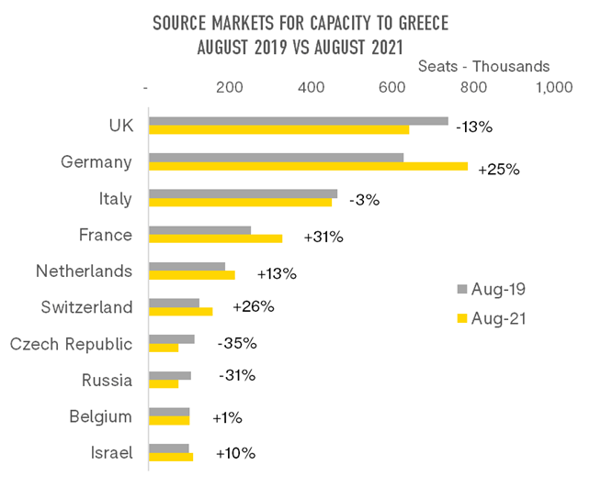 Source: OAG Analyser
France too is anticipating scheduled capacity to Greece this August to be 31% higher than in 2019 and Switzerland is expecting a similar increase in air services as Europeans look for holidays within Europe. Long haul holidays still come with too many hurdles in terms of travel restrictions and are accompanied by too much uncertainty for many travellers.
Greece jumped ahead of its neighbours in restarting tourism. This wasn't surprising; travel and tourism accounted for over 20% of the country's GDP, according to the economic impact assessment by the World Travel & Tourism Council. This makes the tourism industry much more important to Greece than, say, Spain where it accounted for 14.1% of GDP in 2019, or Italy where it made up 13.1% of the economy. Greece made it clear that vaccinated visitors were welcome and provided quarantine-free entry, while also laying out expectations about the social distancing measures that would be required of visitors. To date, 55% of the Greek population has been vaccinated too, and the current third wave of covid cases does not appear to be accompanied by a third wave of deaths, so far.
As with so much of the past 18 months, only time will tell whether the decision to open early will bring the benefits Greece is hoping for, but for now it looks like airlines have responded positively and soon we'll know if air travellers have fallen in love with Greece all over again.