This is the fifth article in our series decoding the fundamental technology transition underway in the airline industry. Today's post explores the shift in airline inventory from traditional code-sharing and network agreements to Virtual Interlining. This transition is arguably one of the most intriguing tech trends reshaping the aviation sector.
In this article, we will dive into a transformative shift within the airline industry that is set to have far-reaching impacts not only on airlines but also on travelers: the move from traditional code-sharing and network agreements to Virtual Interlining.
This transformation is reshaping the boundaries of the airline industry and redefining how airlines manage and monetize their inventories. Importantly, it also massively expands the range of options available to travelers.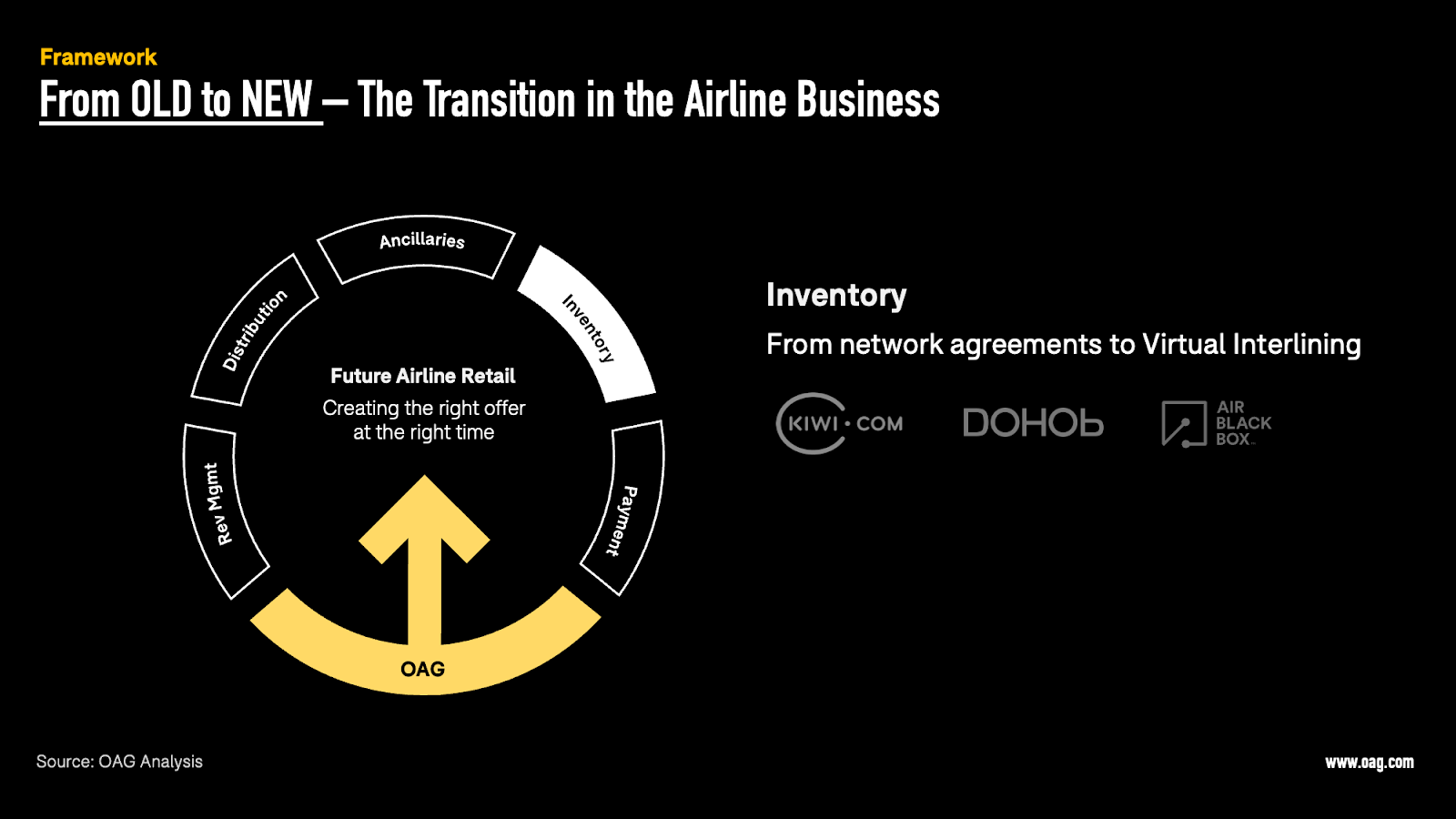 Our exploration will navigate through three main areas:
This transformation represents both a challenge and an opportunity for airline managers, necessitating a careful strategy formulation. The reactions to the Virtual Interlining movement have varied significantly among airlines over the past ten years, with some carriers demonstrating more reluctance than others. As we delve deeper into this trend, we aim to shed light on its potential implications and opportunities for the airline sector.
Unraveling The Layers Of Airline Collaboration
In the complex world of aviation, airlines have established different layers of alliances to maximize operational efficiency, extend networks, and improve the passenger experience. These partnerships evolved in stages, with each layer building upon the one before, from the fundamental interline agreements to more integrated codeshare alliances, and ultimately, the tech-enabled Virtual Interlining.
Interline Agreements: Initiating Global Airline Cooperation
Interline agreements have served as the basic foundation for airline cooperation, with the International Air Transport Association (IATA) introducing the concept as early as 1947.
These agreements kicked off the collaborative nature of the airline industry.
Interlining agreements essentially represent a passenger service agreement for flights between two different airlines. They effectively smooth out the customer experience by including provisions for baggage handling, check-in agreements, and even offering the possibility of re-booking through another airline if a flight is canceled.
Interlining agreements have grown increasingly complex over the past few decades. These have gone on to regulate different aspects of a partnership and entail a number of expenses including GDS distribution fees, IATA agency commissions, e-ticket agreements and charges, and much more.
Codeshare Agreements: Expanding Airline Networks
Building upon the foundational interline agreements, the 1960s saw the advent of codeshare agreements. The inception occurred in the US when Allegheny Airlines (which would later become USAir) agreed to the first codeshare with a commuter airline in 1967.
Following the deregulation of the US domestic market in the 1970s, this practice started gaining popularity.
Codeshare agreements represent a collaborative strategy between carriers to extend their networks. Such agreements allow airlines to market a seat on another airline's flight as if it were their own, thereby broadening their coverage. Although these agreements are common among airline alliances like Star Alliance, OneWorld, or SkyTeam, they are not exclusive to them. Many alliance members also establish codeshares with airlines outside their respective alliances. This strategy enhances the variety of offerings airlines can present to their customers and aids in optimizing the load factor, creating a mutually beneficial situation.
The term codeshare agreement was officially introduced with Qantas and American Airlines in 1989. They jointly offered a hub-and-spoke-style service using their home bases at the airports in Los Angeles, Sydney, and Melbourne. Europe saw a surge in codesharing agreements in the 1990s, driven by EU deregulation. The codeshare system gave airlines access to more routes without having to operate flights to those destinations themselves, thus broadening their reach and enhancing customer offerings.
Virtual Interlining: Breaking Boundaries in Air Travel
In a bold challenge to conventional practices, Virtual Interlining is reinventing the principles of airline inventory. Markedly departing from traditional interline and codeshare agreements, this model was first brought into the mainstream by Kiwi.com and Dohop in the early 2010s. Unlike preceding agreements, Virtual Interlining relies not on formal collaborations between airlines, but on innovative technology solutions and entrepreneurial acumen.
These trailblazers initially purchased single-flight segments through booking systems like Sabre and Amadeus. They then re-packaged them into comprehensive travel itineraries with added services, such as reimbursed hotel costs for missed connections and vouchers for alternative flights, while also providing phone helpline support.
Emboldened by Kiwi.com and Dohop's pioneering efforts, airlines themselves began to investigate the promising field of Virtual Interlining. A prime example of this is the Dohop-enabled "Worldwide by easyJet" initiative, which was launched in 2017. This marked a significant industry development as airlines began to proactively embrace and integrate Virtual Interlining into their business models, setting a new precedent for the sector, as highlighted in this PhocusWire profile.
The concept of Virtual Interlining goes hand in hand with the emergence of self-connecting travel. Essentially, it strings together single flights, enabling a network of connections that would otherwise be unavailable under traditional interline or codeshare agreements.
However, with this innovative approach comes a unique set of challenges. As these flights operate independently, passengers must re-claim and re-check their baggage at each connection. Furthermore, without the benefit of established airline collaborations, travelers are not eligible to use the customs-free transit area typically available for traditional connecting flights.
The benefits of Virtual Interlining thus tend to be more pronounced within visa-free areas, such as the United States and Canada, or within Europe's Schengen area, where immigration procedures are streamlined.
Despite these hurdles, the concept of Virtual Interlining has rapidly evolved, driven by technology providers who have facilitated the booking process and created safeguards to address these issues. For example, many Virtual Interlining providers offer insurance packages to cover the potential costs of missed flights. This not only provides a safety net for travelers but also contributes to enhancing the overall user experience, thus accelerating the adoption of Virtual Interlining within the travel industry.
---
---
Virtual Interlining Today: Seizing Opportunities Amid Challenges
In the wake of Virtual Interlining's emergence, the concept has gained considerable traction, despite its inherent challenges. The idea of providing more flexible, convenient, and, most importantly, cheaper routes for passengers resonates strongly in today's fast-paced, consumer-driven world. The inconvenience of baggage handling and potential disruption of missed connecting flights are operational hurdles yet to be entirely overcome.
Nonetheless, the buzz surrounding Virtual Interlining is undeniable. It is transforming into a mainstream concept, with an increasing number of airlines and travel-tech startups recognizing its potential to redefine the industry.
Exploring the Virtual Interlining Market: A Beacon of Rapid Growth
Quantifying the exact size of the Virtual Interlining market is no small feat.
However, from collating estimations from industry-leading sources such as PhocusWire, Amadeus, and ICF Next, a compelling picture begins to emerge. Our market model indicates that the number of self-connecting passengers – those booking connecting flights from different airlines without interlining agreements directly themselves or via dedicated Virtual Interlining platforms – has grown from 55 million travelers to an estimated 179 million in 2022.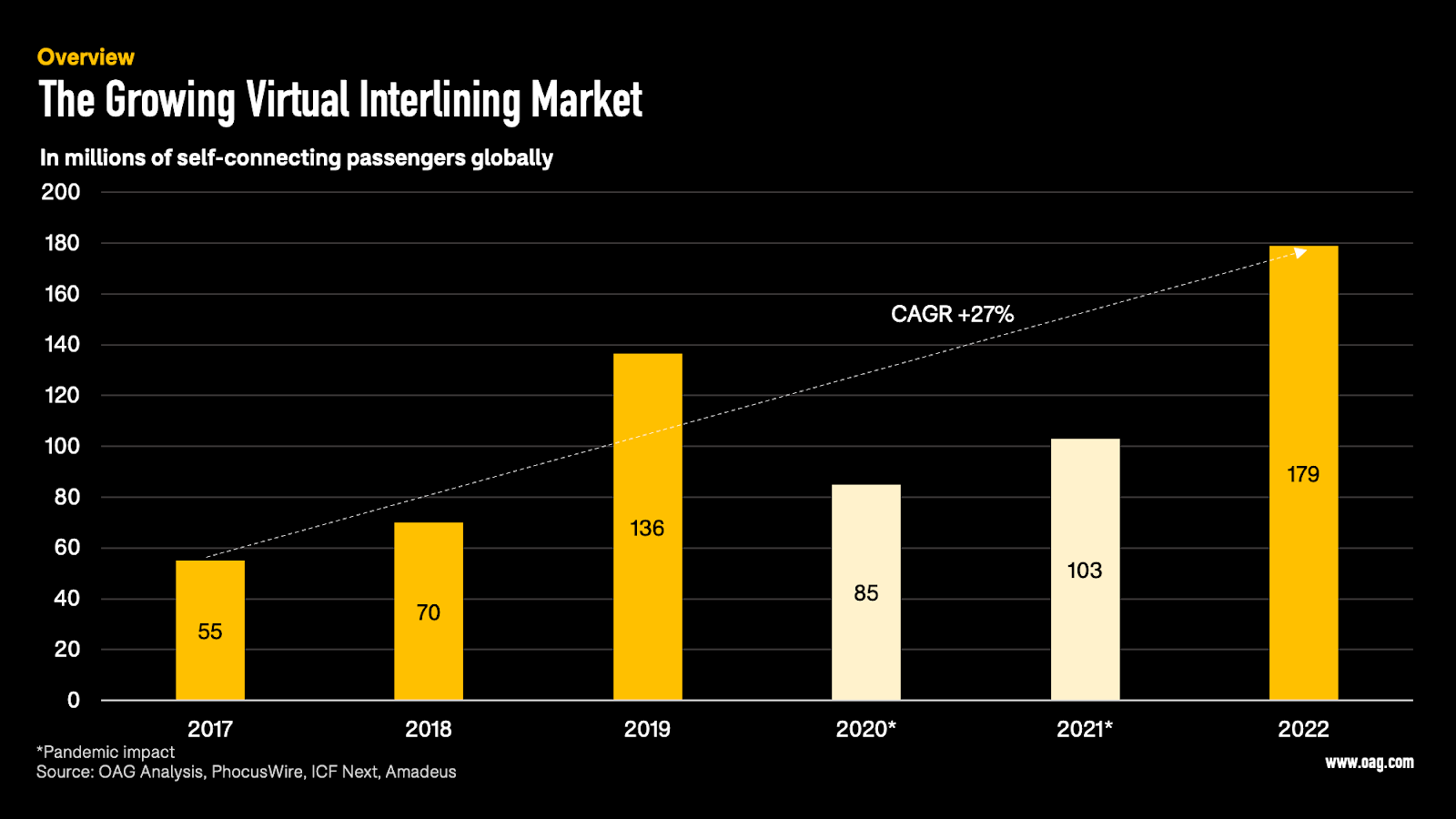 This substantial rise translates to an impressive compounded annual growth rate of 27% over the past six years, despite the massive drop in overall flights during the pandemic.
Some sources, such as Airsiders, are even more optimistic, estimating that the number of self-connecting flights has quadrupled within the past year alone. Adding to these promising projections, TripStack, a Virtual Interlining content provider, anticipates that Virtual Interlining could soon account for 12 to 15% of all flight bookings sold. This would correspond to over 500 million passengers annually, based on the 4.7 billion annual passengers recorded pre-pandemic. Amadeus confirms that selected airlines have already reached a 12% Virtual Interlining threshold in 2021.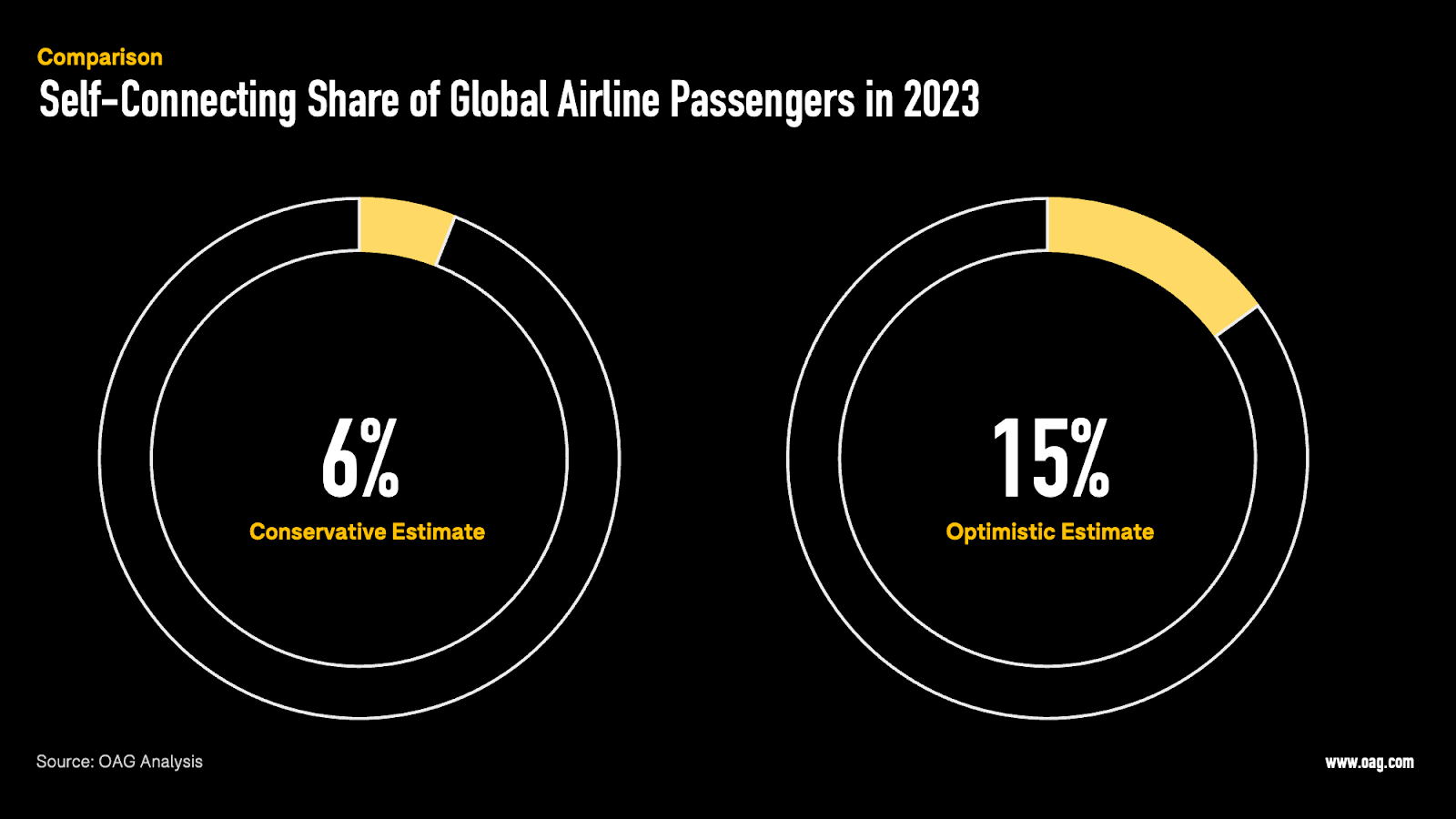 Regardless of the exact figures, the trend is clear and indisputable: the appeal of Virtual Interlining is on the rise.
An increasing number of travelers are choosing to self-connect, handpicking airline flights that meet their specific needs, and notably, helping them save money. In fact, research by ICF shows that almost all self-connecting trips include at least one segment flown by a low-cost carrier. This cost-saving motivation underpins the rapidly expanding allure of Virtual Interlining, and it's a trend we believe will continue to gather momentum in the years to come.
The Unstoppable Momentum of Virtual Interlining
The burgeoning appeal of Virtual Interlining is undeniable, and its growth trajectory is poised to maintain its momentum. The key reason for this trend is the flexibility and cost savings it provides to passengers. If the technical obstacles currently associated with self-connecting, like baggage check-through, could be overcome, it's likely we would see a surge in travelers choosing to self-connect.
This was already evidenced by a comprehensive study we did in 2016. Surveying close to 3,000 travelers, we found that an astounding 92% stated they would be willing to self-connect under the right circumstances.
Significantly, younger generations like Millennials were twice as likely to opt for self-connecting, reinforcing the significance and future potential of Virtual Interlining. With their increased comfort level around technology and self-service, these younger demographics are likely to drive the continued growth of Virtual Interlining as they mature into frequent flyers.
Major Hurdles in the Self-Connecting Journey
The rise of Virtual Interlining has undeniably caught the attention of the global traveling community.
However, this innovative model is not without its share of obstacles.
Interestingly, these challenges haven't significantly shifted over the years. As identified in one of our traveler surveys among North American customers, there are three persistent concerns that keep travelers from widely embracing the self-connecting trend.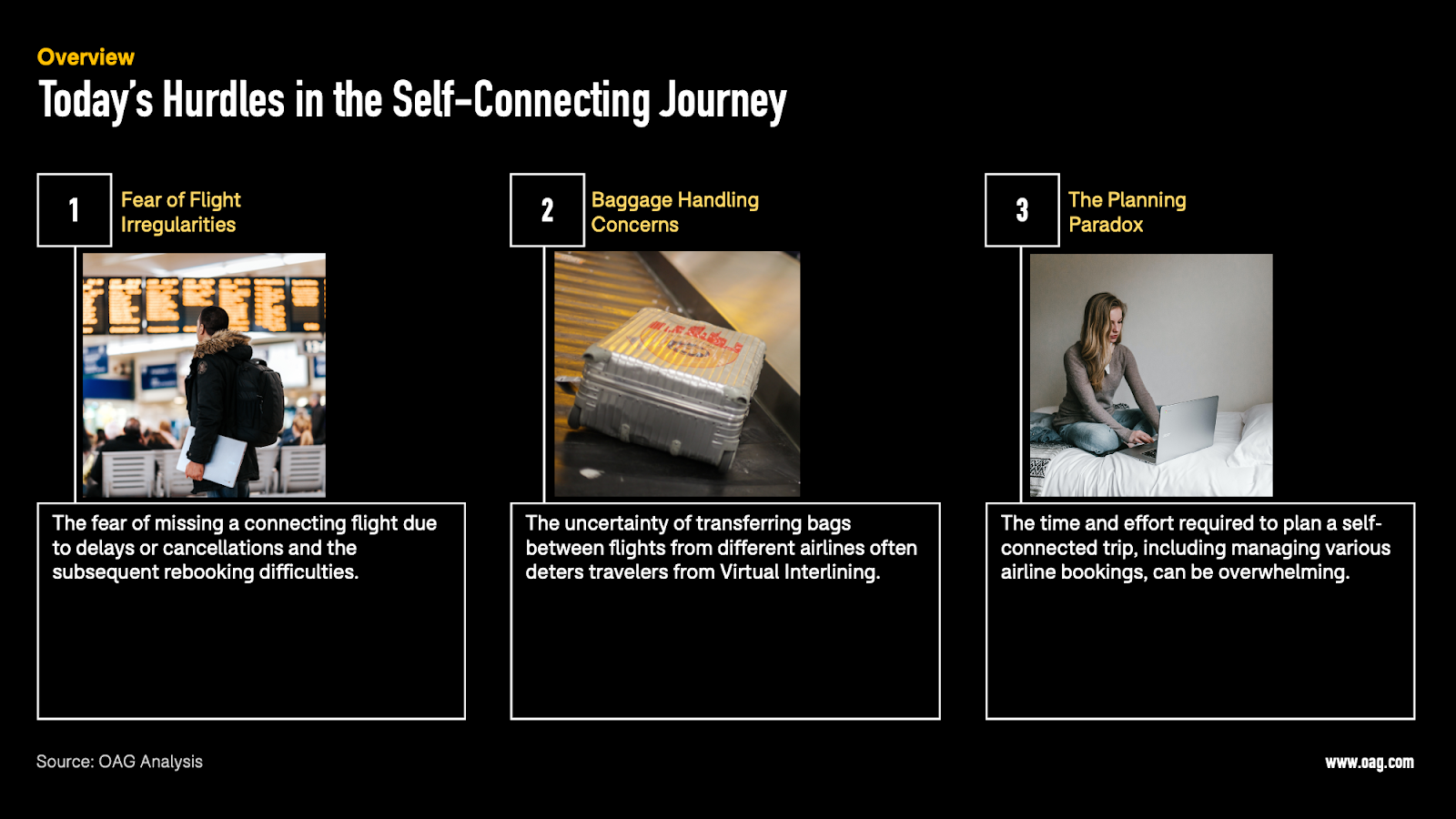 Fear of Flight Disruption: A major concern for passengers, heightened in recent times due to the persistent chaos induced by the pandemic, is the fear of missing a connecting flight due to unforeseen delays or cancellations. The ensuing difficulties of rebooking flights in the absence of network agreements between airlines compound these anxieties. The ongoing issues like system crashes, as illustrated by the IT disaster, have served to exacerbate these fears. Flight irregularities, far from being rare occurrences in the airline industry, are widely acknowledged the major pain point for passengers.
Baggage Handling Concerns: In light of labor shortages at airports and strikes, notably among baggage handlers, the concern about the successful transit of checked baggage to the final destination has escalated. These circumstances have introduced an added layer of complexity and uncertainty to the process of transferring bags between flights, especially when those flights are operated by different airlines. This has become a significant deterrent for travelers considering self-connected journeys, adding to the mounting challenges in the travel industry..
The Planning Paradox: The final prominent hurdle is the daunting amount of time and effort required to meticulously plan a self-connected trip. Navigating different airlines' booking platforms and aligning flight schedules can become overwhelming for many, potentially overshadowing the cost benefits offered by self-connecting flights. This issue underscores not only the growing appeal for more intuitive, streamlined booking platforms capable of seamlessly coordinating multiple flight segments, but also the increasing demand for platforms that offer integrated risk management solutions. Companies like Hopper, for instance, provide insurance products to protect against price jumps and missed connecting flights, thereby enhancing the appeal, user-friendliness, and security of self-connected trips.
And Hopper is certainly not the only company addressing these challenges. The exponential growth of Virtual Interlining specialized booking platforms over the past few years perfectly exemplifies the Planning Paradox. For instance, Kiwi.com has seen a meteoric rise in its gross revenues, escalating from €150 million in 2015 to an astounding €2.1 billion in 2022. Such growth underlines the market's desire for and recognition of efficient platforms that facilitate Virtual Interlining, signifying a solid foundation for the continued expansion of this trend.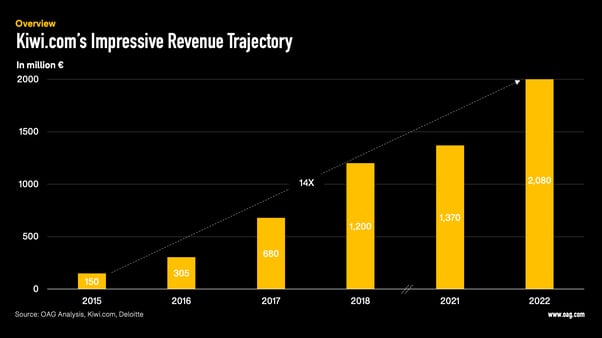 Virtual Interlining: The Future Trajectory
As we navigate the dynamic landscape of airline inventory and alliance strategies, it becomes increasingly clear that Virtual Interlining is more than a fleeting trend. This rapidly evolving model, enabled by innovative technology and changing consumer behaviors, is disrupting the established norms of the airline industry.
As it continues to permeate the sector, we now turn our attention to the potential future of Virtual Interlining. How might this trend continue to evolve?
What new opportunities could emerge?
To gain a clearer picture, let's delve deeper into three significant sub-trends that are set to further shape the trajectory of Virtual Interlining in the years to come.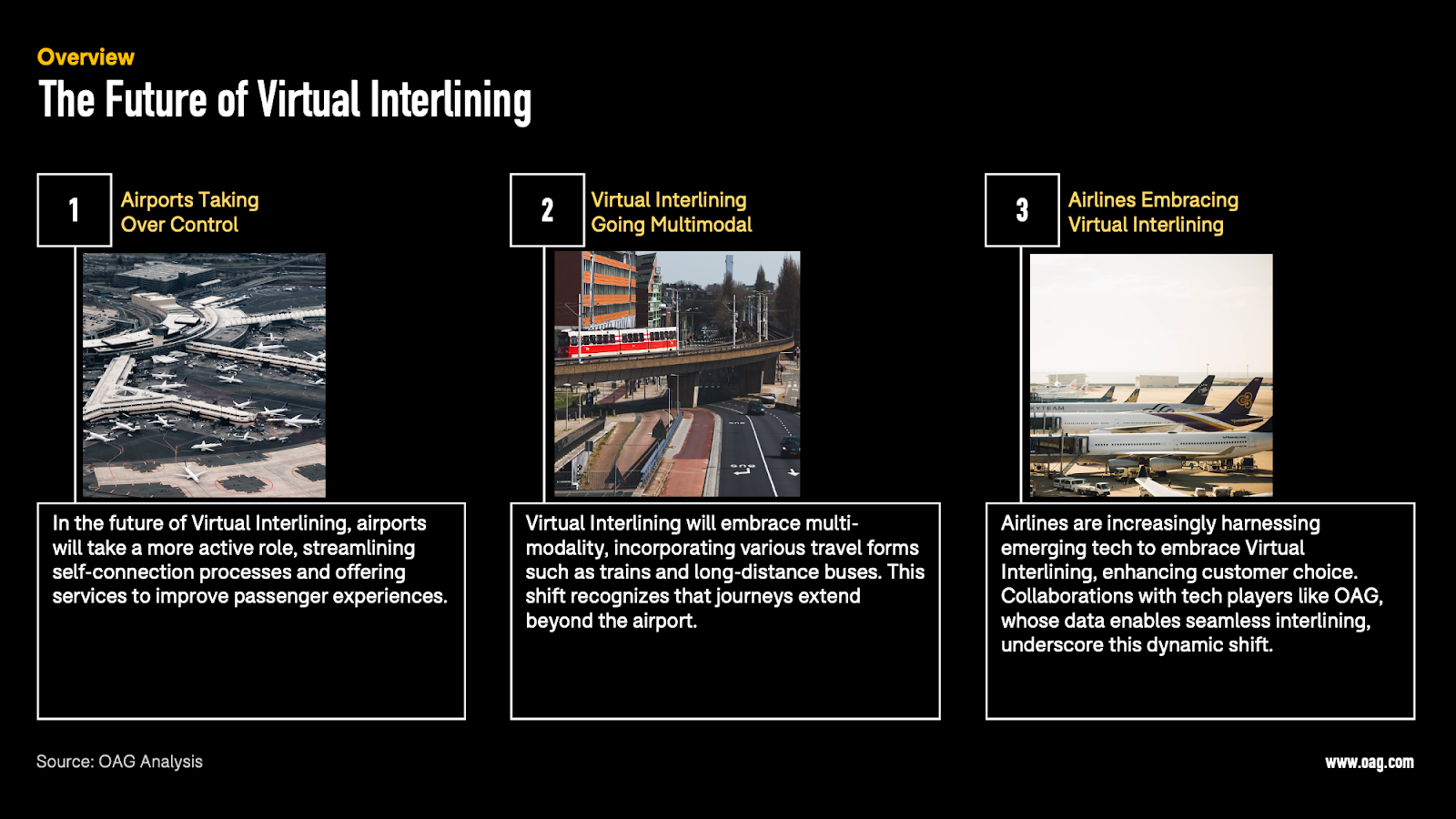 Airports Stepping In: The Changing Role in Facilitating Self-Connections
Airports play a crucial role in the airline industry's ecosystem, and their significance is not lost in the context of Virtual Interlining. Indeed, airports stand at the forefront of opportunities to streamline the self-connection process and mitigate existing pain points. By designing services to expedite passenger processes, airports can reduce the risk of missed connecting flights, assist with baggage recheck and reclaim procedures, and provide on-site help, thereby enhancing the self-connecting experience.
An example of such innovation is Budapest Ferenc Liszt International Airport (BUD), which, in collaboration with Kiwi.com, launched a new service, "bud:connects." The service, aimed at self-connecting passengers, seeks to minimize airport connecting times by offering assistance directly within the airport. Kiwi.com operates self-transfer desks in each of Budapest Airport's terminals to facilitate seamless transfers between airlines.
Similarly, Marseille Provence Airport has introduced a Smart Pass service, providing self-connecting passengers with fast-track access through the airport, along with discount vouchers for duty-free shops and restaurants. The service's goal is to expedite connection times, optimize stopover traffic, and ultimately, elevate the passenger experience.
Further stepping up to the self-connecting challenge, several airports like London Gatwick (LGW) and Hamburg Airport (HAM) are pioneering solutions for self-connecting challenges. Both have introduced dedicated baggage drop areas within the reclaim hall and have re-designed terminal layouts for a smoother transit experience.
All these initiatives are particularly relevant for airports experiencing a high volume of self-connecting flights. As Virtual Interlining continues to gain momentum, we can expect more airports to explore similar service offerings, embracing their evolving role in this dynamic landscape.
Virtual Interlining Beyond the Skies: Embracing Multimodal Transportation
The world of Virtual Interlining is not confined to the skies alone. An evolution towards connected travel journeys demands the incorporation of various forms of mobility, including trains, long-distance buses, and shared urban mobility options. This movement recognizes that travel does not begin and end at the airport but encompasses the entire journey to and from the airport, thereby necessitating intermodal travel.
Several significant strides have been made towards this integration:
Embracing Technology: Airlines Venturing into Virtual Interlining
In a significant shift in the aviation landscape, airlines are increasingly embracing emerging technology to proactively engage with Virtual Interlining offerings. While they were initially hesitant, airlines are now recognizing the undeniable value in enhancing customer choice through Virtual Interlining.
This evolving dynamic has led to closer collaborations with key technology players and data integrators, including our team here at OAG. We handle vast volumes of data, stemming from multiple sources across diverse formats and technologies. Every day, we process millions of schedule changes and flight status updates from hundreds of airlines, delivering these changes to our customers in near real-time. Our ability to synchronize data into a single source through advanced technology is becoming increasingly essential for companies like Kiwi, Dohop, and Hopper (see more details here) to facilitate seamless interlining trips. Our offerings include robust schedules, comprehensive flight status data, and detailed minimum connecting time data. Additionally, we evaluate the "risk" of connections by analyzing historical cancellation rates and flight delays. These data points play a critical role in the successful execution of Virtual Interlining, see the case of Dohop.
Several airlines have recently embarked on initiatives to capitalize on Virtual Interlining.
These initiatives highlight the shift in airline strategies and the future of Virtual Interlining. Airlines and technology players are converging to create an integrated and flexible travel ecosystem.
The confluence of these emerging trends – active airport involvement, multimodal integration, and airlines' embrace of technology and data – is creating a fertile ground for innovation.
Recognizing the potential of Virtual Interlining, an array of companies has ventured into this field, each bringing unique solutions to address the complexities of self-connecting flights. They range from dedicated startups centered around this technology to established OTAs and booking platforms incorporating Virtual Interlining as an additional feature. To conclude our exploration of Virtual Interlining, let's spotlight these two distinct groups – the Virtual Interlining Specialists and the Virtual Interlining Generalists – each contributing in their own way to reshape the future of the airline industry.
---
Catch up with our series on the technology transformation in the airline industry:
Part One: From Old To New: The System Transition In The Airline Industry
Part Two: The Evolution Of Airline Revenue Management: The Impact Of Emerging Technologies
Part Three: The New Distribution Capability Journey: Redefining Airline Commerce
Part Four: Shaping Airline Retail: The Unstoppable Rise of Ancillaries
Part Six: Maximizing Flexibility: The Innovative Transformation of Airline Payments