What Was the Pandemic's Impact on Airline Alliances?
Airline alliances and partnerships are so commonplace in the industry these days that they rarely make the headlines, unless a new partnership forms or an airline leaves an alliance. At these moments there's a flurry of activity and questions are asked about what it means and what comes next.
We've seen this in recent years with the departure of China Southern from SkyTeam in 2018 and the recurrent questions about if, and when, they may join Oneworld. The recent announcement of an interline agreement between Emirates and Etihad airlines garnered plenty of media attention, but some questioned if it involved more spin than substance.
So, now the dust has settled from the global pandemic, what is the state of play with airline alliances and partnerships? Has anything changed? Do the alliances continue to offer value for their members and where do they go next?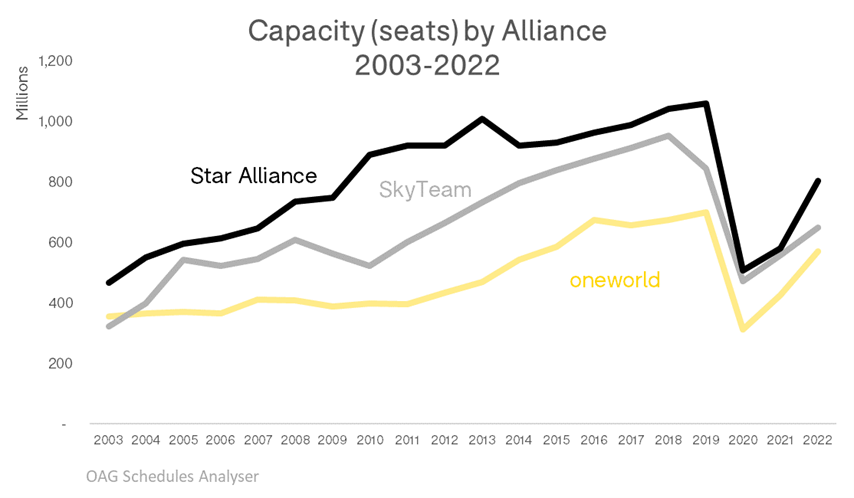 Historically, Star Alliance has been the largest alliance in terms of scheduled airline capacity, followed by SkyTeam and then Oneworld. The pandemic did not affect their rankings, although inevitably all three experienced the dramatic reduction in operations that aviation saw generally through 2020 and 2021.
In 2022 - while global airline capacity was still 17.8% shy of 2019 levels - the big three airline alliances were taking longer to recover. Oneworld was closest at 18.5% below 2019 levels, while SkyTeam was at 23% below and Star Alliance at 24% below.
Airline Alliance Trends Reflect Legacy Airline Trends
Long-term industry trends were already impacting alliances before the pandemic, including the slow erosion of global capacity share as low-cost carriers (LCCs) gained share worldwide. The pandemic, if anything, has probably accelerated this trend as LCCs have responded with route experimentation, network growth and offering products that better meet the needs of travelers wanting to explore the world but happy with destinations closer to home (than they might have been in the past).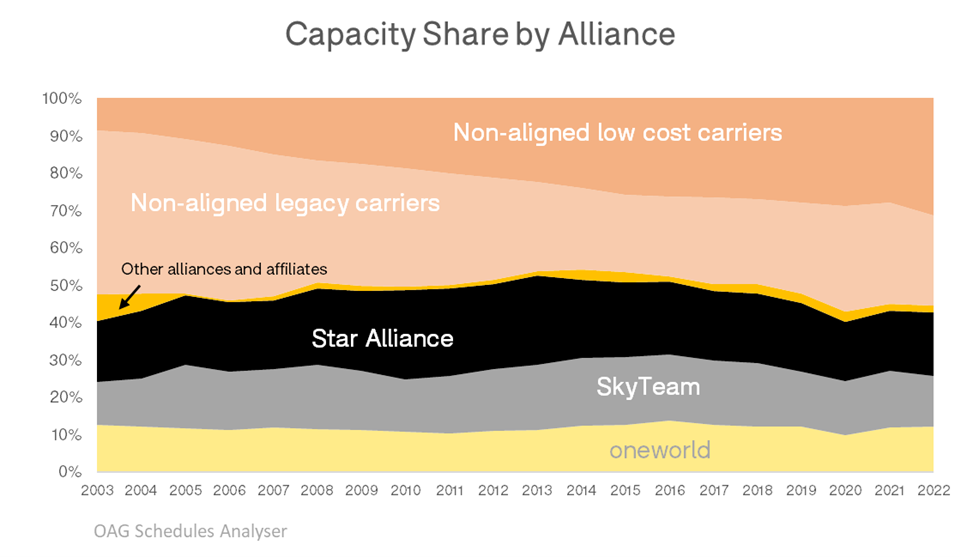 In the 12 months up to May 2023, unaligned low-cost airlines have operated 31% of global airline capacity, nearly double that of the largest alliance - Star Alliance - which operated 17%.
While there are other airline alliances such as Value Alliance and U-Fly, consisting of low-cost carriers, their impact has not been as significant as expected when they arrived on the scene seven years ago. Instead, the technology companies aiming to make self-connecting travel by air (and other modes) easier have moved into this space with an alternative approach to streamlining air travel and connectivity in today's world.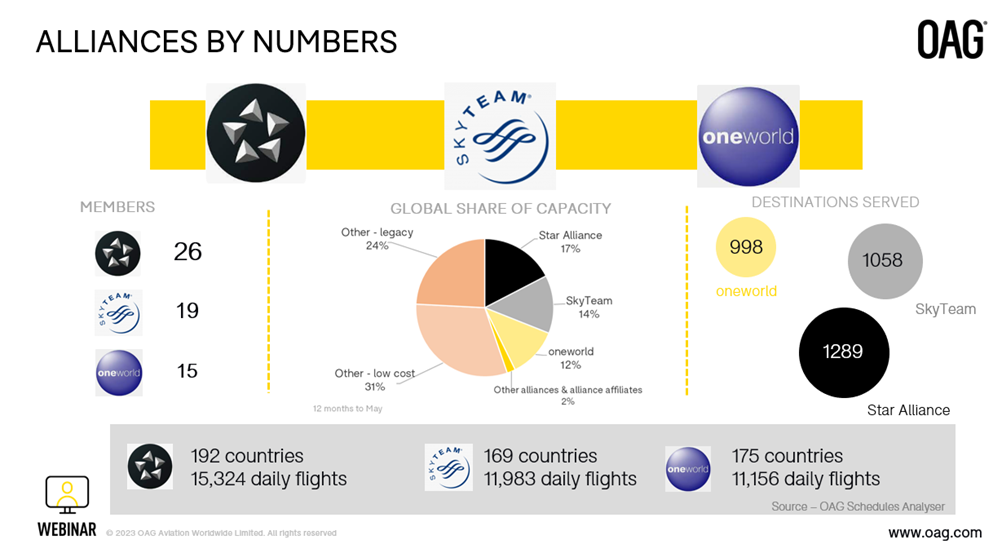 How Can Airline Alliances Maintain Their Value for Members?
Airline alliances were established to address the challenge of creating global networks in an industry where airline ownership was often accompanied by rules that prevented the type of merger and consolidation activity seen in other sectors. The core value offering of an alliance is the number of destinations that each member gives access to for every other member. In the year to May 2023, OAG counted 1289 destinations across the Star Alliance network, 1058 for SkyTeam and 998 for Oneworld.
The number of airline members doesn't change much these days in part due to the complexity of working with a large number of partners, but also because there are few legacy airlines that could offer genuine additional value in terms of network coverage.
Each of the major alliances has geographic gaps in their networks, at least in terms of the domicile area of their members, but sometimes that is simply due to the limited number of airlines that could be partners.
In a market such as the UK, where the main legacy carrier is British Airways (a member of Oneworld) and the 'challenger' airline is Virgin Atlantic (who recently joined SkyTeam), there's no third airline that might work for Star Alliance. Similarly, in high-growth markets such as India, Air India is a member of Star Alliance but neither Oneworld or SkyTeam has a local member. While many alliance members fly into and out of India, it is the low-cost carriers that are driving much of the growth in the market.
There are other areas - aside from networks and access to destinations - where alliances can provide value, such as:
• Streamlining passenger processes
• Loyalty programs
• Group purchasing
However, quantifying progress in these areas is much harder. In theory, member airlines can share best practice and implement shared approaches but the appetite for deeper cooperation varies between alliances and between members.
---
---
The Question of Exclusivity
It would be a mistake to think that airline alliances are somehow exclusive in determining how one airline cooperates with another. In practice, alliances have always been pragmatic solutions and airlines continue to be pragmatic in pursuing their best interests. So, while Turkish Airlines may be a member of Star Alliance, and codeshares with 16 members of the Star Alliance, it also has codeshare flights with a further 32 airlines at the moment. Qantas, a member of Oneworld, codeshares with 8 other members but also an additional 19 airlines outside the alliance.
This is perhaps one of the reasons for the slow progress in seeing China Southern make a move towards Oneworld; membership of Oneworld will give it significant access to the Chinese market, but in practice the historic cooperation between China Southern and SkyTeam members does not disappear overnight. KLM proudly states on its website that its joint venture with China Southern and subsidiary Xiamen Airlines are key to its China strategy.
So, Where Next for Airline Alliances?
Without doubt, the major airline alliances are a success. Today, close to 45% of all scheduled airline seats are operated under the umbrella of one of those airline alliances, facilitating traveler journeys across the globe and providing flexible additional connectivity for major carriers.
Airlines seem to have settled on a happy balance between individual airline branding and alliance branding, so that both are familiar to the consumer (even if not always well understood). Incremental efficiencies continue to take place which streamline the passenger journey, but it seems that growth is unlikely. There are few legacy airline targets left which might add value for the existing alliances and year-by-year the low-cost sector eats away at market share. For now, maintaining value for alliance members may be the simple goal.
The infographic below highlights key statistics for each of the big three airline alliances. Click to download.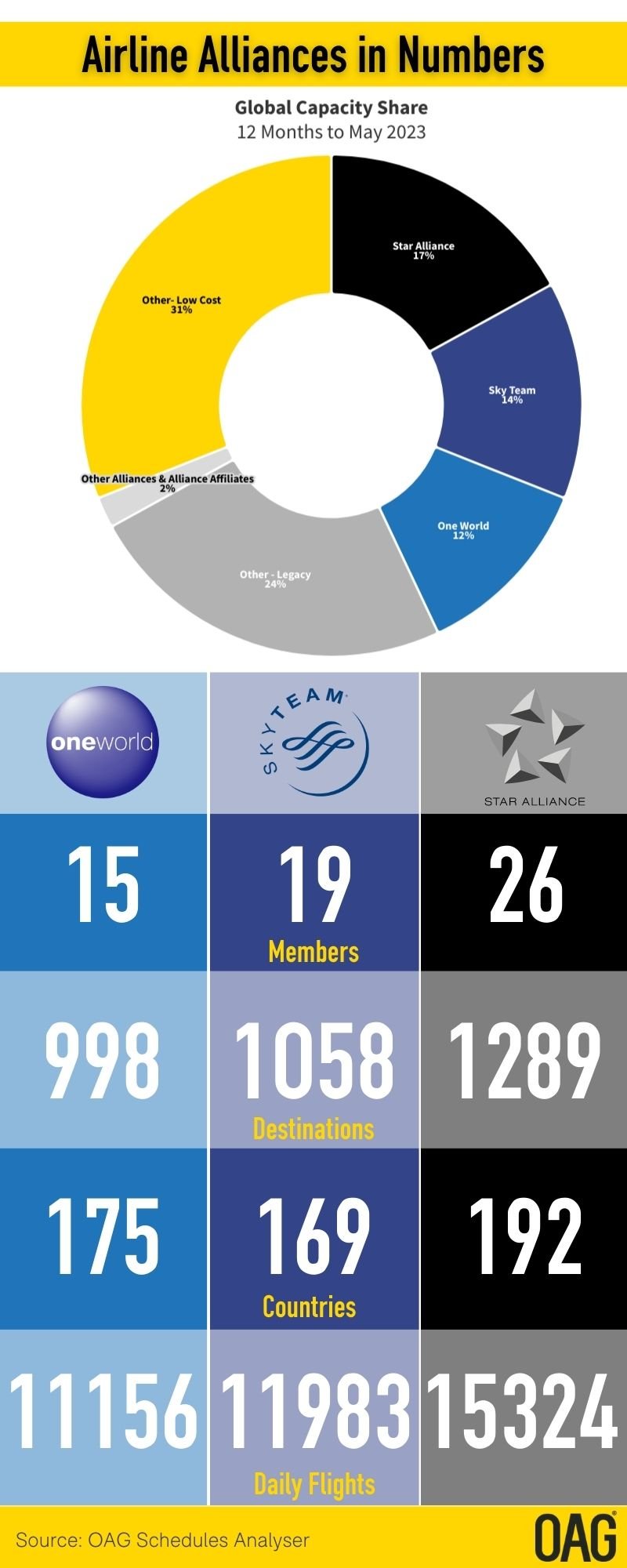 ---

What is an airline alliance?
When two or more airlines agree to collaborate on a significant level (including inter-airline codeshare connections) this is called an 'airline alliance'. Star Alliance is the world's largest airline alliance; five airlines (Air Canada, Lufthansa, SAS, Thai Airways and United Airlines) formed Star Alliance in 1997 and it now has 26 member airlines.
Recommended: