The need for schedule synchronisation
The airline industry has witnessed unprecedented levels of schedule changes since the start of the global pandemic in March 2020. In the early stages airlines rapidly withdrew flights from the schedule or cancelled at the last moment. Airlines are continually amending their schedules, chasing demand where it occurs, matching supply to demand, and searching for schedule options that will generate much needed cash.
Many parts of the air travel ecosystem rely on the availability of accurate schedules for bookings & seat class availability, itinerary management, resource planning operational control, inventory, revenue management and accounting, ground handling and fuel calculations, to name just some of the tasks that rely on schedule accuracy. Effective codesharing is one of those areas that depends on having a schedule that is correct but has the added complication that each of the codesharing partners needs to be working to the same schedule. In an environment where schedules are changing frequently, this is easier said than done. It requires a high degree of coordination between airline partners. OAG has been playing a vital role for many years in using our expertise to help airlines solve this problem. Without a process of automatic schedule synchronisation between codesharing partners and with constant schedule volatility, the task remains a constant challenge.
What is codesharing and why is it used?
Codesharing first made an appearance in OAG's systems back in 1986 so it's not new. It has been around for at least 35 years. A codeshare flight is one in which an airline operates a flight but has agreements with other airlines that they can market the same flight as if it were part of their own network. These agreements are often part of wider airline alliances but may also be part of separate codeshare partnerships. For the marketing carrier or carriers, it provides a mechanism to offer a more extensive route network and provide customers with more choice.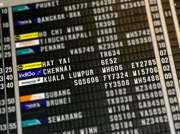 All of us who have flown through airports and stared up at departure boards will have seen the information for a flight toggle back and forth between two or more airline codes and flight numbers. This is what it looks like in practice. Two or more airlines applying their own codes and flight numbers to a flight.
At OAG our flight schedule database identifies both the operating carrier and the marketing carrier for a flight, with the operating carrier being the one that actually flies the aircraft and owns the metal, while the marketing carrier is the codeshare partner that can also sell the flight.
For airlines codesharing has been a useful and cost-effective way to grow their reach without the same investment in aircraft and marketing as would be required if they were flying their own planes. It is a business model which allows airlines to expand distribution with minimal direct costs and is, perhaps, a consequence of ownership rules that prevent airline businesses growing through acquisition as may happen in other industries. Consolidation of businesses across national boundaries is not always possible in aviation but codesharing brings some of the benefits of a larger entity. It can, perhaps, be contrasted to the franchise business model familiar to other industries where one business owns the business but uses the branding associated with another business; in this instance, the marketing carrier uses their own brand but the operation is run by another airline, while service level agreements between codeshare partners protect brand identity. The international nature of most codesharing agreements means they usually require regulatory approval.
Aside from codesharing, airlines also cooperate through traditional interlining which is a more basic level of cooperation allowing coordination so that passengers can travel on itineraries that involve multiple flights with more than one airline. It means an airline can sell connecting flights under a single fare and there is a formula for dividing the revenue between airlines. It is clearly still important that schedules are correct so that passengers are sold flights with viable connections.
A newer phenomenon is virtual interlining, which takes the trend of passengers organising their own self-connecting flights one step further. In this instance there is no contract between airlines as each airline regards passengers travelling on their flights as point-to-point travellers. Instead, the provider of the virtual interlining ticket such as an online travel agency or travel technology company, bundles flights and presents them to a prospective passenger as a single package. Their service may or may not include responsibility for the baggage transfers and any missed connections. Companies offering virtual interlining products need access to accurate schedules but schedule synchronicity between operating and marketing airlines is less of a concern.
The benefits of codesharing for airlines
Codesharing is an eminently practical solution to the problem of how to grow an airline. By making inventory available to another airline on a key route, each airline can market the destinations served beyond that route.
The example shown below shows a route operated by Iberia between Madrid and Chicago O'Hare airport in January 2020. Oneworld alliance member American Airlines was a codeshare partner on the route. By code-sharing with Iberia American Airlines was able to market routes beyond Madrid in Europe while Iberia could market routes beyond Chicago in the USA. This sort of connection between hub airports is where codesharing brings huge benefits.
Figure 1: Network extension from a single ORD-MAD codesharing flight between American Airlines and Iberia

Source: OAG Mapper
Given that airlines generally rely on traffic being generated from both ends of a route, this type of arrangement allows Iberia to benefit from the market knowledge and consumer reach that American Airlines has in the US market, while American Airlines benefits equally from the brand awareness, marketing and market knowledge that Iberia has of European country markets.
In this instance, only Iberia was operating the ORD-MAD route at the time but if both airlines were operating it, and had flights had different times of the day, they would have gained from the multiple frequencies on offer as well as the additional connectivity brought about by extra flights on the hub connection.
As a result, barriers to entry (and exit) are also lower with a codesharing model. The codeshare partner doesn't need to make the same level of investment in a market as if it was going to rely on sales it generated directly, and consequently if the route doesn't perform as hoped for the airline, walking away from it is easier.
The benefits of codeshares for travellers
While airlines have a choice about whether they codeshare, air travellers don't have an option. For the passenger who turns up at the airport expecting to see an aircraft with the livery of the airline they booked on, there may be disappointment, especially if they perceive the airline service as not as good. However, behind the scenes there may be many benefits.
For a start, they may well have benefitted from the broader range of flight options that often comes with codesharing, especially if there was no direct flight available to their destination. If their journey requires a connection between two airline partners, that should take place seamlessly with baggage moved for them and efforts made to ensure flight connections are not missed. Elite privileges are maintained across partner airlines so passengers can continue to accrue frequent flyer miles, use priority check-in or boarding and airline lounges. If something goes wrong the codeshare partner is available to facilitate rebooking.
Sometimes it's possible to shop around and purchase the flight for less with a codeshare partner than is possible when buying direct with the operating airline.
Challenges of schedule misalignment
Usually, the operating carrier takes the lead in maintaining the schedule for a flight but it shouldn't be surprising that there is often a misalignment between what an operating carrier is planning, and has filed in the schedule, and what the marketing carrier has filed. Without a high degree of coordination, this is inevitable, or at least there is a delay between the operating carrier filing and the marketing carrier catching up with an identical schedule file. The marketing carrier will always be a bit behind the curve.
Such schedule misalignment has serious consequences. Changed flight departure times may lead to a flight being unavailable for sale due to not meeting Minimum Connect Time requirements, or worse, a passenger missing a connection. A change of terminal, equally, could leave passengers in the wrong place or without enough time to transfer between terminals. It's not just airlines who suffer the consequences of schedule misalignment. GDSs and OTAs rely on schedule synchronisation; without it they need to make more manual interventions in bookings, their costs rise and they can lose business.
The current process sees airlines changing schedules frequently. In 2019 OAG handled around 126,000 changes on average every day. In 2020, despite air travel being severely reduced for much of the year, the daily average level of changes was around 124,000 demonstrating the extent of the impact on airline schedules, and the need for airlines to make constant adjustments. At its peak, OAG handled 161,000 schedule changes during one day in March 2020. In the first four months of 2021 the average number of schedule changes each day has been 150,000.
With each airline submitting schedule changes to their own timeframes, and using different systems it isn't surprising that schedules are not always synchronised between operating and marketing carriers. But what if they could be?
Synchronicity is the key
OAG has been looking at the extent of the problem of misaligned flights as part of an experiment undertaken by OAG Labs considers the impact of over-riding marketing flight information with operating flight data. The assumption behind this is that operating carriers lead on schedule changes and so what an operating carrier has filed as its intention to fly is correct and any schedule misalignment requires an update of the marketing flight information. It makes sense as the operating carriers continually adjust their schedules to optimise fleet utilisation and connectivity, and marketing carriers are always playing catch up.
OAG looked at the entire airline schedule for a 12 month period using a snapshot on a single day, 30th March 2020. The snapshot is contained in OAG's WDF file (Worldwide Direct Flights) a daily update of the schedule. At that point in time there were over 112 million flight instances in the schedule; that is, flight records for every flight to be operated by an airline, as well as all occurrences of those same flights if they were listed as being operated as a codeshare operation by another airline. Out of 812 airlines with filed schedules, 35% were involved in codeshare flights either as the operating airline, or the marketing airline or as both. On average each codeshare flight had 2.1 marketing airline partners in addition to the airline operating the flight.
When all the marketing flights were compared to the operating flights, which 77% had inconsistencies and a further 12% could not be matched against an operating flight at all.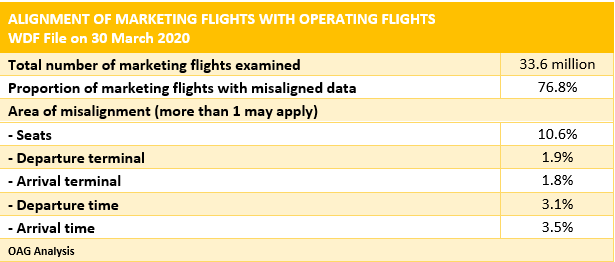 In most cases operating and marketing flights were misaligned on more than one of 25 different attributes considered. While many of these were not significant, relating to information about meals or inflight service, for instance, but a significant number were the result of different seats numbers, flight departure times, different arrival times or different airport terminals used. These are the differences that can jeopardise connecting flights either at the point of booking or potentially while travelling.
While the datafile included flights for 12 months into the future, it is known that as the time gets closer to the scheduled departure synchronisation between the operating and marketing flight improves.
Post covid improvements in schedule synchronisation
The global pandemic - and the sharp rise in schedule changes which that brought about – led to OAG analysing how schedule changes are handled. Looking forward, codesharing remains an important means for airlines to grow their route networks and may even be more important as airlines scale their own fleet and networks to ensure there are no routes which do not make a positive contribution to the profitability. For airlines such as American Airlines which have retired large numbers of widebody A330 and B767 aircraft which were serving long, thin routes, these routes may well be offered as one stop services via hubs or as codeshare flights.
As always, OAG is developing solutions to overcome these challenges. Automatic synchronisation which aligns marketing flights with operating flights via a set of pre agreed rules for some or all of the attributes associated with the flight filing is one possible solution. This could remove the ad hoc nature of resolving misalignments that takes place now and remove workload, especially for the marketing carrier. A single version of the truth when it comes to airline schedules is possible and OAG is working to bring the benefits to all involved in airline distribution.
OAG are actively working on derived and proprietary models via OAG Labs with emissions data, delay predictions, missed connections, OTP and forward-looking schedules data. If you are interested in finding out more or collaborating with us on existing data projects please email contactus@oag.com