As the IATA Winter Season starts there is plenty of good news around the globe with markets reopening and new air services being launched in many markets. All of this is great news for the Australian cricket team who seem on their way home from the UAE this week with nationals once again allowed to travel overseas; there is no truth that they will have a personal butler for their trip home, they had that on Saturday! Thailand has also this morning opened its borders for visitors from over sixty countries although they will still be missing one of their largest source markets as China remains firmly closed. It all sounds so positive, doesn't it?
However, on the flip side further outbreaks of Covid-19 in China are resulting in sudden and very sharp cuts in airline capacity, and US airlines continue to struggle with crew shortages and bad weather leading to flight cancellations at short notice. American Airlines cancelled 1,400 flights in the last few days and the issues around crew shortages will run and run, especially with airlines such as Emirates requiring some 6,000 new staff in the next few months.
This week's aviation data reflects both the positive and the negatives. Looking forward over the next few months we continue to see forward capacity being cut, 13 million seats have been dropped since last week through to the end of 2021 a higher rate than we have seen in recent weeks and airlines are clearly sharpening capacity into 2022 with cuts made for the first quarter of the year. December 2021 is currently standing at 379 million seats, which is 47% up on last year suggesting that we are certainly heading in the right direction, can we just get there quickly!
Table 1 - Weekly Capacity Changes By Region, Forward Quarter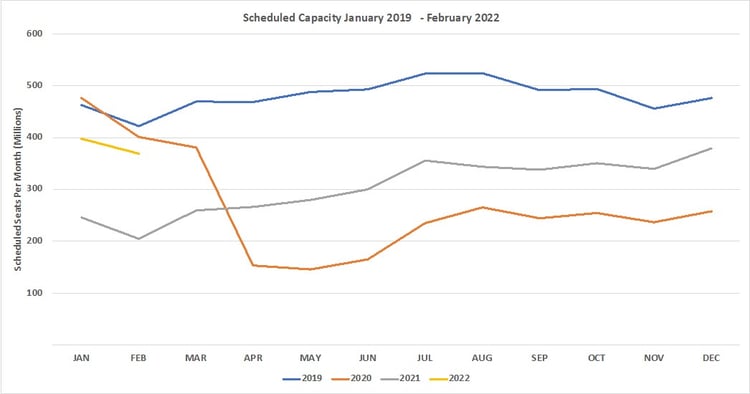 Source: OAG
Total scheduled airline capacity this week fell by just under one percentage point which is expected as we transition from Summer to Winter with Western Europe seeing the largest capacity cuts with over 1.3 million seats dropped week on week. North East Asia, or more specifically China also saw capacity cuts with the loss of over 400,000 seats and further cuts are likely at short notice this week as airlines grapple with Covid outbreaks.
More positively we can at least report capacity growth in the Southwest Pacific region with Australia leading the way, long haul, unrestricted flights have already arrived in Sydney and Melbourne and the first flight from Sydney via Darwin is heading towards London Heathrow; perhaps they have a rugby team to collect! Two markets that are traditionally strong in the Winter Season are the Caribbean and South Africa and they both report strong week on week capacity growth, although in the case of South Africa much of the capacity increase is across the domestic network, still you must start somewhere.
Total scheduled airline capacity remains at 27% below 2019 levels; only two regions, South East Asia (-72%) and the South West pacific (-67%) remain at less than half of their normal capacity levels and with them both reopening in the coming months we should start to see an increase in weekly capacity flowing through shortly.
Table 1 – Scheduled Airline Capacity by Region

Source: OAG
As the summer sun sets so does capacity in many classic European leisure markets. Capacity to both Spain (-13%) and Turkey (-15%) fell significantly while Greece has now fallen out of the top twenty falling to twenty ninth, it will reappear next summer…….it always does!
Growth markets this week include Japan (+10%), India (+9%), Colombia (+12%) and of course Australia.
Table 2 - Scheduled Capacity, Top 20 Country Markets

Source: OAG
All of the legacy US majors have added capacity this week, although of course weather disruption could set back some of those numbers as the week progresses, early indications are that the US carriers are not planning to add much capacity next week once the transatlantic market has reopened to all nationalities; indeed, only British Airways and Virgin are putting more flights on next week.
After a busy summer season, Ryanair are giving their aircraft a bit of a rest with 9% fewer seats operating this week. However, the airline is now operating more capacity than in 2019 and continues to grow and grow adding even more routes this week to their network. EasyJet's capacity cuts are slightly larger than those at Ryanair with 14% fewer seats on sale this week. And the airline remains at more than 30% below their 2019 capacity levels, highlighting perhaps how two major LCC's (low cost-carriers) in Europe have worked their way through the pandemic; one cautiously and one very aggressively, they cannot both be right in their approach, can they?
Table 3 – Top 20 Scheduled Airlines

Source: OAG
In recent weeks there has been quite a bit of commentary from legacy carriers around the strength of the premium leisure market with US carriers, in particular, noting that the market had filled many of the vacated business class seats from corporate travel. With that in mind, we have had a look at how capacity has returned across the three major cabins at a top-line level. As the data below shows the recovery in Business Class capacity is in line with that in Economy Class so there has certainly been enough seats around for that premium leisure demand. Unfortunately, the same cannot be said for First Class where capacity is proving much slower to recover, perhaps pointing to the fact that for many airlines true First Class is likely to be a Covid casualty.
Table 4 – Scheduled Airline Capacity by Cabin

Source: OAG
In summary, this week is full of positive data points and the recovery does indeed seem underway. Markets are reopening, new routes are being opened and even new airlines are launching services in the coming weeks; it is all good news and perhaps Halloween wasn't quite as scary as we expected.
Stay safe everyone!
---
Join John Grant and Becca Rowland at OAG's next live webinar on 10 November at 3pm SGT, this webinar will focus on the South East Asia region. Click below for further information and to register.