The last week of the 2021 summer season brings the usual mix of changes in airline capacity, as some markets continue their recovery and others suffer another round of short-term cuts. In the round, the ups and downs leave us with 78.5 million seats for sale this week, a near 1% reduction and still 27% below 2019 levels. Ironically, as we enter the winter season there are signs that the first few weeks of November could break through the 80 million weekly capacity mark. As airlines add more capacity back on the North Atlantic, South East Asia shows signs of a recovery, and airlines in Australia are planning the resumption of international services earlier than had been expected.
With October coming to an end and before we get too spooked by Halloween, we have peeked into 2022 to look at the current scheduled airline capacity for the first few months of next year. Capacity for January 2022 stands at 400 million seats, which would represent a 62% increase on this year. But however optimistic you are, that is not going to be the final number - apologies for breaking that news so early. Each week we continue to see three-month forward capacity being cut by around 5 million seats, and whilst that is just one-third of the rate seen a few months ago, we should expect that to continue for the next few months despite the improving market messages around lockdowns.
Graph 1 - Weekly Capacity Changes by Region, Forward Quarter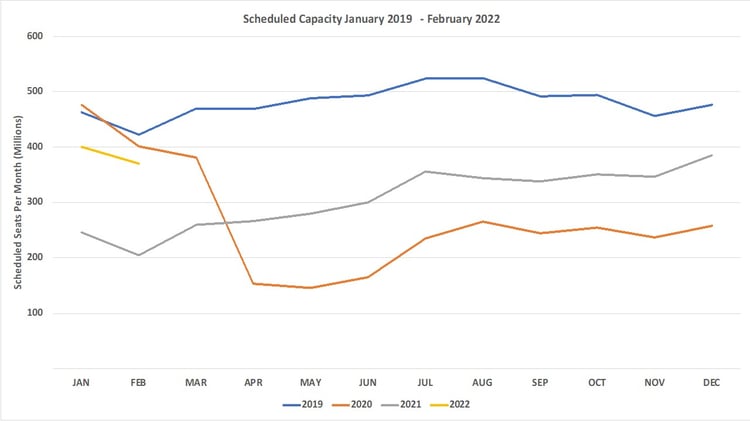 Source: OAG
At regional level, North East Asia has seen nearly 4% of airline capacity dropped week on week as China grapples with its latest outbreaks of Covid-19 across the regions, with capacity being cut in many markets. The one thing we have learnt about these rapid capacity cuts is that the capacity returns as quickly as it disappears and looking forward two weeks all the capacity that has been removed is back in the systems for sale, let's hope it is only a two-week outbreak. North America is also slightly down week on week with some 250,000 fewer seats on sale, with both American and Delta Air Lines shaving back capacity.
More optimistically, although perhaps only for a week, Western Europe has seen a surprising increase of 2.8% as the half-term holiday takes place in many countries and families seek out the last of the summer sun in southern Mediterranean destinations.
Table 1 – Scheduled Airline Capacity by Region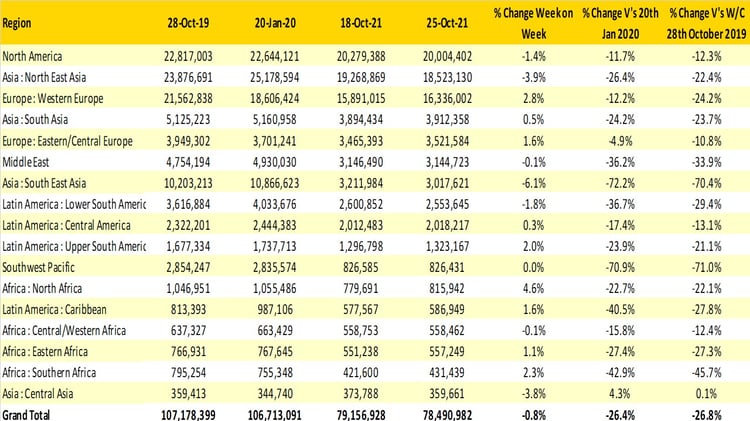 Source: OAG
The top twenty country markets remain unchanged compared to last week. The only notable movement is the United Arab Emirates moving ahead of Saudi Arabia on the back of a 3.2% increase in capacity; further increases in capacity from the UAE could see the market overtake South Korea, where capacity is unlikely to change significantly until either China or Japan reopen their borders to large volumes of capacity.
Italy is the fastest growing country market this week, probably because of the excitement around a new Italian airline, or more accurately a new lick of paint on Alitalia and probably some new designer uniforms for what remains of the cabin staff. The United Kingdom also reported a positive 5.6% increase, with British Airways and Ryanair both adding back some capacity this week and breaking back through the two million seats a week mark for the first time since the week commencing 23rd March 2020, so things are getting better!
Table 2 - Scheduled Capacity, Top 20 Country Markets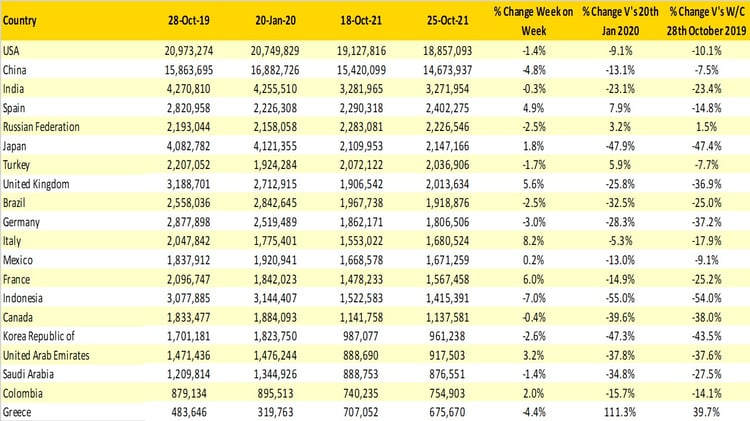 Source: OAG
At airline level the most notable changes amongst the top twenty carriers are in China, where the major airlines have all cut capacity; Shenzhen Airlines the most affected with 9% of capacity suspended for this week, the airline also dropped to twentieth position in the table, but will bounce back next week, leaving Air France hanging on to their newfound inclusion in the chart. Indeed, with Emirates likely to add more capacity back as South East Asian markets reopen in the coming weeks, Air France's tenure in the chart may be short lived.
Table 3 – Top 20 Scheduled Airlines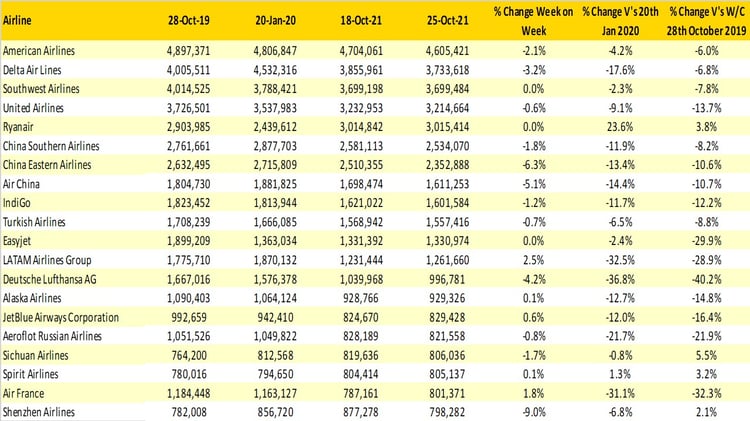 Source: OAG
The last week of the summer season's numbers are a reflection on the whole 30-week season; some reason for optimism, but equally sudden (and hopefully short) cuts in capacity remind us that we are not out of the pandemic yet. As markets around the world reopen in the coming months, it is likely that we will see more of those sudden and short lockdowns as the world begins to return to normal. Finally of course, in this week of all weeks we need to remain calm and not be spooked by the latest weekly data, but look at the longer term picture.

Happy Halloween everyone!
---
Join John Grant and Becca Rowland at OAG's next live webinar on 10 November at 3pm SGT, this webinar will focus on the South East Asia region. Click below for further information and to register.