More Outbreaks and Travel Restrictions
Through a long and patient period of attempting to stamp out COVID-19 outbreaks dating back to March 2020, China has seen its domestic airline capacity rise consistently, with only a few short-lived dips. The major dip was seen last February and followed by another in August. By March of 2021, the country had exceeded pre-pandemic domestic airline capacity and was flying at more than 20% above 2019 airline capacity levels through the summer.
The latest serious outbreak at the end of July 2021 was due to the fast-spreading Delta variant and triggered rigid movement restrictions within and between provinces in China. Airlines were forced to scale back their capacity sharply to support containment efforts, resulting in the biggest drop in seat capacity seen since COVID first emerged in Wuhan in late 2019.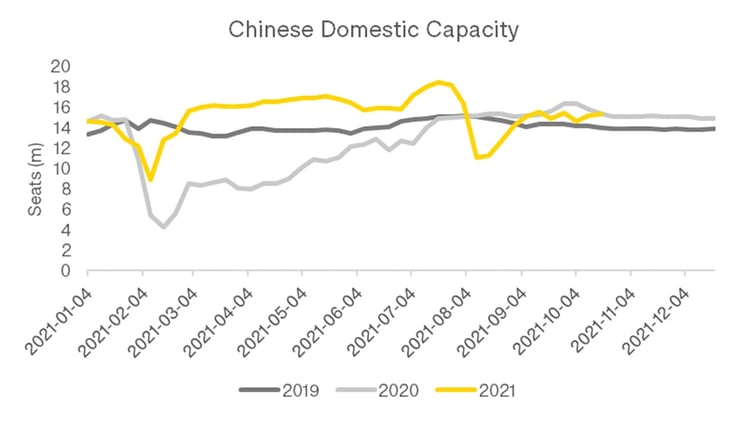 Source: OAG Schedules Analyzer
Following the 40% capacity reduction that took place between 19 July and 9 August, by the middle of August there were signs of a recovery taking place that raised hopes of a return to airline capacity growth (similar to the rapid rise following the dip in February 2021).
However, more recently capacity fell again by almost 800,000 seats in the week of October 4, taking China back to 10% below the same week last year and 10% below April levels. This was largely due to a new surge in COVID-19 infections in September, which more than doubled in China's south-eastern province of Fujian, in Xiamen, and in Harbin in the north-east Heilongjiang province. The surge triggered a new round of travel restrictions to curb the spread. The timing is a big blow to the 'Golden Week' (a week-long national holiday starting on October 1), usually a major season for tourism and hospitality. However, in the two weeks that has followed, some of these capacity reductions have come back, with airline seat capacity in the week of 18 October now back to just below where it was at the end of September.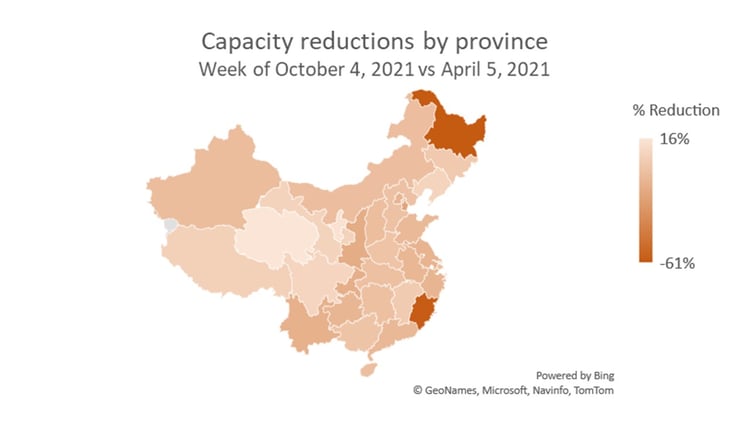 Source: OAG Schedules Analyzer
Looking at the airline capacity change by province for the week of October 4, compared to the week of April 5, it shows a 60% reduction in Fujian and 61% in Heilongjiang, with a total loss of 540,000 weekly seats in these provinces. The worst affected airline by the outbreak in Fujian was Xiamen Airlines with a 47.5% reduction within its province capacity, and a 18% reduction in capacity overall from April seats.
Out of China's biggest airlines, China Southern experienced a 75% reduction in seats in Heilongjiang province, however, the biggest hit to the airline came from Guangdong province earlier in the summer, with a loss of more than 90,000 weekly seats in this region alone. Outside mainland China, airlines such as Macau's flagship carrier, Air Macau, were also affected by the travel restrictions before the Golden Week, as they cancelled flights from Macau to several Chinese cities, including Chengdu, Chongqing, Hangzhou, Nanjing, Nantong, Beijing, Shanghai, Tianjin, Yiwu and Qingdao.
Of all domestic Chinese airlines, China Express has been the most affected by the outbreaks and travel restrictions since April, losing almost 110,000 weekly seats over the course of 3 weeks in September. Most of the drop came from the sprawling megacity of Chongqing where 77% of seat capacity was lost from April's levels.
The Fujian, Heilongjiang and Chongqing outbreaks are the largest to emerge in recent months, challenging China's aggressive containment efforts of continuing mass testing, lockdowns and rapid contact tracing.
Holding the Zero-COVID Fort
The continuing travel restrictions and corresponding airline capacity reductions, resulting in loss of passenger traffic, highlight the vulnerability of Chinese airlines to repeated outbreaks of COVID-19, despite COVID being considered largely under control in the country. This brings up the question of how sustainable the zero-COVID policy is beyond the short-term. In addition, hosting the Winter Olympics in Beijing in a few months and welcoming guests from all around the world may only exacerbate the situation in the near term.
Since the start of the pandemic, China was one of a handful of countries in the Asia-Pacific which managed to bring infection rates to zero and become virus-free. For a while, until the rise of the Delta variant, the strategies adopted by zero-COVID places like China, New Zealand, Singapore and Australia seemed to be working successfully. However, with the Delta variant now dominating infections, and vaccine roll-out reaching a higher percentage of the population, Singapore and Australia have changed their policies as they have started questioning the sustainability of this approach. They are now encouraging vaccination to protect their populations from severe illness. Despite having 75% vaccination rates, China is still determined to see each outbreak stamped out. With New Zealand preparing to leave the zero-COVID strategy behind as well, China is now in a smaller group pursuing a zero-COVID quest, along with the Chinese territory of Hong Kong.
---
Related OAG content:
Positivity Soars as Travel Markets Reopen but Airlines Remain Cautious
Webinar | Is a sustainable recovery on its way?
Ripples and surges in China as the latest wave hits: how will Asia respond?