US$ 5.4 Billion Of Revenue Risk For Major Airlines
In a normal year, this is when airlines bank as much cash as possible storing every possible penny away for the winter season; aviation has always been seasonal, and capacity moves from market to market as temperatures rise and drop. One of the most lucrative markets is the Transatlantic and this year full access to that market is more vital than ever, otherwise why would all the major legacy airline CEOs gather to lobby politicians; it's hardly as though they know each other!
Enough Revenue to Buy a Football City!
Stretching our fading memories back to when life was normal, we have looked at the revenues generated across the Transatlantic in July and August 2019 and the numbers are staggering. Some US$7.2 billion of revenue was generated for those two months, enough cash to buy both Manchester United and Manchester City and get a special value-added of Hartlepool Town! A staggering US$ 3.3 billion of that revenue is on services to the United States with Canada, if it ever reopens valued at US$ 502 million.
The United Kingdom Dominates the European Table
We know it is rare for the UK to come first in any table but when it comes to transatlantic revenues the country comes into its own with a value of some US$ 842.8 million, one and a half times larger than the next country market, Germany. There is then a "cluster" of secondary markets that includes France and Italy before the top ten finishes at Portugal with a valuation of some US$ 67 million.
On a revenue per seats basis then distance does have a slight impact with Greece and Italy securing slightly higher yields than the more westerly European markets and the revenues for Switzerland are just explained by it being, well, Switzerland!
Table 1 – Transatlantic Revenues July – August 2019 by Country Market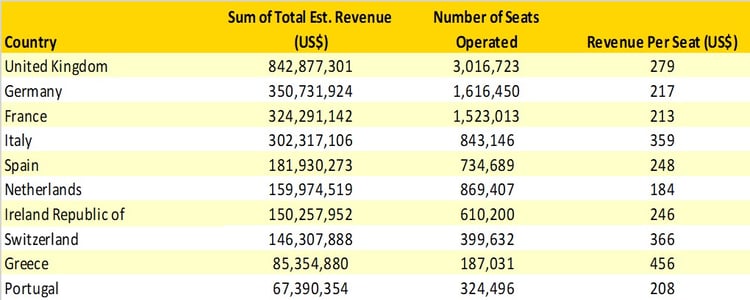 Source: OAG Traffic & Schedules Analyzer
British Airways Jewel in The Network
In previous blogs, we have noted how valuable and important the transatlantic market is for British Airways and indeed the whole IAG Group and the data below reaffirms that position with every seat operated in July and August 2019 generating some US$543 for the airline.
It's also very interesting that some of the lowest yields per seat are amongst the US based carriers who traditionally have operated a smaller proportion of premium class capacity than the European legacy carriers. The importance of that slightly larger seats and very much higher fare cannot be underestimated even in the most leisure dominant months of the year.
Table 2- Transatlantic Revenues July – August 2019 by Airline

Source: OAG Traffic & Schedules Analyzer
What Does This Mean for This Summer?
Although the market has changed dramatically in two years, forward bookings are typically less than 25% of what they were, and yields are likely to be lower than two years ago. We have calculated what could be a best-case scenario for revenues that the airlines could generate in the next few months if the market was reopened. Of course, capacity is very much subject to change at the moment, and typically between now and July and August we are currently seeing around one-third of capacity being cut which would of course weaken the positions of every carrier further.
Table 3- Potential Transatlantic Revenue Loss July – August 2021 For Major Carriers

Source: OAG Traffic & Schedules Analyzer
The potential revenue losses for each airline are significant and particularly for the European carriers who have found little alternate flying whereas the American carriers have to some extent flipped capacity to their domestic networks, although the revenues are a shade of what they would receive on the transatlantic sectors. These numbers also of course explain why airline CEOs are applying pressure right now although after some eighteen months of a pandemic some will wonder if it should have been done earlier.
Will the politicians finally listen and follow the data… only time will tell.
---
Join John Grant at the next OAG webinar on 16 June, click on the link below to register today.