US Airlines have a major role to play at Thanksgiving transporting literally millions of travelers across the country to reconnect with families and friends at one of the most important times of the year. 2020 was, despite the best intentions of everyone, not a good year for travel and many would-be travelers were advised to stay at home. Fortunately, 2021 is shaping up to be very different as airlines are ramping up for a busy week. It could even be better than 2019 for some!
This year we expect over 19 million domestic airline seats to be available for sale in the week of Thanksgiving; that is a 46% increase on the 13 million of last year and within 9% of the 2019 level. For an industry that has been ravaged in the last twenty months the week of the 22nd November cannot come quick enough (especially off the back of international access to many markets having just opened). There will always be winners and losers in such situations, so from a capacity perspective, we've looked at who they are and what we can expect. And there are some surprises in that data.
In our analysis, we have included both domestic and international airline capacity now that the United States is once again connected to the rest of the world. We started by looking at capacity by departing state and the table below shows the ten largest markets with comparison over the last three Thanksgiving seasons. Whilst Florida is the largest state market and did manage to grow over the last two years, Colorado and then Arizona both achieved higher growth rates. Although in absolute terms smaller in size, both Mississippi (+8.8%) and Utah (+7.0%) secured high levels of growth.
Unfortunately, California has suffered with capacity taking a real battering. The state has now lost its number one position, is some 20% down over the last two years and is close to slipping further down the table with Texas in a close third place. Illinois also fared badly and in percentage terms is one of the largest losers in domestic capacity with an 18% reduction; New Mexico (-22%) and Oregon (-23%) are amongst the few states that have "beaten" Illinois in the losers' placings.
Table 1- Top 10 US States for Domestic Capacity, 2019 – 2021 Thanksgiving Weeks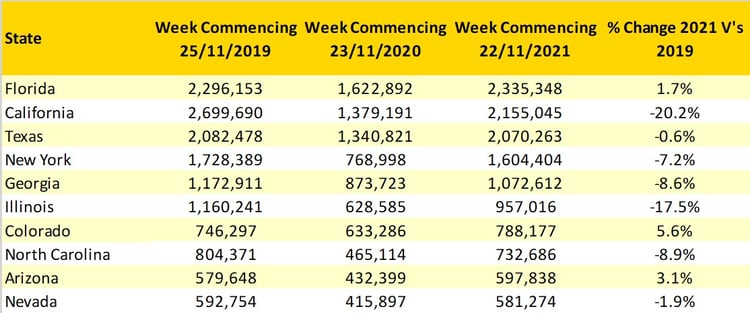 Source: OAG Schedules Analyzer
Not surprisingly, with Florida both the largest and one of the faster-growing state markets, it has seen some extraordinary domestic capacity growth in the last few years.
Atlanta remains by far the largest airport for domestic capacity in the United States. Despite continuing to see a near 9% reduction in seats, Atlanta remains a distance away from second-placed Dallas Fort Worth where capacity is neutral over the last two years with American Airlines having focussed on the hub airport during the pandemic.
The biggest winner amongst the major airports is Miami where domestic capacity has increased by some 18% in two years, much of which is due to their success in the domestic market. In truth, Miami was probably underserved from a domestic standpoint with Hollywood/Fort Lauderdale very close by. But with carriers such as Spirit and JetBlue entering the market, competition has never been hotter and probably airfares more competitive for those still wanting to grab a bargain.
---
Recommended:
US Aviation Market - Latest Insights and Analysis
Delta's Bigger Planes: Chasing Consumer Taste for More Space
Busiest Routes Right Now - See the World's Busiest International and Domestic Routes
---
Chicago O'Hare (-19%), San Francisco (-34%) and Los Angeles (-22%) are all poor performers compared to two years earlier as you would perhaps expect given the earlier state numbers. In all three cases, a combination of legacy airlines refocussing and the development of direct non-stop services between secondary airports have at least in the short-term reduced the power of the hubs. But this will once again change as the market fully recovers and international connecting traffic rebuilds at these locations.
Table 2- Top 20 US Airports for Domestic Capacity, 2019 – 2021 Thanksgiving Weeks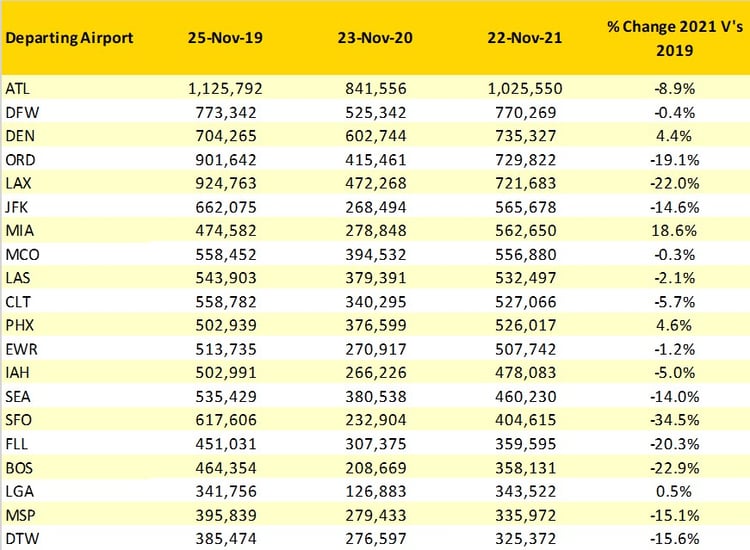 Source: OAG Schedules Analyzer
Amongst the airlines we have noted before, the low-cost and ultra-low-cost carriers have proven to be quicker off the mark and nimbler at adjusting airline capacity through the pandemic - and the data for the Thanksgiving week once again indicates that this is the case. Looking at the ten largest domestic carriers the smaller LCC's (low-cost carriers) such as Frontier and Allegiant will operate significantly more capacity than they did two years earlier. And of course, such carriers are not locked into operating from their hub airports happily operating from smaller tier two cities to popular leisure destinations at such times. Legacy carriers appear to be slightly more strapped in recovery terms but will undoubtedly be seeking to maximize revenues through this busy week of the year; for them, higher yields will be a welcome metric.
Table 3 - Top 10 US Airlines for Domestic Capacity, 2019 – 2021 Thanksgiving Weeks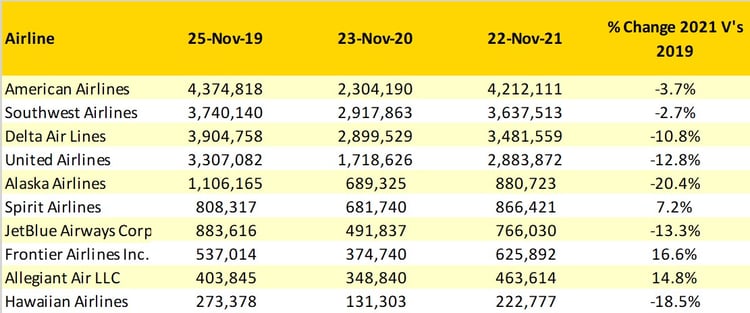 Source: OAG Schedules Analyzer
With airline capacity now firmly recovering, it feels like Thanksgiving may at last for the airline industry represent a real turning point in fortunes. This would be a positive gift not only for travelers but airline executives that have skillfully worked their way through the pandemic and are looking forward to the well-deserved holiday season.