---
Commentators would have you believe that the market is soft this summer as Brexit continues to dominate and Sterling continues to fall against most currencies making the cost of that holiday even more expensive. But is that really the case? Our analysis suggests it isn't quite that bad….
August will see some 17.3 million departing seats from UK airports compared to 17.0 million last year, an increase of just over 1.5% which equates to around another 8,400 seats a day compared to last year. That increase in capacity is also based on fewer flights with some 171 fewer scheduled services planned this month than last year which of course implies the increasing use of larger aircraft and indeed the average number of seats per departing flight this August will be 165 compared to 162 last August suggesting perhaps more squeezing of leg room for some of us!
Chart 1- United Kingdom Scheduled Capacity August 2015 - 2019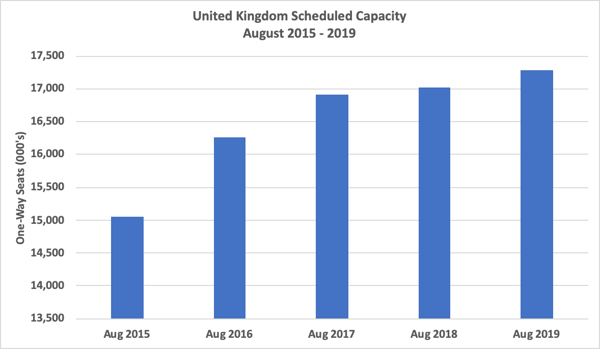 Source: OAG Schedules Analyser
So, August 2019 although showing some growth isn't perhaps as strong as some would want us to believe. However, in comparison to August 2015, scheduled capacity has increased by some 15% when the month just broke through the 15 million scheduled seat mark. In the last five years, some 2.3 million additional seats have been added (72,000 a day) and 7,800 new flights added; hardly the results of a depressed market.
So where are the growth markets, what airports are seeing new services and which airlines are expanding; we've got all the answers…..
Spain still dominant and Turkey's recover well underway
Reassuringly Spain continues to be the largest market from the United Kingdom and despite a slight fall back from the near 3 million seats on sale in August 2017 remains twice as large as its nearest competitor, the United States and three times larger than Italy. Politics and perceived terrorism threats can impact capacity and Turkey certainly felt the impact in 2016 and 2017 when capacity fell by over 20% compared to 2015. Equally when such threats are reduced capacity bounces back to a popular destination and some additional 89,000 seats to Turkey this August would suggest that a recovery is well underway.
Table 1- Top 10 International Markets from The United Kingdom August 2015-2019

Source: OAG Schedules Analyser
Airports continue to maximise capacity
Many of the UK airports can look forward to what appears to be a record August, at least in terms of capacity. Both Heathrow and Gatwick continue to squeeze more capacity into their apparently full airports; in the case of Heathrow through the addition of an additional 247 scheduled flights whilst Gatwick has increased capacity but with no increase in scheduled flights.
Table 2- Top 10 Airports from The United Kingdom August 2015-2019

Source: OAG Schedules Analyser
The impact of falling foul of Ryanair can be seen at three major UK airports where August capacity is down year on year; Stansted, Glasgow International and Belfast International which collectively are now offering some 133,000 fewer seats and with the airline already suggesting further cutbacks in the winter we should expect more airports to feel some impact later in the year.
On a positive note all major UK airports have in the recorded strong growth over the last five years although the lower rates of growth at the two major airports at Heathrow and Gatwick highlight the case for more capacity at both as they fall well below the average for the top ten airports.
easyJet continues to expand in Europe
EasyJet are now the largest UK based airline operating and with over 3 million seats scheduled for August have now created some distance between themselves and British Airways. Indeed, British Airways now operate nearly 90% of their capacity from London airports; easyJet meanwhile will operate 54% of their capacity across their London Airports.
Chart 2- Top UK & Ireland Based Airline Capacity from The United Kingdom August 2015-2019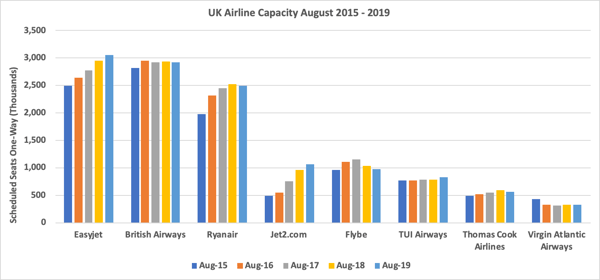 Source: OAG Schedules Analyser
Collectively easyJet and British Airways account for over one third of all scheduled seats operated from the UK in August whilst Jet2.com continue to be the fastest growing UK based airline having doubled their capacity in the last five years.
Finally, for those of you wishing to avoid meeting the neighbours on holiday, with Dublin, Amsterdam, Palma, Malaga and Alicante the top five international destinations from the UK avoiding those airports will increase your chances.
So, despite predictions of a gloomy summer for the airline industry and expectations that overseas travel will be slower than in previous years from a capacity perspective the evidence suggests otherwise. August will be busier than ever in 2019, or at least the airlines are planning that way.