It seems that everything is positive for the aviation industry this week as more and more markets relax their Covid-19 restrictions and start to look forward to reopening their hotel doors. In many markets optimism is now flooding back, even Australia is beginning to plan for a reopening, New Zealand now increasingly looking isolated both geographically and in response to Covid-19.
The United States finally announced a date for reopening access from major source markets although sadly with too short notice for some airlines that had already started cancelling services out to the middle of November. The lack of understanding about airline planning requirements and Government changes in policy has been stark throughout the pandemic and this example ranks alongside the 04:00 AM changes that the UK Government found amusing, and for travellers it is just so frustrating!
The increasing positivity is however not translating into immediate increases in capacity, and to be honest we wouldn't expect that to be the case, there is enough capacity in the market for the current demand in most markets. An additional six million seats were removed from the market through to the end of 2021 giving a current total for the year of 3.7 billion compared to 3.2 billion in 2020 and 5.7 billion in 2019, a recovery of sorts may be underway!
Table 1 - Weekly Capacity Changes By Region, Forward Quarter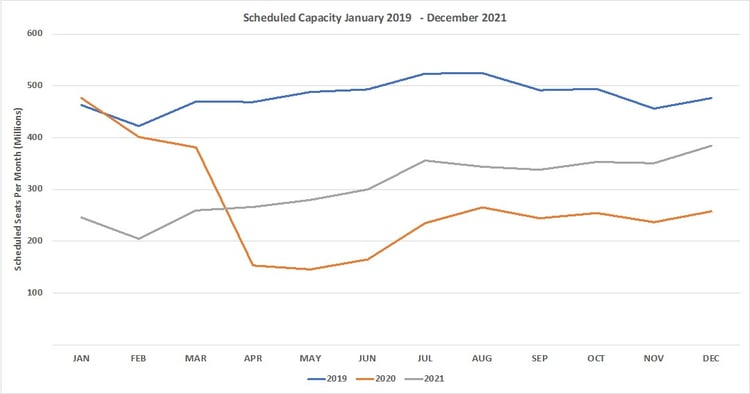 Source: OAG
Airlines Remain Cautious on Capacity for Winter 2021/22
It seems that airlines are increasingly cautious of adding capacity back too quickly despite the market positivity, especially through the coming winter season. Looking forward to the first quarter of 2022, by region capacity, nearly every part of the world remains almost unchanged over the last few weeks. In part that may be because airlines have only been looking forward a few months at a time and most airlines remain focussed on their schedules through to the end of this year, but no carrier is rushing to add back any capacity in January at the moment, and who can blame them!
The table below shows how airline capacity for the first quarter is shaping up compared to previous years. Global airline capacity remains 13% below 2019 levels but on a more optimistic note is 67% up on 2021, which would be an astonishing recovery. However, before getting too excited we should remember that airlines are continuing to cut around six million seats on a rolling three-month forward basis so there is plenty of weeks and landings to be made before we even start 2022. Things are certainly looking better but there is still a long way to go in the recovery!
Table 2 – Comparative Quarter One Capacity 2019 - 2022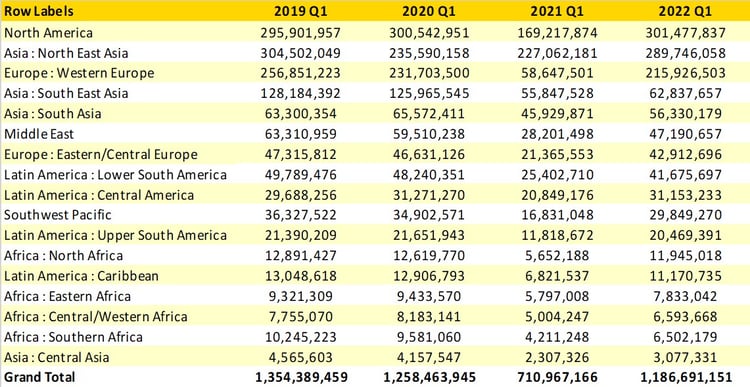 Source: OAG
Supporting the point about not getting too excited too quickly, weekly capacity has fallen slightly this week and refuses to once again break through the 80 million mark having dropped back to 79.1 million. European markets continue their seasonal capacity reductions as what was the "peak" season comes to an end with some 700,000 fewer seats operating and one major low-cost carrier dropping out of the top twenty airline rankings.
The recovery in South East Asia is reflected in capacity increasing by 7.2% week on week, that is positive news but in reality that is only another 215,000 seats which is perhaps a reflection of how far the market had fallen; it is still only operating at 31% of its pre-Covid levels. And despite the positive news from Australia, total capacity in South West only increased by 4,000 seats this week and the region remains 70% below the same week in 2019.
And finally, the "gap" between North America and North East Asia capacity has once again shrunk to just over one million seats; a 3% swing in either direction across the two regions could see North East Asia replace North America at the top of the charts, is that realistic to expect in the coming weeks?
Table 3 – Scheduled Airline Capacity by Region

Source: OAG
Brazil moves ahead of the United Kingdom in the country listing based on an 8.2% increase in capacity this week, whilst Germany loses out to the United Kingdom in the rankings with a 3.1% reduction in capacity compared to last week. Greece continues to slide down the table and now occupies twentieth position, there remains some distance to the Netherlands but with more capacity to be cut in the coming weeks Greece could ooze (oh) out of the chart.
Table 4 - Scheduled Capacity, Top 20 Country Markets

Source: OAG
It may be a quirk of the data, the fact that all major US airline network planners were at Routes 2021, that we only report to one decimal point or a reflection of more stability in the market but the four largest airlines in the world are reporting similar capacity volumes for the second consecutive week. During our weekly reporting of the pandemic, we have not seen this before, is this another reflection of things getting better, perhaps.
The top twenty airlines also sees Air France creep back into the list at the expense of Wizz Air, a combination of some more capacity from Air France and Wizz Air dropping some seats explaining the switch.
Table 5 – Top 20 Scheduled Airlines

Source: OAG
Although this week's data is relatively flat and looking through to the end of March 2022 capacity has not changed significantly, there is a clear feeling that the global market is beginning to re-open. The seeds of a recovery are in place and we just need to be patient to see demand rebuild, both over the winter period and into summer 2022. Tour operators and airlines around the world are already reporting stronger forward bookings for next summer than in 2019 as consumers cash in those unused travel vouchers; of course, we just need to avoid the Emirates version of the Delta variant in the next few months. Surely the industry deserves that piece of luck?
Stay safe everyone.