Low-cost carriers (LCCs) are responsible for a third of the world's scheduled airline capacity today, and it looks as though they are set to continue to grow. In the last 12 months, the respective shares operated by LCCs of Flights, Seats and ASKs have increased by 2 percentage points.

The COVID-19 pandemic provided an opportunity for LCCs, like Wizz Air and Indigo, to adapt their strategies. These airlines used the pandemic to assess their markets and grow. The next few years will see them, and other LCCs, receive a significant number of aircraft, enabling them to further expand. This growth will involve continuously assessing new route opportunities and steadily encroaching on the networks of legacy carriers.

In this blog, we will explore what defines a low-cost carrier today, the key LCCs by global share of ASKs, what actually makes LCCs cheaper, and why they have been so successful.
What is a Low-Cost Carrier (LCC)?
For the traveler, these airlines may more commonly be referred to as budget airlines, discount airlines, low-fare airlines or no-frills airlines. These terms refer to the fact that the consumer typically spends less money to fly on low-cost carriers. Low-cost airlines specialise in keeping the costs down, minimizing their operating costs by having single aircraft fleets, and without some of the more traditional amenities (like in-flight meals) included in the fare, meaning they can offer lower fares due to their lower cost of operating – essentially these cost-savings are being passed on to the traveler and for LCCs the trade off is they stimulate more passengers to travel due to lower fares. Recently, the tactics deployed, and strategies used by many of the LCCs (to keep costs down) are increasingly being adopted by legacy airlines - creating hybrid airline business models.
Which Airlines are Low-Cost Carriers?
Today there are 811 scheduled airlines, and of these 102 are low-cost carriers. Despite there being so many airlines, the reality is that 80% of all flying, as measured by Available Seat Kilometers (ASKs), is done by just 13%, or 103 of these airlines. Among these 103 airlines are 29 LCCs, reflecting a strong global presence.
The largest LCC in the world is Southwest Airlines, based in the USA. It provides 11% of global Available Seat Kilometers (ASKs), and is closely followed by Ryanair, which contributes 10% of global ASKs.
Although 8 of the Top 10 LCCs are based in either North America or Europe, LCCs are not solely a North American or European phenomenon, as this type of business model has been replicated across the globe. IndiGo, based in India, has grown rapidly and is now the 4th largest LCC in the world while Lion Air, based in Indonesia, is ranked 10th. South Asia, including India, has the highest market penetration by low cost carriers, who operate 63% of all seats in the 12 months to August 2023.
What Makes LCCs Cheaper?
Managing costs starts with the business model for the airline, and the operating strategy being pursued by the management team. The primary characteristic of the business model is driven by a compulsion to keep operating costs as low as possible which means the airline can offer air fares that are as low as possible. Competitiveness is based on being able to win customers primarily through price.
Keeping costs down affects everything about the airline – where it flies, what the airline product looks like, sales, onboard services and even the aircraft itself. Nothing is off limits, apart from safety, of course.
What Makes LCCs Cheaper? The Flight Experience
Single cabin configuration:
Keeping the cost of flying down for each passenger means that many LCCs operate with a single cabin configuration and fit in as many passengers in as they can. This means the costs of flying the aircraft are shared by as many people as possible. Fitting a lot of passengers on an aircraft can mean that airline seats are spaced a bit closer together than on some legacy airlines.
Onboard services:
The onboard service is also pared down. Drinks and food options are often more limited and have to be paid for separately, rather than being included in the cost of the ticket.
Baggage allowances are also tightly controlled so that anything more than a small carry-on bag incurs a cost. Similarly, if a passenger wants a specific seat or wants to be able to sit with specific people, they may need to select these in advance and incur charges for having that choice.
While headline fares are low, passengers who choose a number of these additional items may find themselves paying significantly more than that. The most successful LCCs will generate up to about half of all their revenues from what are termed 'ancillary products', i.e. the extra things that passengers buy.
The breaking down, or unbundling, of what used to be included in an airline ticket purchase is increasingly being copied by legacy airlines, especially for short-haul flights.
What Makes LCCs Cheaper? Aircraft Fleet Used
One of the most obvious differences between LCCs and legacy carriers is the aircraft fleet. A typical LCC only operates aircraft from one family of aircraft.
For instance, both Southwest Airlines and Ryanair, only operate Boeing 737s. This can increase their negotiating power when they first buy or lease aircraft as orders are often very big, though once committed they are somewhat tied in. Their size, however, means they can be a strong voice for changes they want to see in new aircraft development as they will be significant future buyers.
Unsurprisingly, the primary reason for maintaining a fleet with a single aircraft type is costs. Pilots are interchangeable, being able to fly any aircraft in the fleet. Crew flexibility is also maximised as all the crew are familiar with the aircraft and the size of roster is always the same. Maintenance, spare parts, training and the other costs associated with aircraft are also kept to a minimum.
Where having a single aircraft type may be limiting is that there is less flexibility to 'right-size' an aircraft to a market. The only lever an LCC has is to increase or decrease capacity on a route is the frequency with which a route is flown. There are no larger or smaller aircraft to deploy according to demand. In contrast, large legacy airlines often may have a fleet with 5 or 6 different aircraft types, some suited to small, thin routes and others much larger and capable of carrying much larger numbers of passengers while still only using one airport slot for taking off and landing. In the past, some of the legacy airlines had many more different aircraft types but over time they have reduced the number of different models in their fleet in order to reduce costs.
Another feature of the LCC aircraft is often its average age. Typically, LCCs operate newer aircraft than legacy carriers, especially given the improved operating efficiency – and therefore costs – of the newest aircraft.


What Makes LCCs Cheaper? The Route Network
The traditional airline business aims to grow by creating an ever larger network of routes based around hub airports so that they can offer potential travellers more and more possibilities for travelling between two points. In contrast, the LCC model is focused on point-to-point travel. Passengers who want to make use of the network to connect between flights need to buy multiple tickets and bear the risk themselves of missed connections.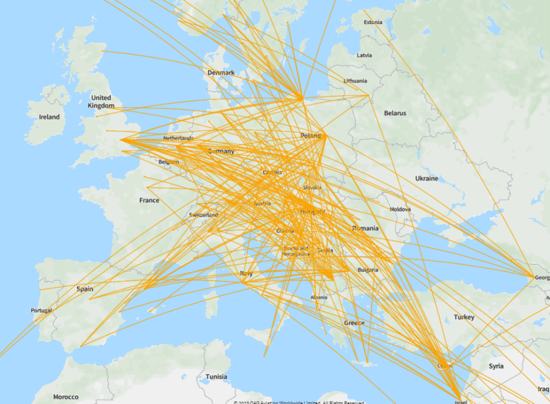 Wizz Air Route Network – 21 June 2023
On paper, every LCC has a route network but for the airline every route operated is like a mini business. Each route must be profitable in its own right, or on a stand-alone basis. Unlike the network carriers - which assess profitability on the basis of the whole network and where unprofitable individual routes may make a valuable contribution to the network as a whole - the LCC can be ruthless and experimental about the routes operated. Under-performing routes will be culled while routes with potential will be added.
The choice of airports used may be different too. In pursuit of lower costs, LCCs are more likely to opt to fly in to and out of secondary airports, often further from city centers and with fewer facilities. For the LCC, this can also mean less congestion, and airport charges which don't cover the cost of fancy terminals and boarding gates. For the traveller it may mean a bit of a drenching if it rains while transferring from an airport bus to an aircraft parked at a remote stand, but that is accepted as the price of a cheap ticket.
Why Have Low-Cost Carriers Been So Successful?
Customer-Focus: How LCCs Sell to the Consumer
While airlines have always sold some of their tickets directly to consumers, the LCCs have made this standard. This allows them to better control inventory and fares, and saves the airline from paying commission to the intermediary in the usual distribution channel. It also enables them to be focused on what the customer values, by owning the customer data and search data, the LCCs are adept at using that information to sell product enhancements and ancillary products – and experiment with this. It's not unknown for LCCs to use their booking website address as the main part of their aircraft livery.
A notable of LLCs is their operation across multiple markets, such as in Europe where Ryanair, EasyJet and Wizzair have a number of bases covering locations in Scandinavia, Central Europe, Eastern Europe and deep into Southern Europe, stretching ever closer to the Middle East. In similar fashion via a series of franchise operations both Air Arabia and Air Asia have created bases in various countries that allow them to maximize networks within bi-lateral agreements in those countries.
Blurred Boundaries: What Distinguishes An LCC From a Legacy Carrier?
Increasingly the boundaries between what distinguishes an LCC from a legacy carrier are blurred. Many legacy carriers have reduced the number of different aircraft types they fly, seeing the impact on overall costs. New Distribution Capability, or NDC, is bringing a greater degree of commercialisation to legacy airlines, enabling them to offer more personalized and dynamic offers, like those that LCCs use with their customers. Increasingly legacy airlines are unbundling their product, so the passenger is expected to pay separately if they want hold baggage or a pre-assigned seat. The net effect can be that some legacy airlines are treating the economy cabin almost as a low-cost carrier in its own right, while the premium cabins function as traditional legacy airlines. There are also some LCCs that venture into offering differentiated cabins in order to attract higher fare paying passengers.

Technology has always been an important tool for low-cost carriers in their quest for keeping costs low, whether that is manifest in the paperless office or real-time data which ensures fast aircraft turnaround times. Technology is now also enabling some LLCs to offer customers virtual flight connections that allow them to connect between single LCC flights with peace of mind about luggage and missed connections.
With price a key element of customer decision-making for almost all passengers, legacy airlines will continue to adopt LCC innovations, while LCCs will continue to place pressure on legacy airlines through their consistent drive to keep airfares low.
---
What is an ASK?
An ASK, or Available Seat Kilometer, is the total number of airline seats flown multiplied by the distance of each flight. Overall, it is a way of measuring the size of each airlines' air service offering.
---
Schedules Analyser For Airlines