---
It's unusual for the announcement of a new airline to be greeted with as much enthusiasm as Breeze Airways, which may take to the skies later this year. The brainchild of David Neeleman, founder of successful airline start-ups including JetBlue, Breeze Airways will initially focus on north–south routes along the eastern U.S., targeting leisure travellers prepared to fly from secondary cities.
Leasing aircraft from Azul Airlines, which was also founded by Neeleman, Breeze will implement a similar strategy to its sister airline and concentrate on operating unserved routes. This approach has certainly worked for Azul, as well as all four major U.S. low-cost carriers—which operate a relatively high number of routes with no competition from other scheduled carriers.
So, how many 'unserved' routes within the U.S. are there?
In November 2019, data from OAG Traffic Analyser showed that there were 37,000 routes, or origin and destination pairs, with around 6 million passengers that did not have access to non-stop flights—requiring at least one connection to reach their final destination. Scaled up, this means there are as many as 75 million passenger journeys without a direct flight option per year.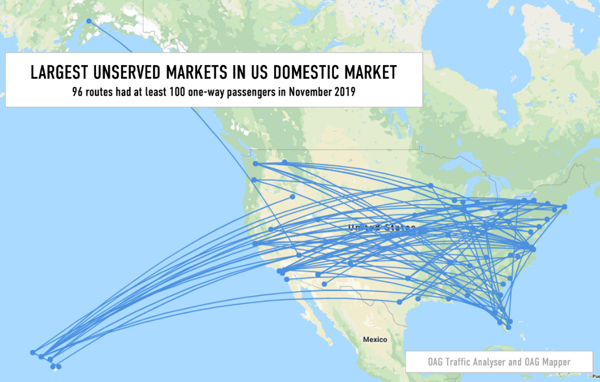 Inevitably, with the number of commercial airports in the U.S., many of these routes don't see large volumes of passengers at an average of five passengers travelling in either direction, per day. However, for the same time period there were almost 100 market pairs that average over 100 one-way passengers each. With the stimulation that often accompanies the launch of new routes and the availability of regular air service, such options could support much more traffic if direct services were available.
Not surprisingly, the states which have the highest levels of unserved routes are those with the most passenger traffic. California and Florida each had over 500,000 passengers take flights to reach unserved destinations in November 2019, while Texas recorded the highest number of unserved routes.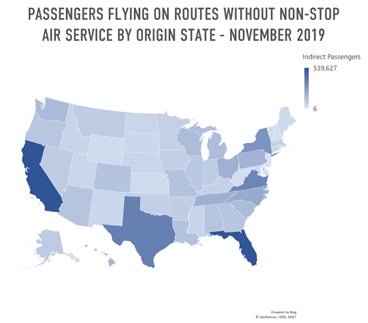 However, many of these routes don't fit the stated aim for Breeze Airways in that they either start or end in California, Hawaii or somewhere west of Mississippi.
The top-three largest unserved market pairs for November 2019 include:
Los Angeles (LAX) to Virginia's Norfolk International Airport (ORF): 10,600 passengers travelling between the two airports, averaging more than 350 per day.
Las Vegas (LAS) to and from Kahului (OGG) on Maui, Hawaii: 7,783 total passengers or around 250 passengers per day.
Richmond, Virginia (RIC) to and from San Francisco (SFO): 7,401 total passengers, or around 250 passengers per day.
The path less chosen—Unserved eastern routes
With a history littered with airline failures and carriers benefitting from the consolidation that occurred a decade or so ago, it may seem that Breeze Airways is embarking a well-worn path. Yet, there's still hope for Breeze to be as successful as Neeleman's other start-ups—especially with the airline's strategic focus on secondary cities.
In November 2019, the largest unserved markets north from Florida featured at least 55 passengers travelling to non-hub airports, including:
Orlando (MCO) – Dayton, Ohio (DAY), the largest unserved route north from Florida with 159 one-way travellers.
Jacksonville (JAX) – Richmond, Virginia (RIC)
Jacksonville (JAX) – Buffalo, New York (BUF)
Miami (MIA) – Buffalo (BUF)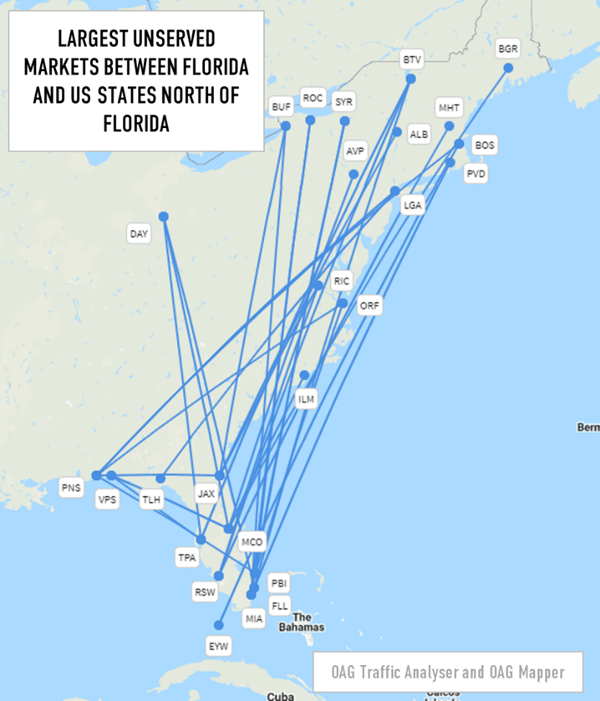 It shouldn't be a surprise that in a country where commercial aviation is so well developed, passengers are still flying from elsewhere. After all, the hub-and-spoke system which has been the heart of U.S. legacy carriers for decades continues to thrive. Similarly, the influence of the low fares offered by low-cost carriers encourage passengers to chase bargains, even if it means a slightly more cumbersome journey. Whether there is enough demand for Breeze Airways to make a go of it remains to be seen, but Neeleman's track record and demonstrated success with flying where there is little competition shows he might have a chance.