Tokyo's two airports, Narita and Haneda, have been vying for international flights for the past decade. Just before the pandemic hit, airlines were starting to shift their international flights to Haneda's more convenient location. But have those plans changed since Japan started to reopen? And which Tokyo airport is seeing a faster recovery?
Haneda vs Narita: The Game of Ping Pong
Haneda, Tokyo's original airport, opened in 1931 and functioned as Tokyo's main international airport until Narita was built in 1978, relegating Haneda to handling mainly domestic flights.
That changed in 2010 when Haneda opened a new international passenger terminal, and a fourth runway was built. Initially, international flights were limited to nighttime slots, but these were expanded over the 2010s, and in 2019, 50 additional airport slots were allocated to international airlines thanks to airspace changes in anticipation of the 2020 Tokyo Olympics.
When we look at the split of total Tokyo seats in August 2019, Haneda was the clear winner, operating 67% of the total (4.6 million), and 90% of all domestic seats (3.7 million).
The 2020 Tokyo Olympics triggered a ramp-up from airlines planning to either switch from Narita to Haneda, or to fly to both hubs:
Delta Air Lines announced a plan to transfer all its Tokyo flights from March 2020
All Nippon Airways (ANA) announced it would launch Haneda flights to six US cities
Japan Airlines (JAL) planned to fly to more US cities from Haneda
British Airways planned its transfer from March 2020.
ANA noted at the time that the decision to operate more Haneda routes would "increase the ease and convenience for passengers flying to Japan from across the world, a significant benefit of [our] dual hub strategy."
However, Narita was still the dominant airport for international seats in August 2019, holding a 67% share of international seats (1.9 million), and a 77% share of seats to and from the US, the largest international market.
And then, of course, the pandemic hit.
Haneda's Domestic Advantage
Japan, like much of East Asia, has had a strict borders policy - it wasn't until May 2022 that the country even started to allow leisure tourists into the country, with extremely strict restrictions. Even returning residents faced paperwork when looking to return, leaving both outbound and inbound travel essentially irrelevant for all but the most essential of trips.
Domestic air travel was all that remained for Japanese aviation in 2020 and 2021. The government launched its initial domestic stimulus scheme, Go To Travel, back in July 2020 but suspended it in December 2021 due to increased COVID cases. That scheme included part funding for transportation, which provided some support to airlines. Later in 2021, a prefectural-level scheme was introduced, and in 2022 the Kenminwari scheme (replacing the Go To Travel scheme) was launched, with subsidies on both accommodation and transport costs, to promote domestic travel to places further away.
This massive swing towards domestic travel has played in Haneda's favour in that it is has been able to consolidate its position as Tokyo's dominant airport. While Narita operated with only 17% of the August 2019 capacity in August 2022, Haneda was at 48%. The relative strength of domestic air travel has helped both airports but the sheer scale of domestic capacity at Haneda means that it has recovered from the pandemic better. At Haneda, domestic capacity is only 8% below where it was in August 2019, at 3.4 million seats, although Narita is up on August 2019 by 4%, but that translates to just 417,000 seats.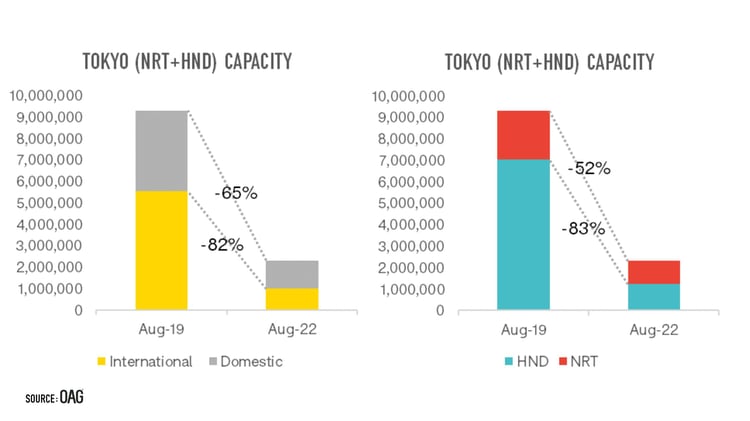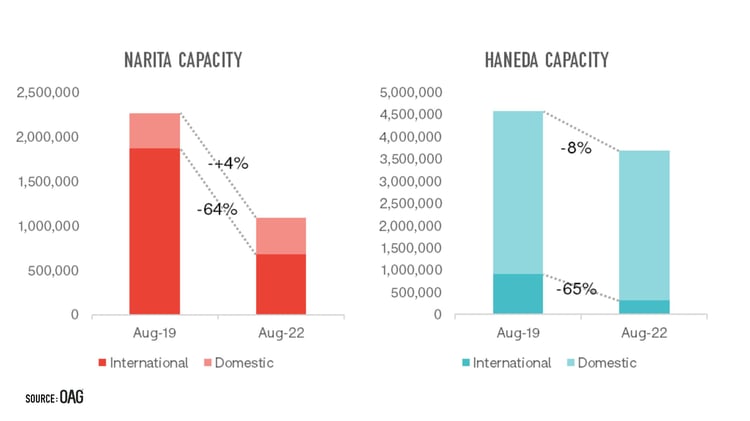 International Flights Seeing a Slow Recovery
When it comes to international seats, Tokyo as a whole is at just 36% of 2019 levels.
Total Seats From Tokyo and Recovery Rate vs. 2019
This low level of recovery is unsurprising, given the fact that international tourism to Japan has still not taken off - despite "opening" in June, it saw just 120k international arrivals in the first month, vs June 2019's 2.9 million.
Japan made moves at the start of September 2022 to ease restrictions slightly, raising the daily cap to 50,000 and removing the RT-PCR pre-departure test requirement - but with visas still required, tourists need a determination to get in. The media is full of hints that this may be about to change, with Nikkei Asia most recently reporting the likelihood that visas would be removed for certain countries.
The other issue, of course, is Russia's war in Ukraine and the impact this has had on airspace. As of September 2022, Narita is connected to just 50% of its 2019 European destinations, with routes from Europe being majorly impacted as airlines avoid Russian airspace.
Will We See the Trend of Transferring International Flights to Haneda That Started to Emerge in 2019?
It's perhaps too early to say yet. Certainly, we have seen Malaysia Airlines and Turkish Airlines opting for a dual hub strategy in 2022, with Malaysia Airlines adding Haneda, Turkish Airlines, Narita.
However, the ping pong game is far from over - ANA announced that it would be moving its North American flights back to Narita in early 2022, to offer better connections across its Asian network.
Narita and Haneda's top 5 international seat destinations were either US-based, or from Southeast Asia, with Narita seeing Hanoi reach an impressive 145% growth in September 2022 vs pre-pandemic and San Francisco 117%, whilst Haneda's Ho Chi Minh City has seen 226% growth vs September 2019.
Haneda has had a faster recovery rate in the number of international destinations flown, reaching 28 in 2022 vs 34 in 2019, with 2022 seeing new routes to Atlanta, New Delhi, Dallas, Seattle, Detroit, Helsinki and Istanbul
Narita on the other hand, has seen a 57% recovery, with 68 routes vs 2019's 119.
Will a Full Japan Reopening Remedy the Situation?
Even if Japan does reopen, its vaccination policies may present issues for travellers - as of mid-September, it does not recognise Sinovac as a valid vaccine, or any Chinese vaccine.
Given that its top source market was China in 2019, that could pose a significant problem, not only for China, but Southeast Asia, one of the emerging markets Japan is trying to entice back. Sinovac has formed the backbone of much of the region's vaccination programs.
Whilst Haneda looks like it is in the lead for recovery compared to Narita, Tokyo in general has a long climb back to its 2019 international flight volumes.
As we have seen from other Asian countries, reopening borders fully does not automatically mean an aviation recovery - Southeast Asia in August 2022 was still at 55% of total seat recovery, despite having been open since the end of Q1 2022.
Tokyo's aviation recovery is tied to two major factors outside of its control: China reopening its borders, and the Russia-Ukraine war and its impact on airspace and accessibility to Europe.
Still, there are some areas that Japan can control, and an easing of border measures will go a long way towards boosting international aviation confidence - and certainly, Japan will be one of the most anticipated tourism reopenings in Asia, judging by the excited media headlines over the past month.
---
Recommended: