---
Amidst the sadness this week at the loss of a heritage brand from the UK plc portfolio, there will be several other businesses, and indeed, countries, looking to fill the hole this leaves in their plans.
Thomas Cook, with Thomas Cook Scandinavia and Condor Flugdienst, the German arm of the company, made up 3% of scheduled airline seats departing from UK airports this summer, 4% from Germany and around 1% from Scandinavia. With rescue plans in place for Condor and the Scandinavian entity, it now seems that it is just the core UK part of the business which will not take to the skies again.
The UK airport with the largest Thomas Cook presence this past summer has been Manchester Airport where the airline had 1.17 million airline seats scheduled to depart between 31st March 2019 and 26th October 2019. This was 35% of all UK capacity for Thomas Cook but also 10% of all scheduled capacity at the airport. Manchester Airport's dependence on Thomas Cook in the Winter months is less, at 6% of all capacity prior to the collapse of Thomas Cook, or 350,000 seats, but this represents a large chunk of revenue which will now not materialise.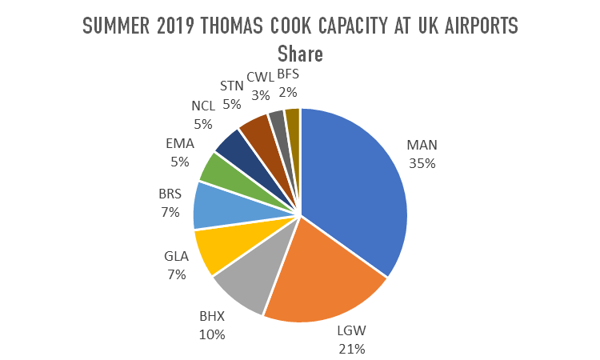 Source: OAG Schedules Analyser
Gatwick Airport was the next largest departure point for the holiday company, with 700,000 airline seats scheduled to depart this summer. As a much larger airport than Manchester, this represented 4% of all seats at Gatwick, and the airport is now facing the loss of 250,000 seats that had been in its winter 2019/20 schedule.
While much smaller, the airport which was most dependent on Thomas Cook, at least in the summer, was Cardiff Airport where 11% of capacity was with the failed group over the summer. Prior to the collapse, however, only 1% of the Winter 2019/20 schedule was with Thomas Cook, meaning the airport at least has some months to focus on what it can do to attract some airlines for next summer.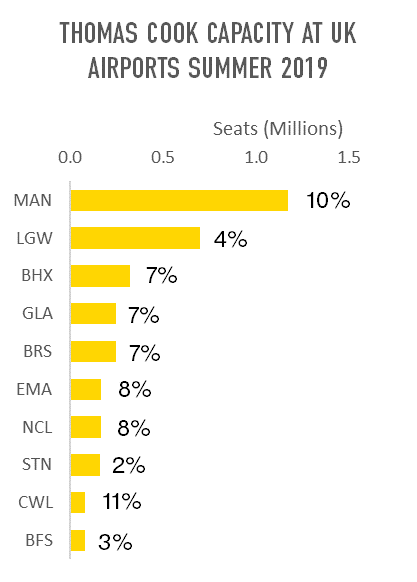 Source: OAG Schedules Analyser
Looking ahead to the Winter schedule, the Thomas Cook schedule that was in place had a mere 26% of the volume of seats planned to operate as operated in the summer schedule. Even so, the loss of this capacity will have a major impact for some destinations and countries as well as cities.
Spain has been the largest market for Thomas Cook in the Winter months and was expected to account for 37% of all winter capacity. The biggest impact will be felt by the Canary Islands with the loss of 145,000 seats from Tenerife (TFS), 91,000 from Lanzarote (ACE), 64,000 from Fuerteventura (FUE) and 14,000 from Gran Canaria (LPA).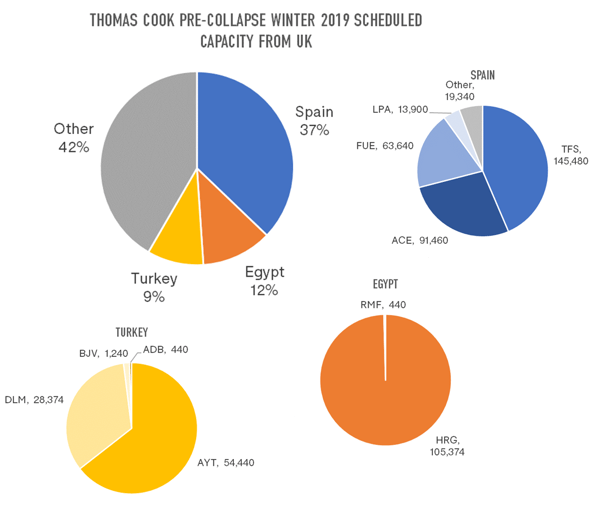 Source: OAG Schedules Analyser
Egypt has been the next most important Winter market for Thomas Cook and was expected to be the destination for 12% of capacity this year, almost all of it to the Red Sea resort of Hurghada (HRG).
Turkey, another favourite destination from the UK through the colder months at home, was expected to see Thomas Cook planes with around 85,000 land over the winter, split between Antalya and Dalaman Airports.
While a further 44 airport destinations were part of the Thomas Cook scheduled programme this Winter, some were relatively minor programmes and the impact may be limited for the destination resorts and cities. However, seven of these were expected to have inbound capacity from the UK of between 20,000 and 42,000 seats, leaving airports with revenue shortfalls and hotels with rooms to fill. These include Goa (GOI) in India, Banjul (BJL) in Gambia, Enfidha (NBE) in Tunisia, Barbados (BGI), Cancun (CUN) in Mexico, as well as New York JFK and Orlando (MCO) in the United States.
While the news of the failure of Thomas Cook broke while World Routes was taking place in Adelaide, unfortunately this will have been too late for air service development teams at these airports to make use of the event to start plugging the holes. No doubt, however, there will be some scrambling and scurrying to find airlines and tour operators willing to step in serve these markets at short notice.