---
Qantas may have recently operated a test flight between New York and Sydney but just how many more of these ultra-long routes are there left to serve, especially those with viable traffic volumes?
OAG has looked at the longest unserved routes in the world and come up with a Top 10. These 10 super-long routes currently average 170,000 annual passengers and an average range of 7,500 miles[1], although of course passengers flying them today have to connect between flights at least once in each direction. The Top 10 routes all operate to and from destinations in Asia, with five connecting Asia and the United States , and the other five connecting Europe/Middle East and Asia.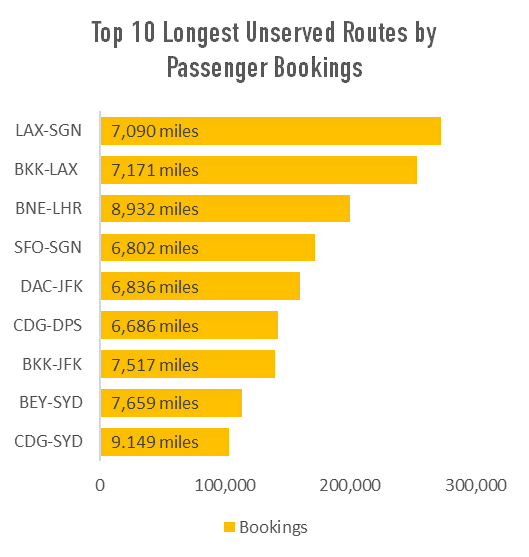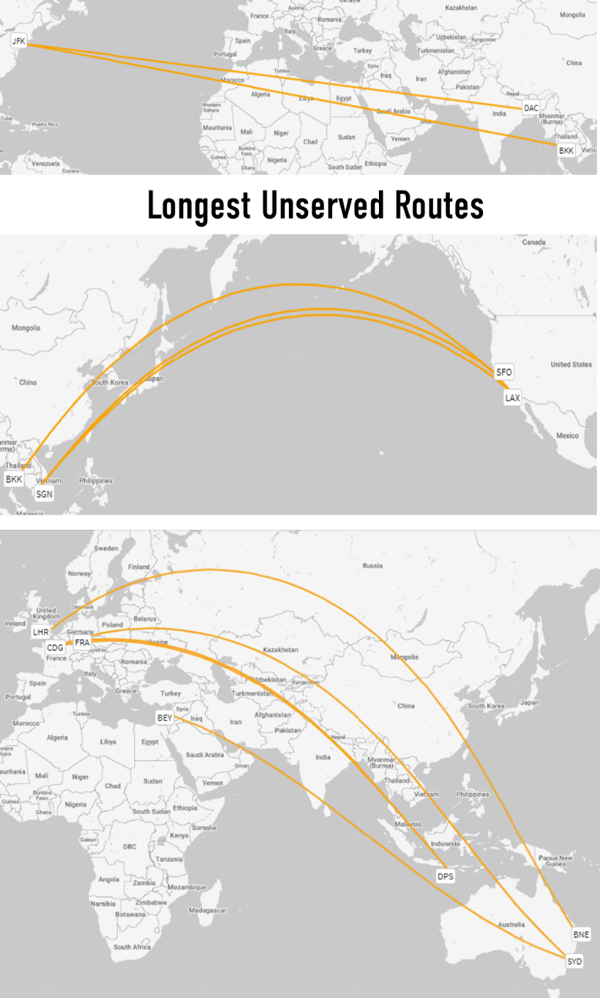 Source: OAG Traffic Analyser & OAG Mapper
Two of these routes, Paris to Bali (CDG-DPS) and London to Brisbane (LHR-BNE) are of a distance beyond the range of any commercial aircraft currently operating with a Great Circle Distance of 9,149 nautical miles and 8,932 nautical miles between the origins and destinations, respectively. Flying time for these types of distances would be over 20 hours and not for the faint hearted as those on the recent New York-Sydney flight experienced.
The challenge for airlines is whether these types of ultra long-haul routes would be sustainable – both environmentally and financially.
The remaining eight unserved routes are within range of today's aircraft with Los Angeles – Saigon the most popular. In the twelve months between August 2018 to July 2019, over 270,000 passengers travelled on indirect routings between these two points. A further 171,000 passengers travelled between San Francisco and Saigon, reflecting the strong growth Vietnam is currently experiencing as a tourism destination. Bangkok in Thailand is popular too, with over 250,000 passengers travelling from Los Angeles' LAX airport indirectly to Bangkok and 140,000 from New York's JFK airport.
Until recently neither Thai nor Vietnamese carriers were able to operate to the US due to the lack of necessary permits, but Vietnam Airlines recently received the go ahead after reaching US FAA standards. While Vietnam Airlines operate A350-900's which can comfortably cover the 7,000 miles between LAX-SGN, there are question marks about the financial viability of the route for them. Is this a market where there are enough passengers prepared to pay a premium to travel direct? With many travellers lured to Vietnam because it is relatively unknown and inexpensive, or to visit friends and relatives, will they also be price sensitive about their flights? Whatever the size of the market, route economics may prevent this flight getting off the ground.
Whilst there is apparent demand for many of these indirect routes, for the ultra long haul routes operating costs are much higher than for regular long haul routes as fuel for the whole route has to be carried on board as well as the extra crew needed for such long sectors. Balancing this with ensuring enough paying passengers can be carried is a challenge and the question remains whether there are enough people who want to pay a premium to travel direct. Whether these routes ever really take off remains to be seen.
[1] Mileage is calculated using nautical miles which take into account the circumference of the earth and equate to 1.151 miles