Relationships which cross continents are rarely easy. This is as true for airlines as it is for people as the pressures of geography, time zones and culture take their toll. But airlines have little choice when it comes to creating networks which span the globe. They need partner airlines to connect travellers when non-stop air services cannot, but they can be fickle, changing commitments and partners as the need arises.

Although each of the big three US carriers are members of one of the global alliances, each has also taken a different approach to developing their long distance relationships.
Of the three, Delta Air Lines possibly has taken the most sophisticated strategic decisions about partnerships. The airline is a member of SkyTeam and created joint ventures with Air France/KLM and Alitalia, fellow alliance members. It is also in the process of developing a deeper partnership with SkyTeam member Aeromexico and has equity in China Eastern. Outside the alliance, it has a joint venture with Virgin Atlantic, supported by its 49% stake in the carrier.
In September, Delta Air Lines announced a deepening of its relationship with Korean Air, another SkyTeam member, with an agreement which allows for widespread code-sharing between the airlines.

Delta Air Lines' Route Network - February 2017 Korean Air's Route Network - February 2017
*for a larger image, click here*
The Korean Air partnership makes sense for the airline which has limited scope for expanding to China. Deepening partnerships with Chinese airlines is beneficial as the US-China air service agreement is close to being fully utilised and US carriers are unhappy with the slots being offered at Chinese airports. Korean Air currently operates 30 routes from South Korea to China, 22 of which operate from Incheon where Delta Air Lines operates to, giving the latter access to many of the rapidly growing and emerging markets in China. A touted joint venture between Delta Air Lines and Korean Air would make the combined entity the second biggest player on routes between Asia and North America.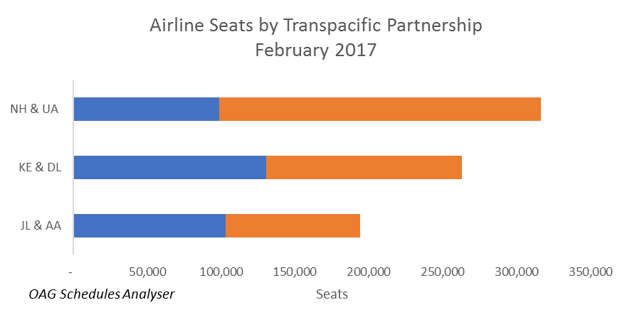 Follow The American Way: Airlines Flying High blog series here.