There's daylight for less than six hours a day in the middle of winter in Oslo. It's not surprising, therefore, that Swedes and other Scandinavians have a high propensity to fly as they seek out winter sun and escapes. But where can they travel this winter?
The winter schedule for 2021/22 which runs from 31 October 2021 to 26 March 2022 shows that overall airlines have filed 21% less capacity for international air services from Denmark, Norway and Sweden than for the Winter 2019/20 season. There'll be 17% fewer seats available from Denmark, 23% fewer from Norway and 22% fewer from Sweden. So overall, it's clear airlines are expecting there to be less flying away, but is this what the Scandinavian traveller wants?
A look at the OAG Schedule and Forward Bookings data shows that there is a wide difference between airline capacity to different destinations but the appetite for travel may well have some way to go in catching up with airline aspirations.
Regional Travel Not Hitting the Mark
International airline capacity within the region clearly doesn't meet the criteria for getting away from the endless night but this travel, as with short haul regional travel elsewhere, is recovering better than longer haul travel. However, international capacity between the three Scandinavian countries is still down by 11% compared to the Winter of 2019/20.
Capacity to destinations a bit further afield, such as the United Kingdom and Germany is down by much more, at around -28% for each of these markets. Overall, there are 1.25 million fewer airline seats from Scandinavia to the UK and Germany in the schedule than for the Winter two years ago. Even airline capacity to destinations in Southern Europe with warmer climates such as Spain (-15%) and Italy (-0.1%) are below 2019/20 levels.
But there are a handful of markets bucking the trend.
Scandinavian Hotspots
There are a cluster of countries in South Eastern Europe which are benefiting from increased capacity. These include Bosnia & Herzegovina, Croatia, Romania and Serbia, as well as Hungary but Hungary only sees this increase to and from Denmark. The table below shows the volume of additional airline seats being provided between the Scandinavia countries and each one of these countries, as well as what this means as a percentage increase vs Winter 2019/20 by country.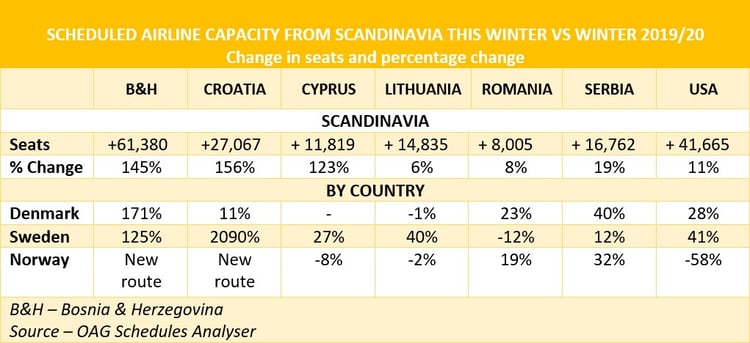 Much of the growth is being driven by low-cost airlines with Wizz Air, Ryanair, Norwegian Air Shuttle and Blue Air dominating the aviation markets between Scandinavia and South Eastern Europe, or at least offering a competitive presence. Of the high growth markets, it is just Scandinavia to the US where operations are by the legacy carriers.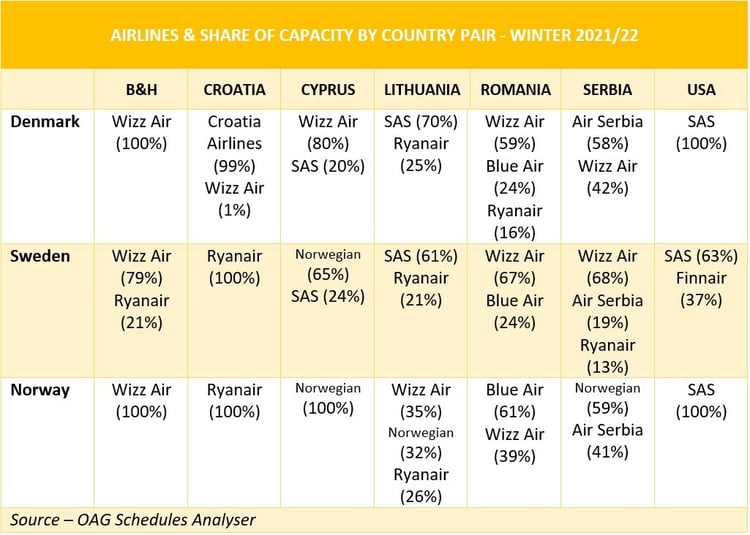 USA-Scandinavia
At the top of the list for markets where airline capacity has been added is the United States. There are nearly 42,000 additional seats in each direction between Scandinavia and the United States this winter, or about 2,000 each week. This is an 11% increase on the 2019/20 numbers, it's 28% up for Denmark and 41% up for Sweden. It's just Norway that that isn't benefitting from an increase in capacity to the USA.
The only flights being operated are by SAS and Finnair with SAS averaging 41 flights each way per week between Denmark and the USA, 16 between Sweden and the USA, 7 between Norway and the USA, while Finnair plan to operate an average of 9 between Sweden and the USA.
While capacity to the US may be up compared to this point in time two years ago, when it comes to forward bookings there is still some way to go.
Using the snapshot feature in OAG's Traffic Analyser to compare bookings for each of the next 5 months compared to where they were for November 2019 to March 2020 at this point two years ago, it is clear that bookings are well below where they were.
For November, bookings currently in the system are some 87-88% below where they could be from each of the three Scandinavian markets, and although they improve for travel for future months, at best they are 66% below where they were.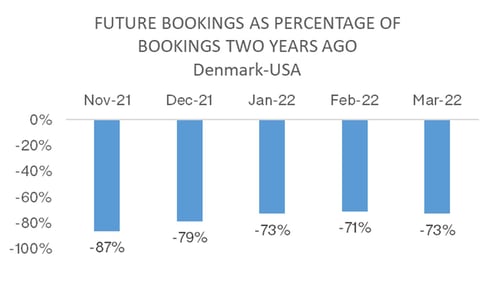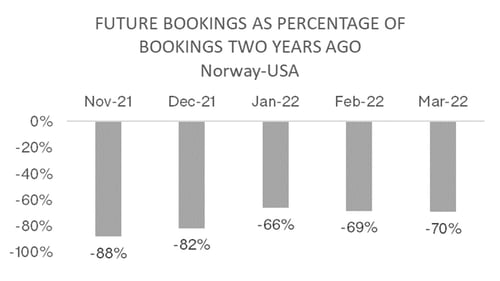 Source: OAG
This goes to show how difficult a time it is for airlines as they plan capacity ahead. Obviously, bookings will have been slow to pick up as for much of the past year these markets have been subject to onerous travel restrictions and so there has not been the slow build-up of bookings. With travel restrictions easing there may well be a surge in demand but even that may require airlines to discount fares in order to stimulate passenger bookings.
Only time will tell whether the airlines' attempt to second guess actual demand will have been proved right this winter.