This marks the sixth and final article in our content series exploring the transformative technology transitions reshaping the airline industry. Today's focus turns to the evolution of payment methods in air travel, arguably one of the most consequential shifts in this sector from a customer-facing perspective.
As the digital revolution continues to reshape the airline industry, new payment methodologies have emerged to cater to changing consumer behaviors and technological advancements.
This shift, much like the transformations brought about by next-gen Revenue Management, New Distribution Capability (NDC), Ancillaries, and Virtual Interlining, is propelled by the dual engines of innovative technology and evolving consumer needs for more flexibility and convenience in booking air travel.
Today's air travelers are increasingly seeking the ease and immediacy of e-commerce experiences like Amazon when booking flights. To meet these expectations, airlines and travel-tech providers are eagerly innovating to deliver smooth, seamless, and flexible payment experiences.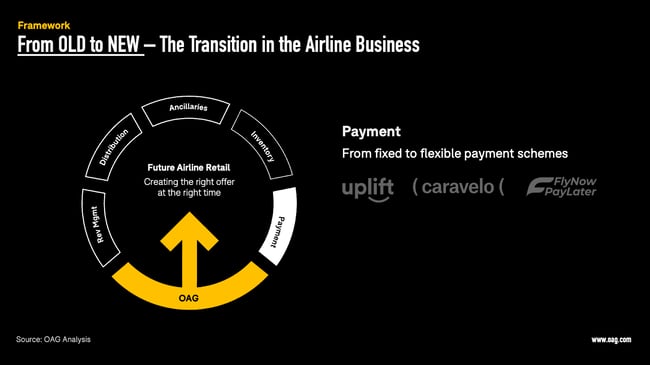 In this article, we aim to explore the fascinating intersection of travel and fintech, a melding of disciplines that are redefining payment methods in the airline industry.
Before diving into the specific innovative mechanisms, we first seek to provide a broad understanding of the importance and relevance of the payment sector within the context of airlines. This overview sets the stage for appreciating the magnitude and implications of the shift that's currently underway.
With the foundations laid, we will subsequently delve into three transformative approaches, each with unique benefits and challenges, contributing to the exciting evolution of the air travel payment landscape:
Air ticket price freezes
Subscription plans
Buy-now-pay-later or installment schemes
The Hidden Value in Airline Payments
Examining the airline industry through the lens of payment methods, it may initially seem as though this area lacks significant pain points for travelers and, thus, commercial importance for airlines. However, such a view tends to underestimate the enormous impact even slight improvements can have on an airline's bottom line.
Consider the vast scale of payment transactions in this context: every year, approximately 2.9 billion payment transactions for airline bookings occur globally, according to McKinsey, representing a value of around $803 billion USD in 2023, as projected by IATA.
Such immense volumes of business transactions come with a hefty price tag. The airline industry shells out over $20 billion USD annually on payment costs alone, as reported by the aforementioned McKinsey study. This equates to 2.5% of airlines' total revenue, and, even more astonishingly, more than 2x the industry's expected net profit in 2023.
A significant chunk of these expenses can be attributed to the extensive use of credit cards, which account for around 70% of retail transactions. While undeniably convenient for customers, credit card payments impose considerable costs on airlines. However, it's worth noting that this is not universally the case. For certain airlines, having their own branded credit cards via strategic partnerships can be extremely profitable. These cards, often offering rewards and travel benefits, can generate significant revenue, offsetting the cost of transactions and creating a strong customer retention tool. Nonetheless, the broader issue of payment costs in the industry persists and necessitates innovative solutions.
But the implications of payment methods within the airline industry extend beyond the realm of cost reduction. Indeed, the evolution of payment methods offers new opportunities for airlines. By diversifying payment options and enhancing flexibility, airlines can sell a range of modular protections for flights, hotels, car rentals, and even alternative accommodations—a subject closely related to our deep dive into Ancillaries.
Above all, it's about delivering more flexibility in travel bookings. By providing an array of payment options, airlines could potentially expand their market reach and attract new customer segments. McKinsey projects that through strategic advancements in payment methods, airlines could generate an additional $14 billion USD in value by 2030. This prediction underscores the fundamental role payment innovations will play in shaping the future of the airline industry.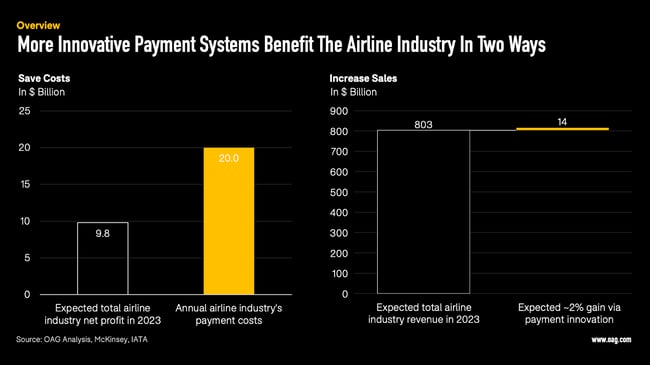 The Under-Explored Terrain: Airline Payments
Despite the significant value at stake, payments remain an oftentimes under-addressed strategic topic within the airline industry. Given its pivotal role as the connector between airlines and customers, payments form an essential part of future retailing strategies.
Surprisingly, the sector often lacks the requisite transparency and engagement. Airlines frequently overlook the importance of monitoring payment and transaction data. KPIs such as payment success rate, cost per transaction, chargeback rate, payment method mix, and customer retention rate through branded credit cards are often underutilized. The creation of dedicated roles to focus on these metrics could lead to substantial improvements in efficiency and profitability.
The inability to capitalize on the link between payments and customer experience is another shortfall, with these domains typically managed as separate entities within an airline organization. This segregation may contribute to the high shopping cart abandonment rates seen on airline websites, which can soar up to 90%.
However, payments are not just about financial transactions – they play an integral role in the customer journey, with each touchpoint presenting potential revenue-generating opportunities. According to McKinsey, there are up to ten payment-related touchpoints along the typical customer journey.
Thus, airlines are poised to enhance the retail customer payment experience, especially in direct channels, to reduce dropouts and unlock considerable value.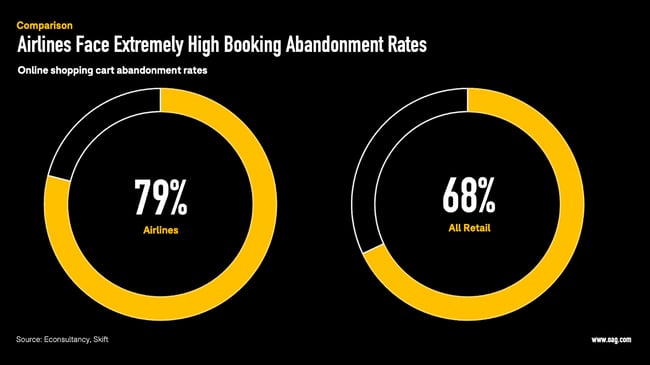 The Melding of Travel and Fintech
In recent years, the travel industry has made strides in the innovation of payments, recognizing the immense value inherent in this sphere.
According to the Amadeus Travel Fintech Research Report, the majority of travel businesses consider fintech and payments as a priority, with more than 80% intending to maintain or increase their pre-pandemic investment levels.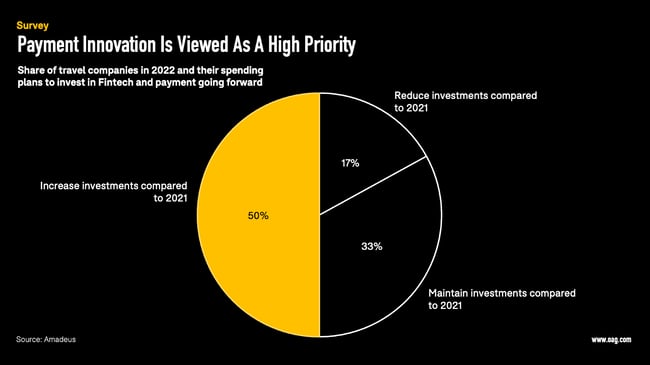 This has propelled intermediaries, including online booking platforms and travel agencies, to earmark payments as a key differentiation opportunity, with larger entities investing in fintech solutions to streamline the end-to-end payment journey.
A discernible trend is the convergence of travel and fintech sectors, a phenomenon that gained momentum in the post-pandemic landscape, as PhocusWire concludes.
The race to provide an integrated travel, payment, and tech platform to capture the traveler's journey has stimulated this development. Intriguingly, this convergence manifests bidirectionally: while financial behemoths and fintech providers venture into the travel domain, travel providers reciprocate by building or incorporating fintech offerings.
A standout case is Hopper, which significantly expanded its fintech product suite in 2019, leading to these products constituting about 40% of its total revenue in 2022, as reported by Skift. This underscores Hopper's early identification and successful capitalization on this strategic area.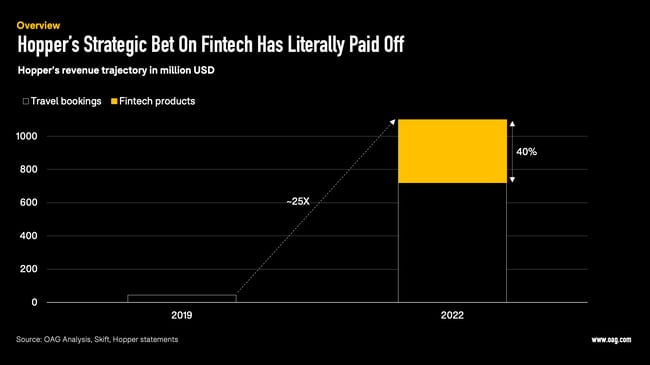 As we traverse the evolving landscape of travel booking and payment methods, the digital transformation journey promises to alleviate payment friction, adding another layer of convenience for travelers.
To shed light on the tangible benefits of this trend for travelers, we will now delve into the three areas we mentioned earlier: air ticket price freezes, subscription plans, and buy-now-pay-later schemes.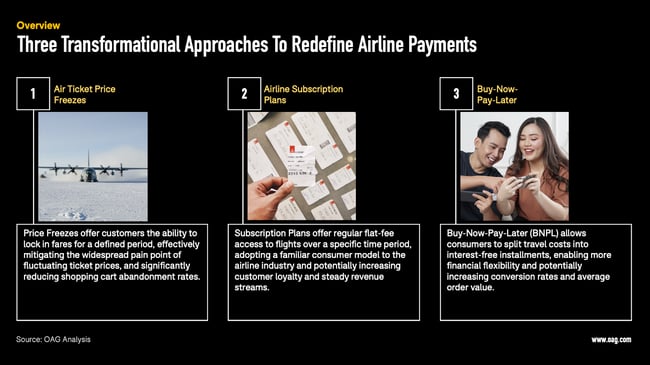 Price Freezes: Taming the Flux in Airfares
One of the enduring pain points for travelers has been the frustrating fluctuations in air ticket fares. This irritation has become increasingly relevant due to the airlines' shift towards dynamic and even continuous pricing.
While these pricing techniques help airlines maximize revenue and load factor, they often lead to customers second-guessing their purchase decisions, wondering if they might secure a better deal later. This uncertainty likely contributes to the above-average shopping cart abandonment rates we discussed earlier.
Travel tech company Hopper was among the first travel booking platforms to address this concern by introducing so-called "Price Freezes." With this feature, customers can freeze a quoted price for a small surcharge, securing that price for up to 21 days while they finalize their plans. If the cost of the booking rises during this period, Hopper covers the difference up to $100 USD. Conversely, if the price drops, the customer pays the lower rate. The average cost of a Price Freeze policy is around $30 USD, but according to Hopper, travelers using this option have saved an average of $80 USD on their tickets, with average savings rising to $200 USD for flights booked during holiday times.
Although Hopper is a well-known pioneer of the price freeze feature, it is not alone in offering this service. Our research has identified more than 30 booking platforms that offer similar options under various names such as "Secure Price," "Hold Price," and "Keep Fare."
Interestingly, WizzAir's "Fare Lock" was introduced as far back as 2017, even before Hopper popularized its Price Freeze. The latter has now been white-labeled and is offered by numerous other travel providers, including Trip.com, Agoda, Amadeus, JetBlue, and MakeMyTrip.
Flight Subscriptions: The Emerging Trend in Aviation
In recent years, the subscription economy has permeated every aspect of our lives. We pay flat fees for streaming services, expedited deliveries, online storage, and much more.
Interestingly, the airline industry, typically an early adopter of pricing innovations, is only now beginning to fully incorporate subscription models into its services. However, it's worth noting that travel poses a unique challenge when it comes to subscription services. Unlike the frequent usage patterns seen in music streaming, for example, travel tends to be a "low volume, high value" activity. This means that making subscription models work effectively in this context might prove more challenging when compared to services consumed on a more regular basis.
Nonetheless, there are promising initiatives that are exploring and overcoming these challenges in exciting ways. The concept is simple: customers pay a regular flat fee granting them access to specific flight services for a predetermined period.
Here are several promising airline initiatives emerging in recent times:
As the subscription model continues to transform industries globally, airlines are waking up to the benefits of consistent revenue and customer loyalty these plans can deliver.
It'll be fascinating to see how this trend develops and impacts the future of airline commerce.
The Buy-Now-Pay-Later Wave in Air Travel
Buy-now-pay-later (BNPL), a burgeoning (and heavily debatable) trend in the online retail landscape, is now making its mark in the airline industry. This financial tool lets consumers split retail transactions into smaller, mostly interest-free installments that they can repay over time, making it an attractive option for those who value financial flexibility.
However, it's important to recognize the context within which BNPL schemes are growing. Their uptake is likely linked not just to their availability and convenience, but also to economic circumstances, levels of disposable income, inflation, and other economic factors limiting people's purchasing power. Some observers have raised concerns about these schemes, suggesting they utilize a tougher economic environment and may exploit people's desire to spend beyond their means. While BNPL can provide beneficial financial flexibility, it's crucial to bear in mind the potential risks and drawbacks of overextending financially.
Undoubtedly, the adoption of BNPL has seen a dramatic increase over the past five years. In the United States alone, it's estimated that nearly a quarter of the population – approximately 59 million people above the age of 14 with internet access – used BNPL at least once in the past year, according to Insider Intelligence. This is in stark contrast to 2018, when less than 2 million people (or 0.6% of Americans) had used this payment method.
This trend is not limited to the United States; the rapid adoption of BNPL is observable in most developed countries. Globally, forecasts on BNPL spending anticipate impressive Compound Annual Growth Rates (CAGR) of between 22% and 26% until 2030, depending on the source.
Traditionally, the travel sector was slower to embrace the BNPL trend.
In 2019, less than 1% of the total travel merchandise value was paid through deferred payments, according to research from the Consumer Financial Protection Bureau. However, this trend has rapidly evolved. BNPL in travel is now outpacing most other retail categories, demonstrating the vast potential for airlines and travel providers to leverage this increasingly popular payment method.
Yet, it's crucial to consider the underlying economic conditions driving this growth. For many, annual holidays and travel plans are non-negotiable – a "holy" part of their yearly summer routine. In tougher economic times, consumers may feel compelled to use installment payments to finance these trips. This necessity could be contributing significantly to the rapid adoption of BNPL in travel. Critics, therefore, question whether the rise of BNPL is truly a sign of innovation or if it's more a response to economic necessity.
Regardless of these debates, the trend's momentum in the travel industry is undeniable and suggests an avenue that airlines and travel providers can't afford to ignore.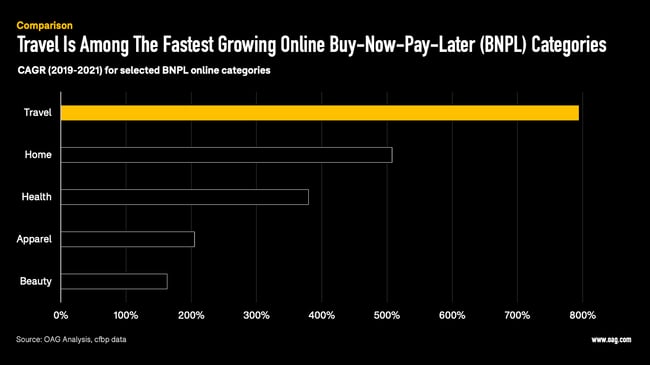 Current survey data reinforces the huge potential of BNPL within the travel sector going forward.
According to Amadeus, approximately 40% of travelers would consider using BNPL to book their next summer vacation.
Even more strikingly, almost 70% of travelers revealed that they would be willing to spend more on a given trip if offered a BNPL payment option.
These attitudes are also reflected in real-world booking behavior.
An iSeatz report found that offering a BNPL option at checkout can boost conversion rates by 20 to 30% and elevate average ticket sales by 30 to 50%.
Uplift, a leading BNPL provider (recently acquired by Upgrade) that has partnered with more than 30 airlines, including United Airlines, Lufthansa, Air Canada, and AeroMexico, has observed a notable shift in customer behavior due to BNPL options. According to their CEO, consumers who would typically opt for economy seats are now more likely to purchase premium economy or even first-class tickets, demonstrating that BNPL empowers consumers to splurge on superior services.
Thus, BNPL doesn't merely facilitate payments; it actively encourages incremental sales, raises the average order value, and attracts a new customer demographic.
Yet, this potential upside for airlines may also stimulate consumers to overextend their budgets, a responsibility that providers must very carefully manage.
Nevertheless, the commercial benefits have led many airlines to experiment with BNPL features. Travel+Leisure has compiled a list of 16 airlines offering BNPL options, including the latest adopters like Eastern Airways, Iberia, and Jet2. Our own OAG research indicates that more than 60 airlines are now offering BNPL in one form or another. To facilitate the implementation of BNPL, airlines commonly collaborate with a growing breed of BNPL travel-tech startups like Uplift, FlyNowPayLater, Affirm, Klarna, Pay Later Travel, and Flymble.
With the right implementation and ethical considerations, BNPL can indeed transform how consumers book and pay for their air travel, making it a key component in the digital transformation of the airline industry.
The Strategic Importance of Payment Innovations
In conclusion, as the landscape of airline commerce continues to evolve, the intersection of travel and fintech is not just an exciting opportunity for innovation, but a strategic imperative.
By improving payment methods with approaches like Price Freezes, Subscription Models, and Buy-Now-Pay-Later schemes, airlines can prevent further disintermediation and truly tap into the full value of airline retailing.
These novel payment strategies are not only transforming the way we book and pay for travel. They are also helping to redefine the relationship between airlines and their customers.
The future of airline commerce will be shaped by airlines that embrace these changes, seizing the opportunity to enhance the customer experience and optimize their own revenue streams.
In the visual below, we have gathered ten of the most promising travel-tech startups leading this transformation. These startups, specifically focused on travel, represent the vanguard of this shift, reshaping the future of airline commerce one transaction at a time.
Please note that we have intentionally excluded non-travel-specific BNPL providers like Affirm and Klarna from this list. Additionally, we have included a select few Travel Membership providers, which are especially committed to enabling more affordable airline flight prices, despite the existence of many more in the wider market.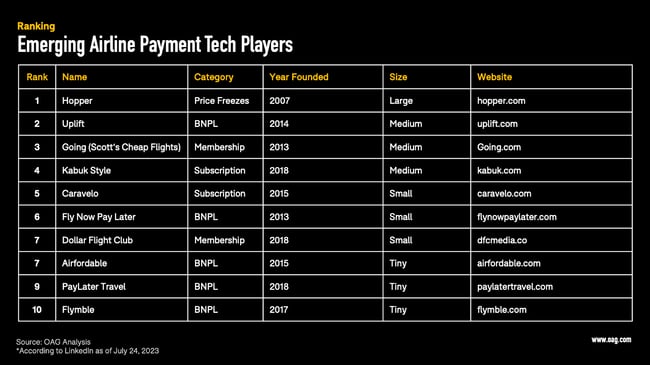 ---
Catch up with our series on the technology transformation in the airline industry:
Part One: From Old To New: The System Transition In The Airline Industry
Part Two: The Evolution Of Airline Revenue Management: The Impact Of Emerging Technologies
Part Three: The New Distribution Capability Journey: Redefining Airline Commerce
Part Four: Shaping Airline Retail: The Unstoppable Rise of Ancillaries
Part Five: Reshaping Airline Journeys: The Unfolding Saga of Virtual Interlining