Like many Asian countries, Japan has been experiencing a twin-track air capacity recovery. By the end of 2022, Japanese domestic capacity will have reached the same level as in 2019, however international capacity (although increasing) still has some way to go.
This is the final of a three-part Japan series in which we've also focused on the future for Japanese airlines and the ambitious targets set for inbound tourism in the country.
Even before the pandemic, very few Japanese airports had a significant volume of international routes. For those that did have international connections, the effect of lockdowns and travel restrictions across Asia and beyond - and in particular in one of Japan's key inbound markets, China - has meant that for many small to medium-sized Japanese airports, full reinstatement of their international route networks is still some way off.
In 2019, 80 airports in Japan had scheduled air services, ranging from Tokyo Haneda (HND) which was the largest with 26% of the country's capacity, down to Iwo Jima (IWO) which saw just a handful of flights. Despite this, just seven Japanese airports accounted for 95% of the country's international operations in 2019:
The two main Tokyo airports (HND & NRT)
Osaka Kansai (KIX)
Nagoya (NGO)
Fukuoka (FUK)
Sapporo Chitose (CTS)
Okinawa (OKA)
In 2022, the number of airports in operation remains similar with 76 having scheduled operations this year. However, the bigger airports have secured an increase in market share with Haneda operating 28% of capacity, and Narita 12% in 2022.
International Air Routes More Concentrated
Previously, in 2019, 37 Japanese airports had international routes, but in 2022 this fell to just 17. International traffic has also become more concentrated into fewer airports, partly as a result of the Japanese government's decision to allow international access to Japan through just a small number of airports during the pandemic, and partly because many of the international routes that operated from regional airports in Japan served regional markets in China and South Korea, which are not yet back to pre-pandemic operations.
Narita handled just over a third of the country's international capacity in 2019 - by 2022 this rose to 50%. Haneda saw an increase too, from 17% of capacity to 23%, whilst Kansai saw its share of international capacity fall to just 15% from 24% in 2019.
The most important source market for Japan is of course its nearest neighbor - the rest of the North East Asia region - with 59% of international capacity operating there in 2019. In December 2019, there were 6.6m million seats to China, South Korea, Hong Kong and Taiwan, whilst this December there are just 2.5m.
Regions Less Connected Than Before
The latest route maps from OAG Mapper show the scale of the issue for Japanese regional airports. Just eight Japanese airports have scheduled international services to North East Asian countries this December, compared to 33 in December 2019.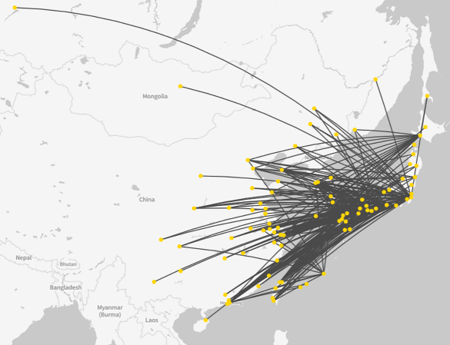 Japan-NE Asia in Dec 2019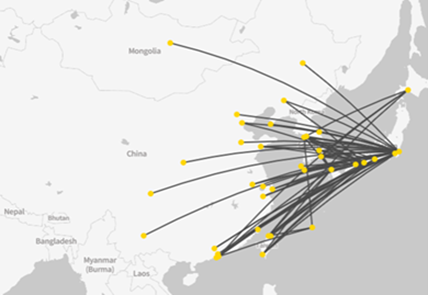 Japan-NE Asia in Dec 2022
For airports like Nagoya (NGO) with 21 Chinese destinations in 2019 and just one today, or Kansai with 37 routes to destinations across China and just six currently, there is undoubtedly hope that there is positive news from China soon on the return of outbound travel.
International Markets Improve the Attractiveness of Airports
The other dimension for Japan's airports is privatization. A national privatization program began almost a decade ago when the government announced that potentially all of the country's airports would be privatized and it still seems committed to this aim, just perhaps on a slower timeline. Pre-pandemic saw airports in Sendai, Osaka, Fukuoka and Sapporo move into private ownership, with more expected now that the market is recovering.
For airport investors, having the ability to grow route networks and secure international passengers – who bring more revenue than domestic passengers – is essential, so the investment community will be watching with interest as to how international recovery builds back in Japan.
For now, though, across many of Japan's airports, the picture is clear that international recovery still has a long way to go.
---
Recommended: