Travel search engine Skyscanner recently announced that Reykjavik in Iceland has been named as the top emerging destination for 2017. This comes as no surprise to many of us who have been following the tourism boom that has been taking place in this small island nation, a magnet for nature lovers and Game of Thrones fans alike.
As an island, it's also no surprise that air travel plays a key role in bringing visitors. With a resident population of just 330,000, the islands' international gateway, Reykjavik Keflavik Airport, handled airline capacity of 7.7 million arriving and departing scheduled airline seats last year, 40% more than in 2015.
Passengers grew even faster; according to OAG's most recent traffic data there were 51% more O&D passengers in October 2016 than in the same month a year earlier. But this is not the whole story as more and more people are also using the island as a staging post for transatlantic travel as a consequence of the growth in low-cost airlines offering services to both Europe and North America. Connecting traffic grew by 31% in October 2016 and the true figure may be higher given the drive to develop stop-over short break tourism and the ability for passengers on low-cost airlines to create their own connecting itineraries.
While the number of airlines operating scheduled services to Reykjavik increased from 23 in 2015 to 32 in 2016, the bulk of the 2.2 million additional seats were added by one or the other of the two local airlines, Icelandair and WOW Air. Each airline added over 800,000 seats in 2016 but while Icelandair added over three quarters of these to existing routes, WOW chose to add the majority to new routes with a major expansion of air services to North America. Iceland benefited from new long-haul low-cost air services to Boston, Baltimore-Washington, San Francisco, Los Angeles, Toronto and Montreal.
Routes from Reykjavik Airport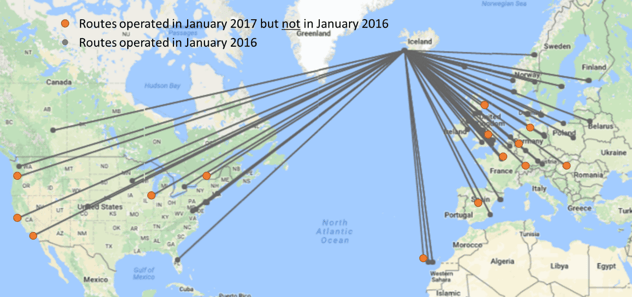 *For a larger image, click here*
The net result is that, according to OAG Traffic Analyser, Reykjavik moved from the 10th most likely connecting airport for travel between the UK and US in October 2015, attracting 3.7% of connecting traffic, to 7th in October 2016 and attracting 5.1% of connecting passengers.
While all of this should be good news for Iceland, its tourist businesses and its airlines, the challenge has been how to accommodate this level of growth. Many would say it's a nice problem to have.
See Skyscanner's article on 2017's top emerging destinations here.