Capacity settles at 79.8 million, a slight increase on last week of 1.5% with the typical ebbs and flows in various regions.
This is the busiest week for capacity since the 16th March 2020 and on an even more positive note international capacity has increased by over 80% in the last 10 weeks as more countries ease out of lockdowns. With some major markets easing restrictions in the next few weeks international capacity currently stands at 24 million seats a week by the last week of July, a further 4 million from where we are at the moment.
However, on a cautionary note, some 4 million seats were removed from July's capacity and over 8 million in August as airlines continue to shave capacity in line with continued lockdowns. Taking just one example, this week there are some 740,000 scheduled seats planned between Western Europe and the United States, by the middle of August that rises to 965,000, unless the US authorities allow overseas passport holders entry then there is no need for the extra quarter of a million seats. Can someone give Mr Biden a nudge to wake up and smell the coffee?
Chart 1 – Scheduled Airline Capacity by Month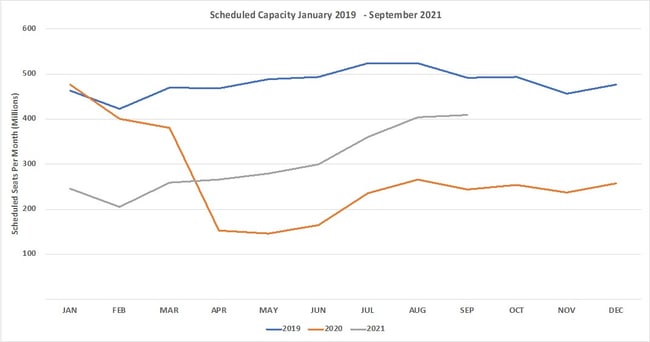 This week it seems that if there is going to be a cut in regional capacity then make sure it's a big cut! All three regions that have less week-on-week capacity are reporting double-digit percentage losses, South East Asia a depressing 26% fall and Southern Africa -14% then followed by South West Pacific (-11%); we only needed South America to be negative for the full set. Perhaps some name changes will change their fortunes.
With some 930,000 more seats added in North East Asia the region now accounts for over one-quarter of global capacity, all three major country markets in that region benefitting from their domestic markets sizes. A staggering 97% of capacity currently operating in North East Asia is on domestic services and only 716,00 international seats are on offer this week compared to 6.4 million in January 2020; the region may be performing relatively well but international capacity still has a long way to recover.
Although apparently, Europe is a single market for many countries from a definition perspective Western Europe is the single largest international market with some 10.2 million seats, accounting for two-thirds of all seats offered in the region. The largest proportion (70%) of that international capacity is scheduled to operate within the region as holidaymakers rush to the beaches ahead of the peak summer season.
.Table 1– Scheduled Airline Capacity by Region

Scheduled capacity in China has been growing in recent weeks, an additional 800,000 seats were added this week and three million more seats since the beginning of June. Average aircraft utilisation across the major Chinese airlines remains low which in turn allows capacity to be turned on and off rather like a tap as necessary; if that tap is profitable is a moot point, it generates revenue.
All major Western European markets in the global top twenty saw capacity increases week on week as travel restrictions ease in some markets and it is really good to see some airlines finally relaunching services: Jet2 in the UK being a welcome addition back to operations. Capitalising on their many European bases, Ryanair are the largest airline in Western Europe by some margin, the airline will operate some 2.2 million seats this week with Turkish Airlines in second place with some 1.3 million seats; easyjet remain at below one million seats a week with little capacity growth this week.
Indonesia and Australia report exceptional numbers for all the wrong reasons this week. Indonesia has seen a near collapse in capacity as both markets enter new lockdowns. The latest data from the WHO (great band by the way!) reports some 38,124 new cases in Indonesia and in Australia just 44 cases and yet both countries are in similar lockdowns; it doesn't quite seem proportional! In the case of Indonesia we know from previous experiences that capacity bounces back really quickly which does give us some hope.
However, in Australia even Qantas are now resigned to no international services before 2022; ambitious zero-covid case strategies are nice ideas but not founded in reality. This week in the OAG morning Webinar (Wednesday 08:00 BST) we will be discussing this and more with Gary Bowerman who has some fascinating insights on what is, and indeed isn't happening!
Table 2- Scheduled Capacity, Top 20 Country Markets

The top ten airlines remain unchanged for another week and each airline seems to have settled into their respective positions with no one moving. There is also little chance of any new entrants into the top ten, eleventh placed IndiGo with just over one million seats a week would need to grow capacity by 50% to challenge tenth placed Turkish Airlines.
Whilst the top ten airlines are interesting the real pain is around those carriers that are still struggling to return to service. There are a number of airlines that used to operate more than one million seats a week that continue to operate less than 30% of that capacity; All Nippon Airways, Air Canada and British Airways are all members of the "going nowhere" club at the moment. Add to that list carriers such as the various Air Asia operations, Malaysia Airlines, Japan Airlines, Etihad and Lion Air and it's clear to see that there are many carriers still facing real challenges.
More positively there are some airlines that are members of the "going somewhere" group, adding capacity compared to both July 2019 and January 2020. Amongst those carriers are Spring Airlines, Vivaaerobus, Pobeda and Allegiant Air; all of whom have one thing in common, large domestic markets.
Table 3- Top 10 Airlines

A week of marginal growth equals a week of modest optimism. However, the real issue remains; until international travel to and from the United States and China is permitted for all nationalities the industry will not recover. Such lockdowns and restrictions just create irrational behaviour; apparently it is possible for any international visitor to the US to spend a week in Mexico and then freely enter the United States; the law of unintended consequences works in mysterious ways! Cancun here I come!
Stay safe everyone.