But 21.4 Million More Seats Removed From June to September Inventory
Rather like a fully laden A340, if you can remember them, global capacity continues to climb slowly with another 1.5 million seats added compared to the previous week, a 2% improvement. We are now at 72.4 million seats a week and although that sounds a lot, we remain at around one-third pre-pandemic levels and nearly 38% below the capacity on offer in the same week of 2019. We still have some way to go but a recovery does seem underway, and it is becoming increasingly easy to spot the markets that are failing to show any real signs of recovery.
Airlines are now clearly looking further out in terms of their network planning and continue to cut more capacity in the coming months. In many cases these are airlines that have just been focussed on the short-term period and not looked beyond a two-month planning window; nevertheless another 21.4 million seats have been dropped for sale between June and the end of September. Put that another way and assume that 85% of those seats would normally have something heavy on them and someone had paid US$150 for that privilege then the airline industry just wrote off US$ 3.2 billion of revenues, loose change to some, I'm sure!
Chart 1 – Scheduled Airline Capacity by Month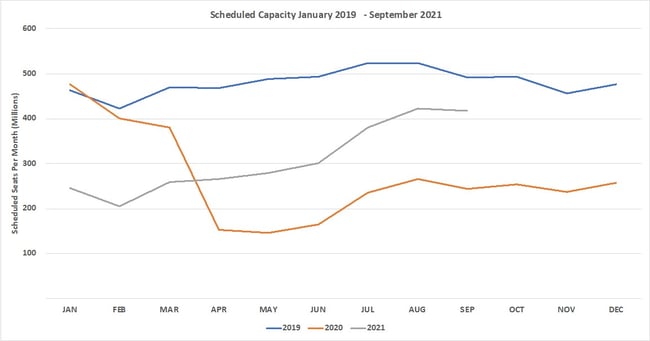 The three largest regional markets, which incidentally account for 69% of all capacity, all reported positive week-on-week growth with Western Europe leading the way with over 700,000 more seats added week-on-week although total capacity in the region is still 40% below its 2019 levels. North America remains the single largest region with 19.5 million seats a week, the United States accounts for 97% of all that capacity. Although Canada was one of the faster-growing country markets this week with some 85,000 seats added back; the country does however remain at just 25% of its pre-pandemic capacity.
As has been the case for far too long, one region's gain is another's loss. In this week's case, South Asia (-2.3%), Lower South America (-1.1%) and Southern Africa (-1%) are the losers although in absolute terms the numbers are relatively small, and a bounce back next week is very likely. More positively, five of the seventeen regions are now at 75% and above of their January 2020 capacity levels and that includes the two largest regional markets, North America and North-East Asia.
Table 1– Scheduled Airline Capacity by Region

There have been some changes in the top 20 country markets. Welcome back to Vietnam where a staggering week-on-week capacity growth of 55% reflects the easing of lockdowns and the return of over 300,000 additional domestic seats. Many of those flights will be offering business class type social distancing with low load factors only to be expected and perhaps some sensible last-minute schedule consolidation likely. It's not often that Indonesia and the UK have something in common, but they are the only two markets in the top twenty to report week-on-week capacity reductions, the UK of course leading the way with a 7.5% reduction and the loss of 70,000 seats in what is traditionally one of the busiest weeks of the year. How on earth did that happen!
Slightly surprisingly the UAE has dropped out of the top twenty country markets. That move is however likely to be short-term since scheduled services to India will resume later this week and that alone should be enough to see a return next week to the premier league of country markets.
Table 2- Scheduled Capacity, Top 20 Country Markets

To many airlines the thought of Michael O'Leary and Ryanair creeping up on your shoulder would be a worry, fortunately China Southern are not one of those airlines as the Irish carrier with their first B737-Max safely delivered added nearly 13% more seats this week and are getting ever closer to the 2 million seats a week mark. Turkish Airlines are also recovering strongly from the recent lockdown and Covid-19 spike with just under 100,000 more seats added in the last seven days.
Both American Airlines and Southwest are now very close to offering their pre-pandemic levels of capacity which reflects the strength of demand in the domestic market. Despite all the apparent international travel restrictions American Airlines continue to operate around two-thirds of their pre Covid-19 capacity with capacity to Central America nearly 20% above pre-pandemic levels with Costa Rica the largest market for growth.
Qatar Airways continue to be the largest airline in the world when measured by international ASK's with Emirates in second place and probably stuck in that position until services recommence to the United Kingdom and Southwest Pacific. Not surprisingly if domestic ASK's are included then the list is closer to that outlined below; it's all about definitions I guess!
Table 3- Top 10 Airlines

This week is the longest week of the year in the Northern Hemisphere, and we are now very nearly halfway through the year. As we began 2021 the hope was that the second quarter of the year would see the start of a recovery and that there would be a very strong summer season full of pent-up demand; sadly, that second quarter was lost. As we enter the third quarter of the year, the peak summer season may well turn out to be more like a steep hill rather than a mountain of demand but finally there appear to be some positive signs of a broader recovery happening. Let's hope so!
Stay safe everyone.