If you've not heard about Vision 2030 it won't be long before you do. Vision 2030 is all about thinking big and bold. Recognising that the country needs to diversify away from its oil-based economy, Vision 2030 sets out a strategic direction for Saudi Arabia in which travel and tourism are key, but not the only elements.
While it's not a new plan – it had its seeds back in 2016 – it is gathering momentum as massive investment in infrastructure is taking shape, most notably through the many so-called 'giga projects' and it might be fair to say that Saudi Arabia is fast becoming the world's largest construction site in history.
With ambitious goals, such as generating a tourism industry supporting 100 million visitors each year by 2030, as well as airport expansion and upgrade which will see airports handling 330 million passengers by 2030, we explore the state of aviation in the Kingdom of Saudi Arabia (KSA) now, some of the recent trends and discuss how it can meet its targets.
The Scale of the Tourism Ambition
The aspect of Vision 2030 that is most astonishing is the scale of the ambition. Until recently Saudi Arabia was unlikely to have featured on many tourism bucket lists, but in 2019 the country made tourist visas available for residents of 49 countries. According to the KSA government website, these countries account for 80% of tourist expenditure worldwide and are home to three-quarters of all luxury travellers.
Inevitably, perhaps, key targets for inbound tourism will be the many pilgrims who visit as well as those who hope to visit one day. Persuading these Hajj and Umrah visitors to stay on and make additional trips to leisure destinations will be a vital stepping stone to building the country as a tourist destination. Recognition of the size of the outbound Muslim travel market from countries such as Malaysia, Indonesia and even China is key, but so too is the creation of tourist resorts and attractions that will have widespread appeal beyond a few market segments. In terms of accommodating visitors, the plan is to add 150,000 tourism rooms in the next few years, bringing the total to half a million by 2030.
According to the World Travel & Tourism Council, travel and tourism accounted for 6.5% of the KSA economy in 2021, although this was down from 9.7% in 2019, before the Covid-19 pandemic so badly affected international travel. As a proportion of GDP, this puts Saudi Arabia slightly ahead of global averages, having been slightly behind in 2019. The 2030 Vision aims for tourism alone to account for 10% of the economy by 2030 and generate at least one million new jobs.
Until now, most tourists and visitors have been domestic travellers, have travelled from within the region, or come from further afield as migrant workers, either as part of relatively affluent ex-patriate communities or as less affluent labourers, domestic workers and other types of worker. For the tourism sector to be transformed, the country needs to build its tourism attractions and that is where the giga projects come in.
The Giga Projects
Development of the "Red Sea eco-system", including three of the giga-projects - Amaala. NEOM and Red Sea Project- will be key for tourism development. The area is close to both Jordan and Egypt, each with their own resorts along the Red Sea and Gulf of Aqaba. The projects will be complementary, each aimed at specific groups of tourists. A former military airport at NEOM Bay (NUM) has been designated as a commercial airport and started handling passengers earlier this year and another new airport, the Red Sea International Airport (RSI), is due to open next year and will handle up to a million passengers in time.
Transforming KSA Airports
Aside from creating new commercial airports, existing airports are getting a makeover. Part of the Vision is to improve the efficiency and customer experience at airports and Matarat Holding, part of the General Authority of Civil Aviation (GACA), is facilitating and overseeing that activity. Tasked with transforming the country's airports through privatization and partnership, King Khalid International Airport in the Saudi capital Riyadh is now managed and operated by Riyadh Airports Company while King Abdulaziz International Airport at Jeddah is now run by Jeddah Airports Company, or JedCo.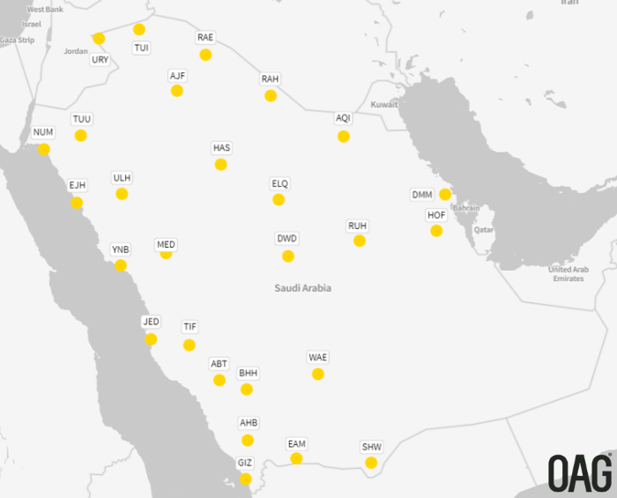 27 Saudi Airports
The goal for airports is not simply to be better at handling more passengers but to also create transportation and logistics hubs that will compete on a global scale. That will mean Jeddah becoming an airport where international travellers will choose to connect at. These are lofty ambitions but not impossible. Dubai has proved that it is possible to take an airport and transform it, the way people choose to travel and perceptions of the city the airport serves as a tourist destination, though it has taken decades for this to happen at Dubai.
One huge advantage that Saudi Arabia has over its regional rivals is the large domestic market. With a population of 35 million and distances between major cities often more than 1,500 km, the potential for air travel in Saudi Arabia is perhaps better compared to Turkey where the sizeable domestic market provides vital feeder traffic at the hub airport at Istanbul, improves market resilience and makes the hub less vulnerable to changing travel behaviour.
However, there is a long way to go. In 2019, passenger volumes reached 87 million according to OAG Traffic Analyser, having seen minimal growth for two years. Passenger numbers halfway through 2022 were half that and so there is a good chance that this year will see traffic return to near pre-pandemic volumes, but that is a long way off the target of 330 million passengers by 2030.
Domestic traffic had been growing faster than international traffic, at an average annual rate of 11% between 2011 and 2019, but much of the strategy depends on growing international traffic, whether that is to or from Saudi Arabia, or international transit traffic which itself has a target of 30 million international transit passengers by 2030.
Air Services to Match the Ambition
It's not just the airports which are being shaken up but the airlines too. The flag carrier, Saudia, will become a Jeddah-based airline, responsible for carrying many of the pilgrims who visit each year. While that may sound like more of the same, the airline recently indicated its intention to buy 100 eVTOL aircraft from the German manufacturer Lilium, which will be integrated into the network and provide emissions free urban connectivity for premium customers. Embracing new technology while offering travellers state-of-the-art efficient travel options is clearly all part of the vision.
There'll also be a new flag carrier, likely to be branded as "RIA" (Riyadh International Airlines), and based at Riyadh and which will be designed to compete with other leading Middle Eastern airlines. That means an extensive long-haul network, enabling international transit traffic and bringing high value tourists into the Kingdom from all over the world. With initial investment said to be in the region of USD 30 billion and rumours of an imminent order for 40 Airbus A350 aircraft, the airline looks set to take off soon.
Looking Ahead to 2030
Over the next 7 years, many of us will be watching what happens in Saudia Arabia with keen interest, especially those of us in aviation. Never before has there been such a broad ambition for the development of air travel and tourism in the public domain or with such financial backing. But will investment, planning, technology and learning from the best-in-class elsewhere in the world be enough to achieve it? The answer will be a clear 'yes' when we realise we have added Saudi Arabia to our travel bucket lists in a few years' time.
---
Recommended: