Research and Insight from OAG's latest webinar
As we move from crisis mode to the next stage of the COVID-19 response - one which calls for sober reflection, realistic scenarios, and decisive action – OAG's latest webinars last week focussed on the impact for airports clearly touched a nerve.
OAG's panel was joined by guest speakers Kam Jandu, CCO, Budapest Airport, and Buddy Anslinger, Director Ricondo and with over 150 questions asked by the audience, those listening in shouldn't be surprised if the panel didn't manage to answer all of them while on air.
Below we capture the key highlights and attempt to address many of the questions posed.
Hygiene measures and turnaround times
What happens if all the hygiene measures being talked about to make flying safe and bolster traveller confidence were to increase the time required to turn aircraft around?
Some initial analysis by OAG of the effect of a hypothetical increase in Minimum Connect Times from 45 minutes for domestic-international connections and 90 minutes for international-international connections, to one which assumes no connection can be made in under 2 hours, showed a potential 18% reduction in connectivity. Assuming – and it's a big assumption – that this corresponds to an 18% reduction in connecting traffic this would potentially leave a hole of 72 million connecting passengers across the world's Top 50 airports.
Some real aircraft itineraries demonstrated how this will go on to impact aircraft utilisation and the modus operandi of the low-cost airlines in particular.
Who should take responsibility for ensuring the passengers feels safe?
On the one hand some airlines are implementing on-board social distancing, summarised as the empty middle seat though in practice more likely to be achieved by smart technology allocating seating appropriately. For these airlines this is an essential aspect of maintaining the goodwill of the customer even if the move comes at huge cost if maintained beyond when traffic volumes recover to anything like where they used to be. On the other hand, some airlines, most likely LCCs, may see this as a step too far, pointing to the need for airports to take responsibility for only allowing passengers deemed fit-to-fly to board.
Social distancing and new process just add to complexity
This is where the real challenge will lie for airports. There may be a range of new processes to introduce including the possibility of thermal screening, mobile Covid-19 testing units, and entirely contactless movement through the airport. Coordination between airport authorities and other statutory authorities working in airports will be needed to ensure that these are as streamlined as possible to minimise the time and costs for everyone. Existing passenger processing may need to be entirely reconfigured. Social distancing adds another layer of complexity and especially of cost. Declared airport terminal capacity goes out the window if every passenger is entitled to their own 4m2 bubble. Real person queuing may need to be replaced by virtual queuing with an app announcing when it's your turn to board. Effective capacity of an airport could be increased of operating hours are extended but that would be a costly solution.
In the meantime, as the various questioners pointed out, airports are hurting now. Without aero-nautical revenues from passenger planes and non-aeronautical revenues from food and other retail provision in airports. Some are putting on hold capital construction projects as the need for them and the funding for them diminishes. However, some are using this period of quiet to get on with their list of maintenance projects or even bringing forward construction. Hong Kong will start work on a new runway sooner than planned, Singapore Changi is accelerating terminal redevelopment and Amsterdam Schiphol will be undertaking a number of maintenance activities during this period.
Quite a few questions asked about the need for coordination in the industry to bring the hygiene safety measures into effect in a way that each country recognises what others are doing and to help manage passenger expectations of the air travel experience. Is there a role for IATA and ACI to revisit Level of Service standards for airports? Do national governments need to work on mutually recognised fit-to-travel and screening procedures?
Of course, these are only necessary if we think these measures are here for the long-term and the situation can't be managed in an ad hoc way by airports and airlines adopting new but temporary measures. Anticipating this, OAG's latest survey asked about the measures needed and how long they would be needed for. This is what they said.
Airline hygiene is critical to demand bounce back
Without doubt, action around hygiene measures will be the most important actions required to get people flying again. It seems that our sample of industry are looking primarily to airlines to take the lead with 44% of our respondents saying hygiene measures by airlines will be the MOST important action required, and well ahead of stimulating the market through low fares (10%).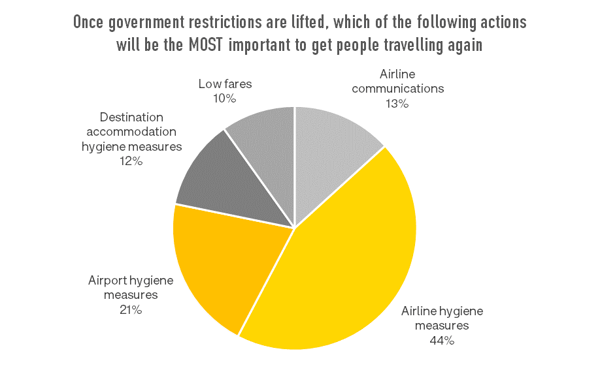 Middle seat hype falls flat as thermal screening and disinfecting aircraft top the list
Next, we asked about timing. Which of the measures we are starting to see introduced by airlines and airports will be permanent? Top of the list came disinfecting the aircraft, followed by thermal screening at airports. For all the media coverage about keeping the middle seat free, this item came towards the bottom of our list, with only 1 in 5 respondents considering this set to become a permanent feature of flying.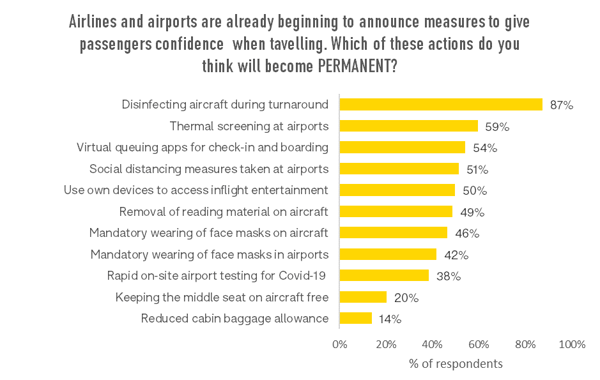 Tight connections will be under pressure as direct flights preferred
Having discussed the possibility and impact of longer MCTs in the webinar we also asked what respondents thought would be the most significant impact of longer MCTs on the aviation industry. By far the most significant impact was that passengers would increasingly prefer direct flights.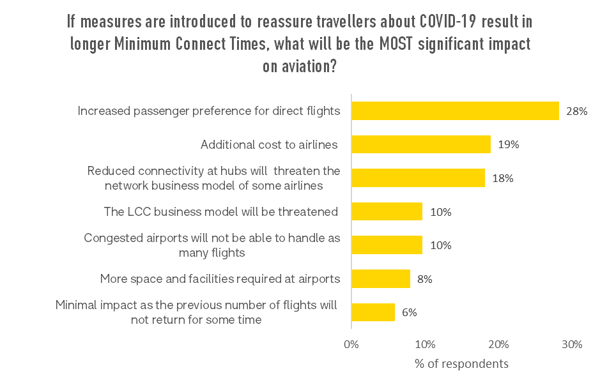 What does this all add up to? Well, it's going to be a difficult time for airports. Airports that have been operating at or near capacity may find it takes months or years for traffic volumes to return and new social distancing rules may mean that they are still add capacity but with fewer air services and reduced non aeronautical revenues to pay the bills. Hub airports may have to compete that bit harder for traffic as passengers express a preference for direct flights, although airlines are likely contract their networks, reducing the number of smaller and more marginal routes they operate.
As always, everyone wants to know when traffic volumes will recover. Will it be this year? Will it be next year? We still don't know but we are getting a clearer idea of what aviation is going to look like for the foreseeable future.
Register for our next webinars on 13th and 27th May 2020 at the time of your choice.