---
As environmental concerns gather momentum, the focus on air travel's contribution is high. In regions such as Europe, China and Japan, high-speed rail is a viable alternative to flying, at least for shorter distances. In the U.S., however, rail services have never quite taken hold in the same way—leaving the largest aviation market in the world with a challenge.
With 39 million scheduled flights, the U.S. accounted for almost one in every four flights worldwide in 2019. That is almost twice as many as the next largest aviation market, China.
With co-existing rail and air services rising in popularity across the world, it's a wonder as to whether rail is actually addressing the increasing concerns about climate change. If it is the answer, how are existing rail services impacting the U.S., and should the country follow suit with its own rail revival?
Eurostar, the high-speed passenger rail operation between London and Paris, recently celebrated its 25th birthday. It may be the most well-known and branded rail service in Europe, but the continent is criss-crossed with a massive network of local, national and international railways, some of which operate at high speed, and all of which connect to local rail services. OAG analysed the impact of the iconic Eurostar high-speed rail service in relation to air traffic volumes along matching routes and found that while most passengers now let the train take the strain on this 218-mile trip, air services still serve a purpose.
The United States is far from following Europe's ubiquitous use of passenger rail services. Amtrak, which is responsible for almost all U.S. passenger rail journeys, recorded 31.8 million passengers in 2018, only a 2% increase from 5 years prior. In comparison, U.S. commercial airlines experienced a 20% growth in capacity over the same time period, indicating air travel is far more common and is growing much faster than rail travel.
There are a few exceptions, however.
The Northeast Corridor
On-Time Performance of Scheduled Flights at Northeast Corridor Airports December 2019
| | | | |
| --- | --- | --- | --- |
| Code | Airport Name | North America Rank | OTP |
| BOS | Boston Edward L Logan | 253 | 68.3% |
| DCA | Washington Ronald Reagan National | 197 | 76.6% |
| EWR | Newark Liberty | 265 | 65.2% |
| IAD | Washington Dulles | 78 | 82.2% |
| JFK | New York J F Kennedy | 229 | 73.8% |
| LGA | New York LaGuardia | 236 | 72.6% |
| PHL | Philadelphia | 174 | 78.0% |
| TTN | Philadelphia Trenton-Mercer | 264 | 65.9% |
Source: OAG Flight Status
The Northeast corner of the U.S. has had the most congested airspace in the country. Back in 2017, the FAA reported that half of all airspace delays originate in this area, either due to traffic density or adverse weather conditions. It is no surprise, therefore, that airports in the region rank towards the bottom of a list of 284 airports in North America for on-time performance.
Amtrak's Northeast Corridor services operate 2,200 commuter and freight options each day. In 2018, it reported 12.1 million combined passengers between Washington, Philadelphia, New York and Boston. It also carried more travellers between New York and Boston than all U.S. airlines, and three times as many travellers between Washington and New York from July 2017 through June 2018.
So, how does that compare to across the pond? Although the routes are similar to London-Paris in distance – New York being 207 miles from Washington and 191 to Boston – they differ greatly in size. Whereas Paris and London have a collective population of approximately 25 million, the Northeast Corridor is nearly double with about 50 million residents.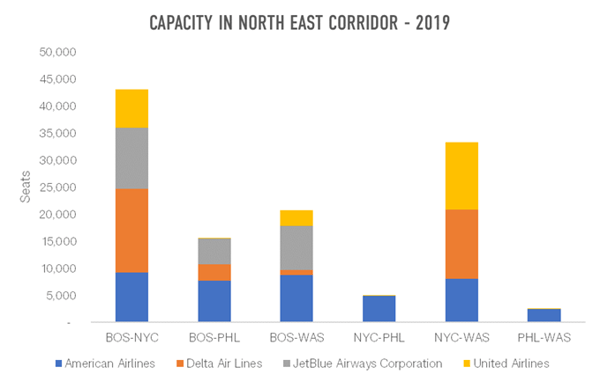 As one of the most densely populated urban areas of the U.S., it's clearly a promising route for rail to contend with air services. Even so, there is still plenty of competition among the airlines themselves as American Airlines, Delta Air Lines, Jet Blue and United Airlines all have a significant share in services across the city-pairs connecting Boston, New York, Philadelphia and Washington D.C.—providing a total of 11.8 million commercial seats in 2019.
Is total travel time a factor? Perhaps, which is why Amtrak operates its 'Acela Express' trains connecting Boston, New York, Philadelphia and D.C. with high-speed services capable of travelling up to 150 mph. This is relatively slow when compared to the 199 mph Shinkansen 'bullet' trains in Japan or the trains in China that can reach 217 mph, but when factoring in the time to get to the airport, the need to arrive an hour early, time to pass through security as well as possible delays, rail gives air travel a good run for its money.
Virgin Trains USA
The Northeast isn't the only region of the U.S. with a hopeful future for rail travel. Another major player is the Virgin high-speed rail service, which became the only privately owned and operated inter-city passenger rail service in early 2018. That same year, it reported 38 million passengers on its high-speed West Coast Main Line service, more than the entirety of Amtrak.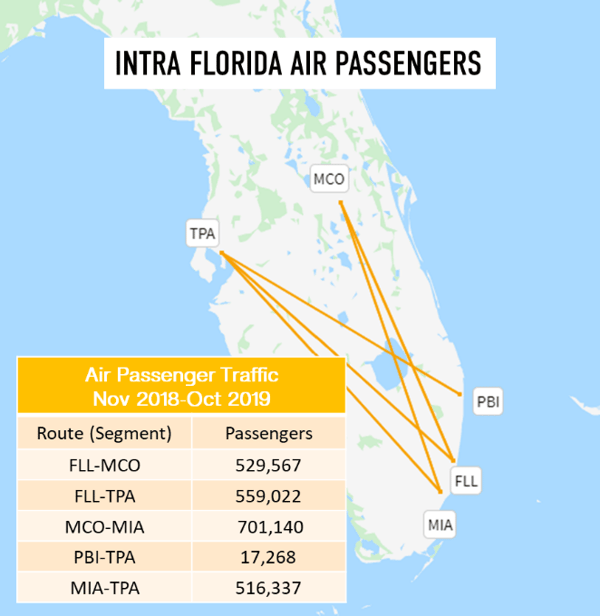 Unlike Amtrak's Northeast Corridor services, the routes covered by Virgin are relatively short. The distance from Miami to West Palm Beach is only 62 miles, with the Fort Lauderdale stop 20 miles along the track – thereby avoiding airline competition. However, recent funding announcements will enable Virgin to expand its network and compete against air services when its Orlando and Tampa extensions are completed in 2022. Once its services begin, Virgin will interrupt the five main scheduled airline routes connecting Florida, which carried 2.3 million passengers in the year through October 2019.
Similarly, Virgin's ambitions to create rail services between Las Vegas and Southern California are sure to generate some disruption on that side of the country as they compete with the various airlines that fly between Las Vegas and Los Angeles. In 2019, around 17 airlines each carried at least 10,000 passengers between these airports. Six of these airlines carried over 250,000 travellers for a combined 3.25 million in passenger foot traffic. It's too soon to tell how much of an impact these new routes will have, but it will be interesting to see travellers' appetite for adoption.
The Case for Rail
The case for rail has been made for many years in Europe, and it's only growing stronger. As the skies become more congested and the time scheduled for flights increases, the scales are slowly tipping in favour of rail for journeys less than 300 miles. The emerging European phenomenon of flight shaming, or train bragging, has also made the rationale even more compelling, with concerns about climate and the viability of public transport in support of rail revival.
And although the U.S. also suffers from congested skies and roads, it's yet to make an adequate investment in its high-speed rail network. As the largest air transport market in the world, it's likely the country could support a much more competitive rail network. For now, however, it looks like the airlines don't have to worry too much about competition from rail.