---
In June, Westjet and Delta came one step closer to creating a joint venture with the clearance of their proposal by the Canadian Competition Bureau. One potential benefit of a Canadian/US alliance for Delta is the ability to win long haul traffic from Canada by facilitating connecting journeys via one of the Delta hubs in the US, or what is known as Sixth Freedom traffic.
The two carriers already code-share but the deal, yet to be cleared by US regulators, will allow them to expand the code-sharing arrangement, coordinate schedules and fares and bring their airport operations closer together.
Canadian Competition
Sixth Freedom of The Air - the right or privilege, in respect of scheduled international air services, of transporting, via the home State of the carrier, traffic moving between two other States (also known as a Sixth Freedom Right).
ICAO
The main competitor in the trans-border market is Air Canada and there is some evidence that in 2018 Air Canada was trying to expand its own sixth freedom traffic between the US and long-haul destinations; OAG Connections Analyser shows that on a typical day in August 2018 there were 5% more possible online connections at Canadian airports within a four-hour window between flights arriving from the US to flights to other international destinations than in the previous year.
In May 2019, Air Canada carried 80,000 passengers from airports in the US to destinations in Europe, Asia and elsewhere outside either Canada or the US. Two-way sixth freedom traffic to and from the US on the airline, at 160,000 passengers, contributed 5% of all Air Canada bookings in the month – not insubstantial.
The top sixth freedom route in the month for Air Canada was Boston (BOS) to Shanghai (PVG) and both these airports are among the Top 2 US origin airports and the Top 2 non-North American destinations airports for Air Canada's sixth freedom traffic.
AIR CANADA SIXTH FREEDOM TRAFFIC FROM US– MAY 2019

Top O&D Pairs

Top US Origin Airports

Top International Destination Airports

Rank

Airport Pair

Airport

Bookings

Airport

Bookings

1

BOS-PVG

LGA

5,232

PVG

7,656

2

LAS-NRT

BOS

4,639

PEK

5,215

3

LGA-PVG

LAX

4,584

LHR

4,922

4

LGA-HND

ORD

4,131

NRT

4,203

5

ORD-PEK

EWR

3,786

TLV

3,866

6

IAD-PVG

SFO

3,309

ICN

3,784

7

ORD-PVG

SEA

3,200

HND

3,132

8

ORD-TLV

LAS

3,188

BCN

2,343

9

PHL-PVG

DTW

2,853

ATH

2,320

10

LAX-TLV

ATL

2,771

HKG

2,275

Source: OAG Traffic Analyser
Can the networks deliver Sixth Freedom traffic?
Clearly, there is traffic to be gained by facilitating sixth freedom traffic flows, with the benefit of using that connecting traffic to support the hub operations. So how well do the Westjet and Delta networks fit together now, and how much additional connecting traffic could they support? Well the answer today is that they don't fit well at all if sixth freedom traffic is the goal.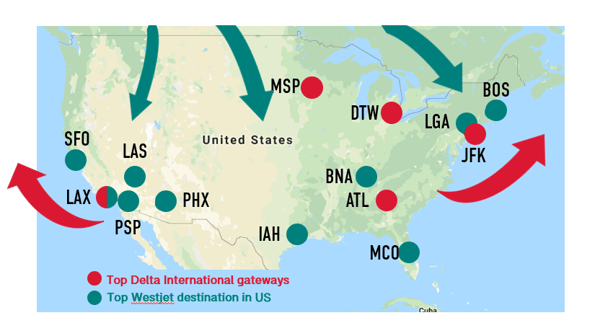 Atlanta (ATL) is Delta's largest hub airport and in May the airline operated over half a million seats from there to destinations outside North America. Over 80% all Delta capacity to destinations outside North America operates from just 5 airports – Atlanta, New York JFK (JFK), Detroit (DTW), Los Angeles (LAX) and Minneapolis/St. Paul (MSP).
Capacity (seats) – May 2019

Delta to non US/Canada destinations

Westjet from Canada to US

Airport

Seats

Seats

ATL

510,731

5,194

JFK

315,837

3,757

DTW

145,007

0

LAX

84,005

38,595

MSP

67,793

0

SEA

57,487

0

BOS

46,529

9,672

SLC

35,774

0

HNL

21,018

5,394

PDX

19,705

2,418

MIA

9,734

0

RDU

7,726

0

MCO

7,646

16,022

CVG

7,181

0

IND

6,144

0

TPA

2,754

3,910

CMH

720

0

BNA

720

5,711

MCI

720

0

Other

137,224

Grand Total

1,347,231

227,897

Source: OAG Schedules Analyser
However, only LAX features among the 10 US airports which account for 80% of Westjet's inbound capacity from Canada to the US. While airports like Boston (BOS) are relatively important for both airlines, making up 3% of Delta's non-Canadian international capacity and 4% of Westjet's Canadian capacity, at the moment fewer than 10,000 passengers could be routed this way in each direction – and that's if there was no O&D traffic.
The two networks are clearly not aligned at the moment in a way that can deliver sixth freedom traffic. So where is the opportunity?
Westjet trans-border strategy and the Delta wish list
It's hard to identify a clear trans-border strategy from reviewing the Westjet schedule. Throughout 2018 capacity between Canadian airports and US airports varied from month to month reaching a peak of over 100,000 seats in April but falling to fewer than 20,000 in September. 2019 has seen a repeat of this with peaks in January and May and low points in April and again in September, according to the current filed schedule.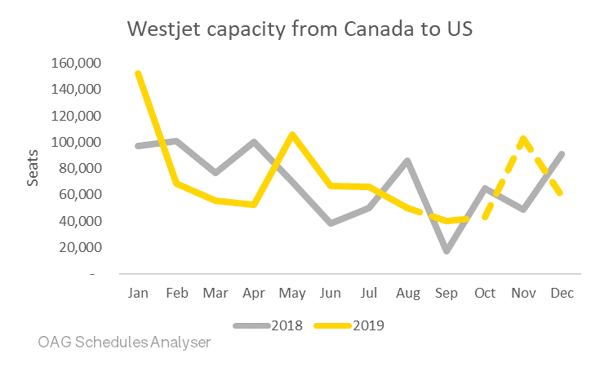 While overall capacity may fluctuate, a consistent theme has been the dominance of Las Vegas (LAS) as a destination. While this caters will to the outbound Canadian market, it has little or no relevance to the sixth freedom potential with Delta.
Coordination of future schedules, if they are to maximise the opportunity for sixth freedom flows, will need to see an increase in Westjet capacity from Canadian airports to the likes of Atlanta, New York JFK and Boston. Presumably this will be high on the Delta wish-list.