Common Sense Prevails in London...at Last!
No, not the reopening of the US aviation market this week although that was a pleasant surprise for every airline CEO with any interest in one of the largest markets in the world, but rather British Airways finally abandoning London Gatwick - at least for short-haul flights. For both the airline and London Gatwick this may finally be the separation that has been inevitable for decades but that neither wanted to make the first move on. The separation will in the very short-term seem painful but for both, but in truth it's a blessed relief (whatever they may say publicly).
An Opportunity for Focus
For both London Gatwick and British Airways, this is now a moment for focus. Surviving Covid-19 has been challenging, but for any business now is the moment to be razor-sharp in the execution of a new strategy that is better suited to the market. Our analysis of the data creates a compelling series of arguments for why both airline and airport are better off focussing on what they are good at, rather than pretending what they would like to be good at.
Tracking capacity back to 1996 highlights just how much has changed at Gatwick and how the position of BA has consistently been eroded. At that time, the airline was the airport's number one carrier to Western Europe with some 38,700 scheduled flights; in 2019 (the last "normal" year) that halved to 19,300 flights, an average of 53 flights a day. At the same time, easyJet, who didn't even operate from Gatwick until 1999 have grown consistently and by 2019 had some 57,200 scheduled flights. As the table below shows the respective frequency performance of the two airlines summarises what has happened very nicely with 2008 proving to be the year of no return for BA as easyJet rapidly moved ahead and BA embarked on two years of major frequency cuts; the dice were cast at that moment.
Chart 1 – Number of Scheduled Flights From British Airways & easyJet, London Gatwick 1996 - 2019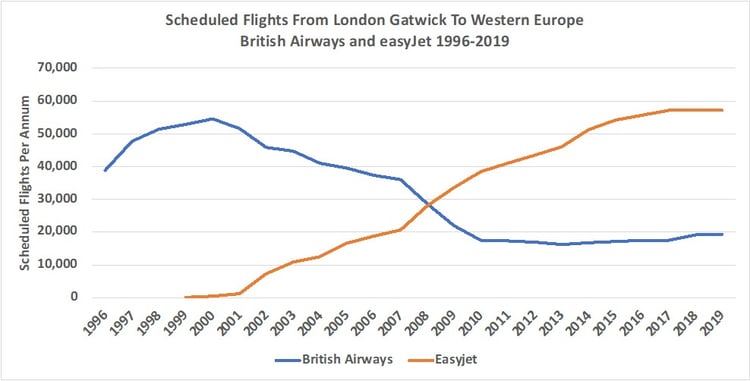 Source: OAG Schedules Analyzer
Of course, the key factor in BA's inevitable decision has been the rise of low-cost airlines - for many legacy carriers fighting low-cost airlines is a futile battle that they never seem to win and merely dilutes shareholder value and clouds their strategic thinking. At Gatwick, low-cost carriers' airlines now account for over two-thirds of all scheduled services to Western Europe with not just easyJet but Ryanair and Wizz Air in recent years building their networks from the airport and with each new flight weakening the relative position of BA.
Chart 2 – Frequency Share of Legacy and Low-Cost Airlines, London Gatwick to Western Europe, 1996 - 2019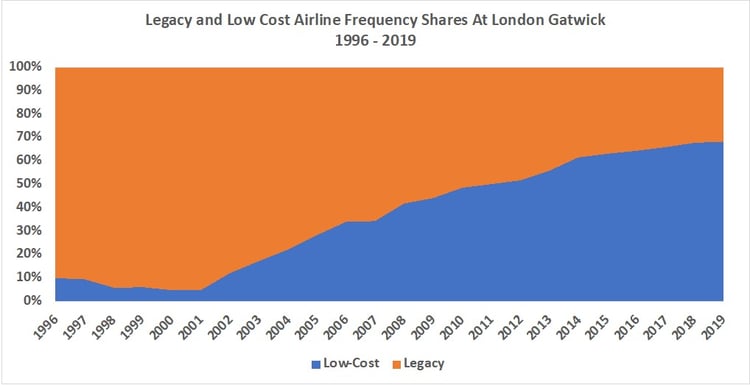 Source: OAG Schedules Analyzer
Surrounded by such competition BA's position and particularly their cost base just cannot compete with the low-cost competition and however many times working agreements were renegotiated the airline was just delaying an inevitable conclusion and one that has finally been reached.
So, what next?
Separations can be messy but, in this case, it should be a relatively clean split, after all BA have not operated any short-haul services from LGW for the last eighteen months and had no real plans for anything until Summer 2022 at the earliest. The one key question for BA at Gatwick will be what to do with their long-haul network; does that remain or stay at London Heathrow where yields are generally higher, connecting traffic possible, and of course where their main UK competitor in Virgin Atlantic has already focussed their operations. It would make sense for BA to consolidate as much as they possibly can at Heathrow but that may require some juggling of slots and adjustments to frequency on some European destinations.
Looking at the average frequency per day in 2019 for BA to their top ten destinations would suggest that there is at least scope to reduce frequency on some of these markets and reallocate slots to longer haul ex LGW services. Does Edinburgh really require ten flights a day when the carrier also operates a high-frequency London City service or was this merely pandering to the investment and shareholders in Scotland? Does Geneva, Glasgow or Amsterdam really require those number of daily flights when a potential B777 with premium business traffic could fill that slot, probably not.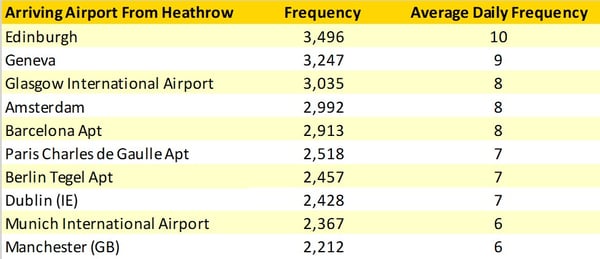 And as for London Gatwick the next step will inevitably involve more services from carriers such as Wizz Air and Ryanair who will be eager to take on the now very dominant position of easyJet. Apparently, a few weeks ago Wizz Air were interested in acquiring easyJet, the rejection of their offer may have saved the carrier millions and will now have easyJet looking over their shoulder at what Summer 2022 will bring from their two fiercest competitors.
For Gatwick the decision of BA allows them to create a clearer market position and to have a razor-sharp focus on operational efficiency that supports low-cost carriers; the airport has in recent years achieved several successes in this area and will continue to innovate and keep a keen eye on their cost base as they look to attract new carriers.
Of course, BA can attempt to move their "valuable slots" within the IAG Group, with perhaps Vueling the most likely candidate if blocking out any wider competition in the London market is considered a necessary defensive strategy. If that is the case it begs the question, why didn't IAG make such a move in the first place, but such obvious questions are sometimes forgotten.
Today may feel like a sad day for both British Airways and London Gatwick, but for both parties it is finally the right decision, even if BA needed their pilot union to make the decision for them. The situation was perhaps best summed up by Michael O'Leary recently when he said the definition of insanity is to do the same thing over and over and expect a different result.
Perhaps sanity has just broken out at Waterside and London Gatwick...
---
Read next:
Christmas Comes Early for Airline CEOs
Is there a Link Between Vaccination Rates and Opening Up International Air Travel?