Airlines Eagerly Awaiting Traffic Lights to Arrive, Will This Be The Week...Probably Not!
A collective whip around amongst European-based airlines has raised the cash to buy a new set of light bulbs and the UK Government has finally run out of excuses; this week they will announce the easing of travel restrictions from the UK, or at least they should be. It's a small story, unless you are in the UK, but the wider ramification is the ripple effect that will occur through Western Europe and hopefully beyond and no market needs a boost more. At less than 30% of pre-pandemic airline capacity operating, Western Europe remains the poorest performing region on the planet; some achievement for one of the wealthiest regions.
Despite that opening headline of optimism, the forward-looking airline capacity picture remains fragile and airlines continue to cut capacity for the next two months. Since last week, May capacity has been cut by some 22.5 million seats and June by 23.5 million; yes, it may be finessing by the airlines or finally looking up from this week's problems but it's a huge indication of the challenges being faced. In response to those challenges some airlines are adopting the "Messi" approach to capacity planning and kicking seats into the late Summer and early Autumn, but as we know it's equally easy to remove capacity.
Chart 1 – Scheduled Airline Capacity by Month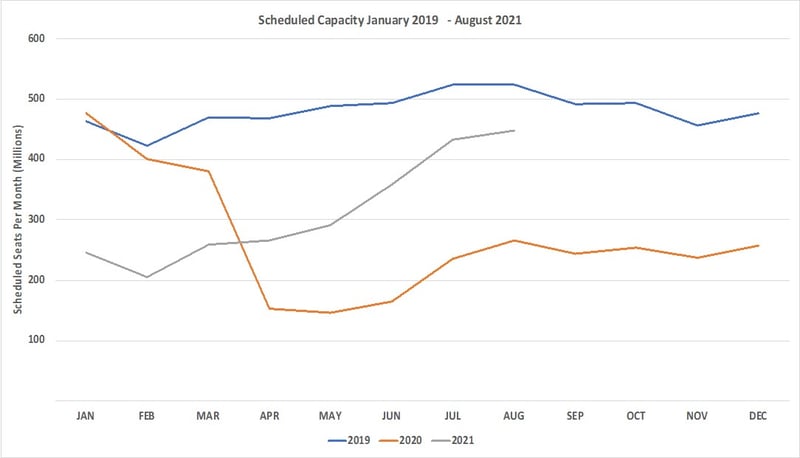 Source: OAG
Week-on-week capacity is pretty flat, rather like Manchester City's title celebrations turned at around 15:00 on Sunday. Total capacity has crept above 62.3 million a 430,000 increase on last week with North America and Eastern Europe covering the declines in many other regions. Global capacity remains at around 60% of pre-Covid levels with North-East Asia the closest to a full recovery at some 84% of normal production levels. Four regions remain at less than half of their pre-Covid levels; Western Europe, Lower South America, South East Asia and North Africa, in "normal" times two of those regions would be in the top five global markets and until they return a full recovery will remain out of reach for the industry.
Table 1– Scheduled Airline Capacity by Region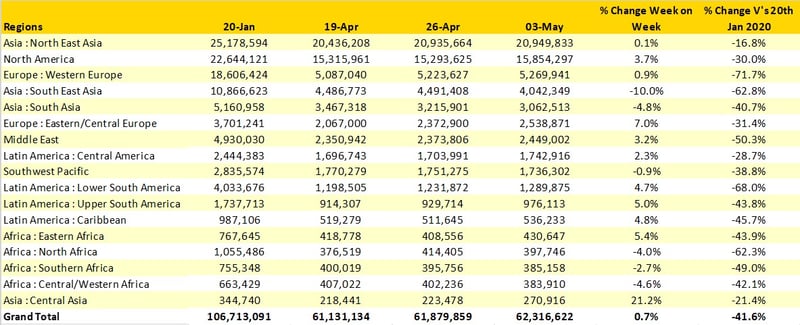 Source: OAG
The challenges of handling a Covid spike are clearly demonstrated in Turkey where capacity has been cut by over a third in the space of seven days as the country begins a total lockdown and restrictions on travel between cities. With the hope of international travel starting again in Western Europe this event could not have come at a worse time for the tourism sector that would have hoped to see strong bookings in the next few weeks; one country's loss is another's gain...Greece anyone?
Despite the tragic events in India over the last week capacity has only fallen by some 6% week-on-week a remarkable result considering the rates of infection in the country and various lockdowns that have been put in place. Indonesia is also suffering another setback with a near 16% reduction in weekly capacity and remains at around half of its normal capacity levels.
On a more positive note, Spain, Germany, and Italy all report double digit capacity growth this week with much of that capacity actually being between the three countries as they both ease lockdowns and the early summer holiday season begins to spring into life. We have always expected the low-cost airline sector to be more aggressive in any market recovery and Spain this week is a great example; low-cost carriers have added some 83,000 seats week-on-week and legacy carriers some 20,000; a 4:1 ratio in favour of the low-cost carriers!
Table 2- Scheduled Capacity, Top 20 Country Markets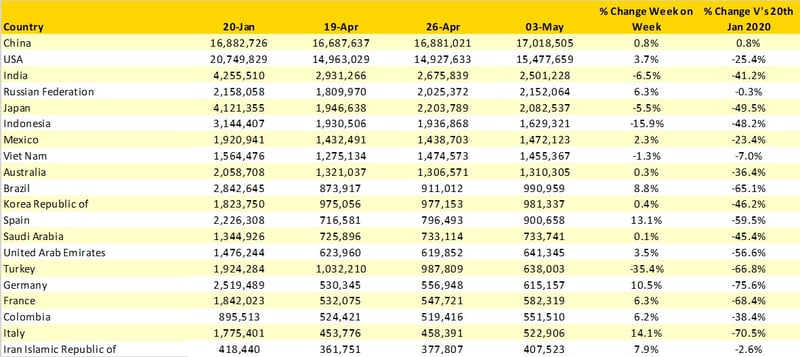 Source: OAG
No significant movements are taking place in the airline top ten with American Airlines widening the gap on second placed Delta Air Lines by adding another 162,000 seats this week to their operation. Putting those additional seats into context that is more than the total capacity that will be operated by Singapore Airlines this week and only slightly behind the sum of British Airways capacity for the next seven days!
Looking back to January 2019 some 715 airlines were filing weekly capacity updates with OAG and operating scheduled services; this week some 658 are operating including an amazing 82 airlines that had either stopped operating ahead of the 20th January 2020, undertaken a name change, or are actually a new start-up carrier. The airline industry always sees a churn of operators, former CEO's starting new ventures, entrepreneurs smelling Jet A-1, or billionaires wishing to become millionaires; quite how many will survive the first year of operations is always intriguing, especially when plans are created during a pandemic.
Table 3- Top 10 Airlines

Source: OAG
In Western Europe at least there is a sense that the next three weeks will be season defining for the industry as everyone waits to see what the easing of travel restrictions really means. The benefit of large domestic markets has certainly proven valuable in the United States and China with Australia more recently seeing strong domestic capacity growth and of course the creation of the Tasman bubble. Call it pent-up demand or just frustration there is certainly a strong desire for people to book travel overseas in many markets and that will inevitably lead to press releases around record days for bookings and perhaps short-term increases in fares on some routes. But if you can still buy a non-stop fare from London to Orlando in the first week of August for £652 return or to Palma with Ryanair for £66 then forward bookings must still be very soft for the peak weeks of travel; so a bargain to be had if you move quickly!
Stay safe everyone.