This week the Tasman Travel Bubble takes effect, allowing scheduled air travel to resume between Australia and New Zealand without the requirement for quarantine or vaccination. This is welcome news to residents of both countries, especially given that this is the largest international air travel market for each country. Since October 2020 there has been a one-way travel bubble, enabling New Zealanders to travel to some Australian States without the need to quarantine but they have still had to quarantine on their return. The latest move opens up two-way travel.
Of course, a key factor in making this possible has been the relatively low level of COVID-19 in both countries. Australia has daily case numbers down to around a dozen and New Zealand has had only one death in the past 6 months.
However, despite New Zealand being the largest market for outbound Australian travel, significant numbers of Aussie travellers used to head for other places too. In 2019, only 13% of all passengers flying internationally to or from Australia, but with a point of sale in Australia, were bound for New Zealand. According to OAG traffic data. That may have amounted to almost 3 million passengers but that left 19 million air passengers travelling back and forth between other destinations around the world.
The opening of the Tasman travel bubble is a positive step but leaves lots of questions about where Australians could be travelling in the coming months. Will pent-up demand mean there is a sharp influx of visitors to New Zealand, or will we see new travel bubbles emerge with some of the Pacific Islands which also benefit from low COVID-19 incidence, and do they have the capacity to manage a steep rise in visitors? What of the other large outbound markets of yesteryear, such as China, the US and Indonesia? As and when travel is possible will they still be in favour, and in the meantime, what are the options to be considered by Australians with itchy feet?
Australia's Most Important Travel Corridor
In 2019 there were 6.4 million passengers who flew between Australia and New Zealand, according to OAG Traffic Analyser. Of these, 3 million had a point of sale in Australia, or 47%. In 2020 this number fell to 1.5 million, just 24% of the year before, and what might be expected when only a quarter of the year had normal operations.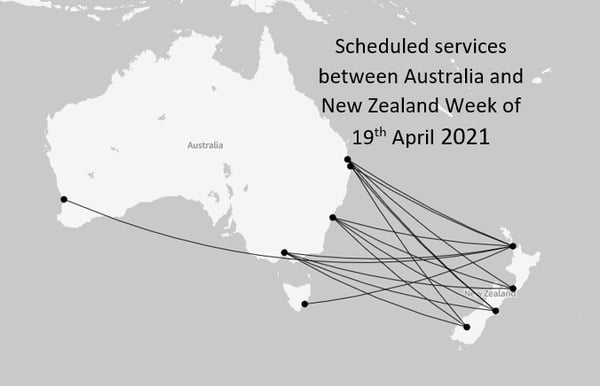 While there has been some flying between the two countries over the past year, it has been at a much lower level, and accompanied by the requirement to quarantine. From 19th April, the number of scheduled flights across the Tasman Sea will increase to 307 from 97 a week earlier, a four-fold increase, and the number of routes operated will rise from 11 to 16. Capacity will be provided by a mix of Air New Zealand and Qantas Airways but in a demonstrable sign of the impact of the last year on aviation, Virgin Australia appears too fragile to be able to participate in the travel bubble despite the potential for air traffic that it offers.
The market response appears to confirm pent-up demand. According to one provider of global travel search data (3Victors) the number of searches for Australia-New Zealand travel rose by 911% between the week of 5th April and the week of 12th April. However, demand may not be as high as airlines were hoping for; Just a week before the launch of the Tasman Bubble scheduled airline capacity was showing in the OAG database as 455 flights for the week of 19th April. The downward adjustment, taking out 148 flights within a week of operation, demonstrates the uncertainty in the market and the lack of consumer confidence.
An interesting development is the inclusion of Hobart-Auckland, to be operated by Air New Zealand, and the first time this route has seen scheduled air service. This is a sign of the experimentation taking place now among fleet planners who, with spare capacity, can try out routes that were not a priority previously. It will be interesting to see with this, as with the other routes being given a chance to prove their traction in the aviation market, whether this sticks.
Prospects for Air Travel to and from China
After New Zealand, the next largest outbound destination for Australians pre-COVID was China, with around 1.8 million passengers travelling between Australia and China in 2019.
The market had grown steadily over a number of years and by 2019 there were 4.4m annual scheduled seats between China and Australia, and 16,500 flights. The vast majority of airline capacity (91%) was provided on Chinese carriers. The number of routes operated had grown too, with services on 40 unique airport pairs by 2019.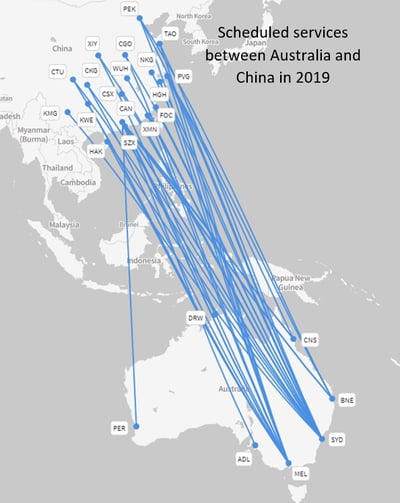 Today there are limited flights in place and plenty of restrictions to make travel between the two countries inadvisable or not permitted and Australia appears to be in no hurry to open borders further any time soon.
As of April 2021, there are just 3 Chinese airlines flying 56 flights and 19,000 seats over the course of a month.
Recovery seems far off and not helped by political tensions. However, this has not been a market that was just about Chinese leisure visitors to Australia; there were large numbers of Chinese visiting students travelling back and forth and a sizable diaspora community in Australia. With around 1.2 million people of Chinese ancestry living in Australia, or 5.6% of the population, it's hard not to see this market returning but it may take some time once permitted.
Back to Bali?
After New Zealand and China, the next largest outbound market from Australia was Indonesia with Bali as a key draw for Australians. Around 1.9 million passengers travelled to Indonesia in 2019 with an Australia point of sale but today Bali remains closed to international visitors and COVID-19 case numbers high. So where else might Australians be able to go as and when things open up?
Travel corridors with Singapore and Japan have been discussed based on low levels of COVID-19, as have some of the Pacific Islands. Fiji recorded almost 600,000 passengers to and from Australia in 2019 and has only had 2 COVID-19 deaths. While any opening up of the Australia-Fiji market would be great news for Fiji, a place heavily dependent on inbound tourism, their ability to absorb very much larger numbers of visitors may be limited. In total, OAG Traffic Analyser shows there were 1.7 million passengers to and from Fiji in 2019 who did not have a Fiji point of sale, of which 39% had an Australian point of sale, and 23% had a New Zealand point of sale. A travel bubble between the 3 countries looks to make sense, at least on paper.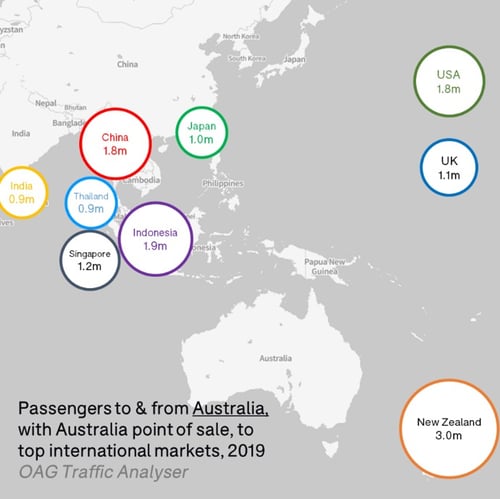 Staying Domestic, Staying Home?
With few other international travel options on the horizon, aside from New Zealand and possibly some Pacific islands, it looks like many of the leisure trips Australians want to take may need to be domestic. Prior to the pandemic, Australia had the 7th largest domestic air market as measured by scheduled flight capacity and, like many of the larger domestic air markets, this has provided some degree of resilience for the airlines over the past year.
However, travel restrictions on inter-State travel have dampened demand for domestic air travel; as of January 2021, scheduled domestic passenger numbers were down by 57% compared to January 2020, a bit more than capacity which was down by 51%. By April, capacity is down only 20% compared to April 2019 though it is too soon to say whether traffic is seeing the same level of recovery.
The Tasman Travel Bubble is a welcome step in the return of international air travel, but the number of flights operating this week is still only a third of the number operating this week 2 years ago. Maybe Australians will be spending another year at home.