The challenges of the airline industry are captured in this week's data; short-term growth clouded by the reality of having to cut another 7.9 million seats from the planned July schedules.
For every positive indicator, there seems to be an immediate response with further lockdowns or bubbles deflating. This weekend saw a very small Covid-19 outbreak in Australia, well small by the rest of the world's standards, and the Tasman bubble is closed, four states have put travel restrictions in place proving that a zero-based Covid approach just will not work for the aviation industry.
With 75.5 million seats on offer, this week will be the busiest week since the pandemic event started in January 2020, so that is good news and a 4.2% increase on last week's capacity is indeed positive. However, just for context this week two years ago we were busy counting the 116 million seats that operated; we remain 35% below pre Covid-19 levels and this may be as good as it gets in 2021 at least in percentage recovery terms. The date excludes this weekend's developments in Australia and New Zealand and whilst it is only some 203 flights and 41,000 seats in each direction the messaging is frustrating.
So, the good news is week-on-week growth. The bad news is that some 7.9 million seats have been removed by airlines for July and looking even further out 6.9 million have been removed for October. Many of these changes are airlines just aligning their schedules to current plans but importantly it is an indication of the confidence carriers have in the recovery and the regulator's reluctance to allow international travel to recover. So frustrating.
Chart 1 – Scheduled Airline Capacity by Month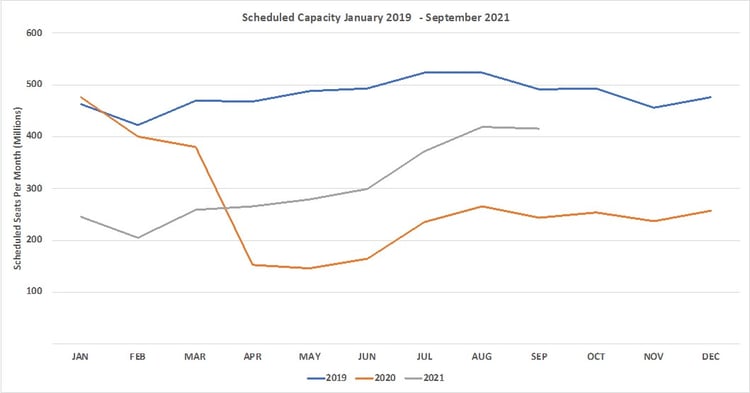 Western Europe has seen a dramatic week-on-week growth in capacity as the major summer sun markets reopen and airlines add more and more capacity back to destinations as the European Union eases travel restrictions between member states. Despite the additional 2.2 million seats added in Western Europe capacity remains at just over half of the 2019 level as at least one major market remains closed for all but the most essential travel, the UK would normally be at some 3.9 million seats a week; but remains stranded at just over one million seats a week or 26% of normal capacity.
North East Asia with 19.4 million seats a week remains the closest region to pre-pandemic levels with a 21% shortfall on capacity and of course China accounts for over 80% of all capacity generated in the region so until international flights are re-opened is unlikely to see that situation improve. Sadly, South East Asia remains the region furthest away from its January 2020 levels; with just 3.5 million seats this week compared to the normal 10 million, markets such as Malaysia, Singapore and Thailand remain grounded.
Table 1– Scheduled Airline Capacity by Region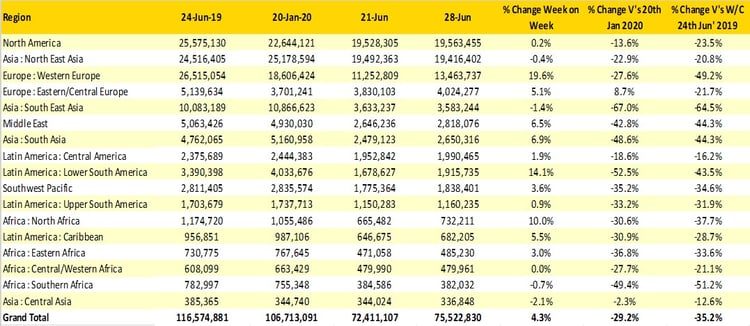 The top twenty country markets reveal why every sunbed attendant in Europe is once again smiling, Germany is once again moving with a 23% increase in weekly capacity; much of that capacity is heading to summer sun destinations but there is another part to the recovery, capacity to the USA. Lufthansa will this week operate some 30,000 seats the US making it the second largest international market for the airline, ahead of destinations such as Italy and France; I guess you can't yet drive to the US from Germany then!
This week also sees Canada return to the top twenty ranking with an impressive 22% growth in capacity week on week with Colombia dropping back one place in the listing, is that the equivalent of relegation from the premier league? Much of the capacity growth in Canada has come from low-cost carriers this week, Westjet adding back a further 44,000 seats and carriers such as Flair and Swoop adding more seats as they continue their planned expansion strategies. Canada will be an interesting market in the next few years as Air Canada seeks to recover in the face of increasing competition, watch that space for sure.
Greece has slid two places higher in the top twenty with the largest percentage growth rate week on week, nearly one quarter more seats available than seven days earlier and perhaps proving the value of positive messaging around being open for business that the tourism sector have been promoting for some time. Despite Greece apparently being an Amber listed destination from the United Kingdom some 56,000 seats will be on offer this week.
Table 2- Scheduled Capacity, Top 20 Country Markets

American Airlines are still the world's largest airline in terms of scheduled seats although quite how many of those will operate will be interesting given their pilot shortage, the airline cancelled nearly 2,000 flights in June; not quite what you want when trying to recover and rebuild consumer confidence. By way of comparison, United cancelled some 487 services and Southwest 429 so perhaps the issues is slightly larger than just an American issue.
Ryanair continue to add more and more capacity back each week, another 200,000 seats added with Italy the largest market for the airline with over 515,000 weekly seats on offer, I wonder if Alitalia have noticed? The carrier has dropped a further 14,000 weekly seats from the UK market and are now only operating one third of their 2019 capacity from what has been traditionally their second largest market.
Although currently in 16th position easyJet are once again expanding their capacity with a staggering 49% capacity increase week-on-week and some 275,000 more seats added; it sounds impressive but in fact is only one-third of their normal capacity. France and Italy have been the major growth markets for the airline this week and even the UK has seen growth despite new routes to Scotland having to be dropped before they even started.
Table 3- Top 10 Airlines

So another positive week but equally a feeling of what could have been…..this week feels like the inevitable England – Germany football result…an "if only" sense of frustration. Snippets of positivity around the globe and then a bubble goes flat somewhere else, a market reopening and then quickly adding quarantine requirements and then an unusually high number of cancellations due to "crew planning".
You have to love this industry, exciting isn't it!
Stay safe everyone.