Over 1,400 new air routes have been scheduled to operate in 2021, the highest for a number of years, undoubtedly reflecting both the current uncertainty and a desire from some airlines to use this period to experiment with their networks. Amongst all of the bad news and route losses, airlines' appetite to experiment has to offer a glimmer of hope for regional airports, who most typically benefit from this type of airline network experimentation.
Source: OAG Schedules Analyzer
By far the greatest volume of air routes added in 2021 so far are in Europe, with just over 600 new routes added, 43% of the total. Of these, more than half will operate within Europe and international routes account for the biggest share. Many of these previously unserved routes link regional airports across Europe. Other areas seeing airline network experimentation on similar scale are Asia Pacific- where growth in China's domestic market has resulted in 210 new routes scheduled to operate in 2021. The USA, has 235 new routes with some fifty-three new domestic airport pairs added in July compared to 2019.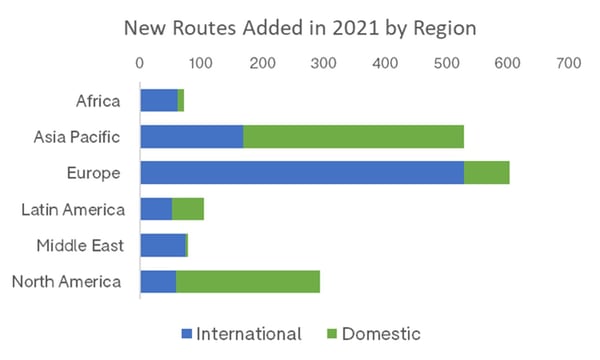 Source: OAG Schedules Analyzer
So which carriers are driving this network experimentation in Europe?
Just 35% of new routes planned in 2021 will be added by legacy carriers. On a carrier by carrier basis, Corendon lead the legacy side with 14 new routes and Turkish Airlines with 10 new routes. LCC (Low Cost Carriers) operators will operate the majority however, reflecting to some extent their networks which largely operate within Europe.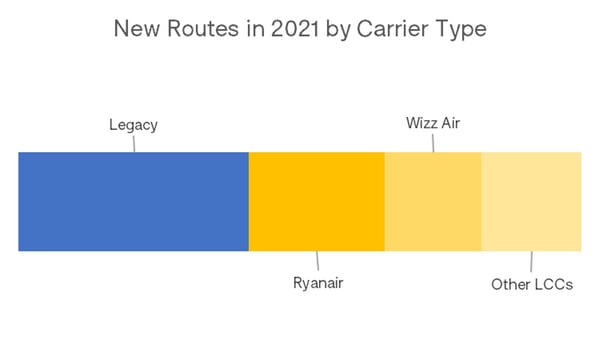 Source: OAG Schedules Analyzer
Ryanair are the largest, with 80 new routes planned, with Wizz Air in second place with 57 new routes. Collectively other LCCs will add 59 new routes, but no individual carriers have anywhere near the numbers being proposed by Ryanair and Wizz Air. Looking specifically at the month of July for the last 5 years, we can see that Ryanair had a typical ratio of between 2-3 new routes to everyone stopped – not surprising as the carrier has seen considerable growth in the same period in routes, planning to operate a third more in July 2021 than 2017. This was affected by the pandemic in 2020, but July 2021 projections show that the route network will recover and exceed 2020 levels.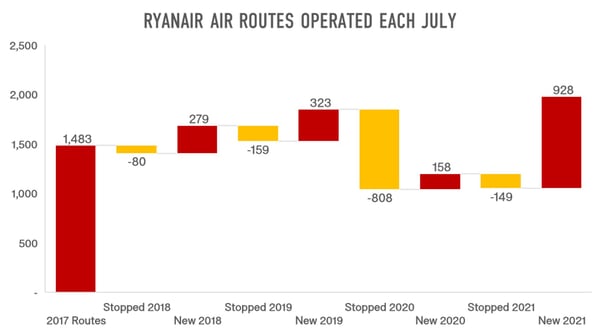 Source: OAG Schedules Analyzer
Wizz Air, have a far higher network churn rate this summer than in previous years. In July 2021 there are 128 routes scheduled to be dropped that were flown in July 2020, but 269 routes have also been added.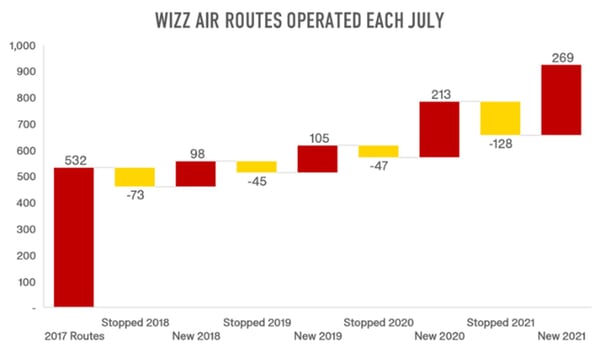 Source: OAG Schedules Analyzer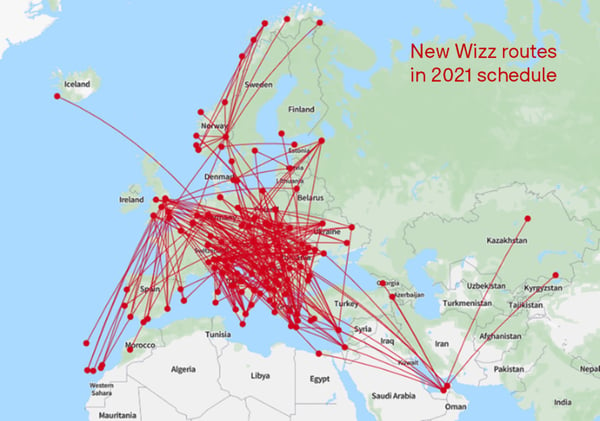 Part of the airline network experimentation for Wizz Air is their foray into Norway's domestic market this summer, serving Norway's regional airports from a base in Oslo. With an already strong presence in Norway, operating 7% of Norway's international capacity in 2019, and the third biggest carrier, Wizz will be hoping Norwegians are persuaded to switch from Norwegian or SAS this summer and try out their new domestic routes. Finding a new domestic market to grow in could be seen as a smart move on Wizz's behalf, particularly at a time when international travel, even within Europe, is still uncertain.
What is more certain is that network experimentation, and churn will continue as airlines across Europe chase opportunities to stimulate demand and seek out air service markets where they can generate a sustainable return. Looking at the ten biggest of these new routes shows that six of the ten are operated by LCC's with Ryanair operating 4 of them. Almost all of these previously unserved routes also involve a regional airport at one end of the route, reflecting the continuing importance of connectivity into the big European hubs.
Regional airports across Europe will be hoping that some of these routes stick and help them build back airline capacity in 2021 and beyond.
---
Air Routes: Defined as routes that have not operated in the last 10 years, and have more than 26 flights in 2021 (equivalent to one service per week in the summer season). Excludes routes that result from the move between Berlin airports.
---