It seems that even the most mature markets are capable of a growth spurt.
The arrival of the IATA Winter Schedules normally results in some form of slowdown in growth, reductions in frequency or even merely seasonal shavings in February when the market can get very soft.
Our analysis of the Europe to North America market suggests that this winter may be an exception to the rule which may be great for grabbing a bargain fare.

This winter there will be some 2.1 million extra seats each way across the Atlantic compared to Winter 2017/18; that's the equivalent of 13,875 a day or close to 40 new flights. In percentage terms that amounts to a 13% increase and the market certainly doesn't appear to be growing that quickly. So, what's driving the growth and who are the winners since there are fewer losers!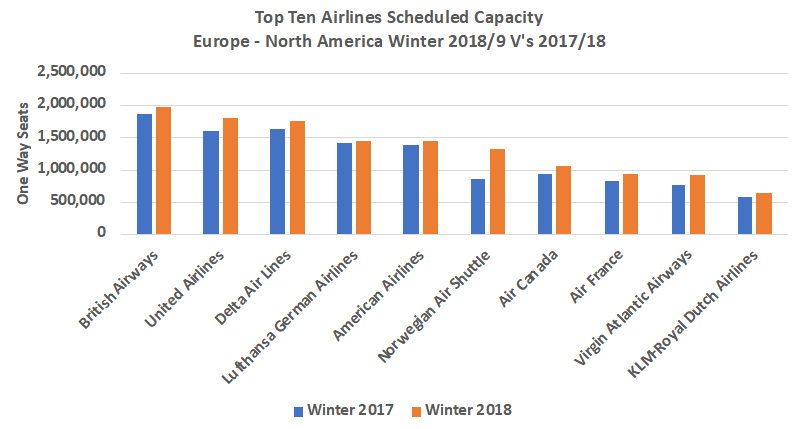 Source: OAG Schedules Analyser
The emergence of low-cost long-haul is clearly a factor but the growth is not coming just from the new entrants, legacy airlines are adding capacity as well. British Airways are the market leader with just under 2 million seats from London of which 1.8 are from Heathrow. Aer Lingus, (22%), Air Canada (12%), Air France (12%) and Virgin Atlantic (20%) are all growing at rates above market expectation. And whilst United Airlines are increasing capacity by 12% it seems that American Airlines and Delta Air Lines are adopting a more cautious approach to the market with less than average growth rates.
Such levels of growth from the legacy carriers clearly threatens the low-cost long-haul carriers but they don't appear to be bothered. Norwegian, through all their various names are increasing capacity by some 55% year on year making them the sixth largest airline across the Atlantic and that's without a hub operation adding traffic to their business.
Not surprisingly Heathrow remains the largest gateway across the Atlantic with some 4.45 million seats each way, that's 29,000 each day or the equivalent to filling a medium size sports stadium every day! Heathrow is currently twice as large as its nearest European competitor, Paris Charles de Gaulle although the collective capacity from CDG and ORY this winter is some 21% up at nearly 2 million seats.
Four major European airports, Dublin, Gatwick, Munich and Madrid are all planning on more than 25% increases in their capacity this winter to North America and with three of those airports benefiting directly from airlines within the IAG group it may be a message to others about protecting their most valuable of markets.
Amongst the North American airports, Chicago breaks through the one million winter seat mark with some 18% growth which places it within reach of Miami which is currently in 5th place. Other North American airports with above average capacity growth include Orlando, Los Angeles, San Francisco and Detroit.
However, New York JFK remains the clear market leader in North America with some 3.5 million seats, some 420,000 more than the previous year. Collectively the two New York airports will have over some 5 million seats; in comparison London will have 5.3 million which makes the two city pairs the dominant departing and arriving cities across the Atlantic.
With the current price of oil some 39% higher than this time last year and the strength of the US Dollar impacting some airlines cost as we head to the Winter an extra 2.1 million seats in each direction may be a few too many. One thing is for sure, there will be bargains to grab!