Often referred to as the world's largest mass migration, Chunyun, or the Spring Festival, can see as many as 3 billion trips being made in a more normal year. Coinciding with student breaks, and benefitting from a week of public holidays, vast numbers of students are joined by migrant workers and others returning home to spend time with their family. In more recent years, the Spring Festival is also a time when many have chosen to go on vacation, or return from overseas, causing a spike in both domestic and international air travel.
This year Chinese New Year falls on 12th February, and the celebrations culminate with the Lantern Festival on 26th February. This makes for a 16-day holiday period but only 11th-17th are public holidays. However, in practice, the festival can spread out over a 40-day period, from a bit more than 2 weeks before Chinese New Year to three and half weeks afterwards.
At the moment, it's still looking like the airlines are planning for bumper domestic scheduled capacity over this period, making up for the very limited international air services that are available. Comparing capacity by day over 40 days, and adjusted so that Chinese New Year occurs as the 16th day, it's clear that there is significantly more capacity this year than in 2019, and more than there was in 2020 until measures to address Covid-19 started to be implemented and China implemented the world's first Covid lockdown. Each year also shows the same steady build-up of airline capacity until just a day or two before the main holiday, at which point there is a significant reduction in flights.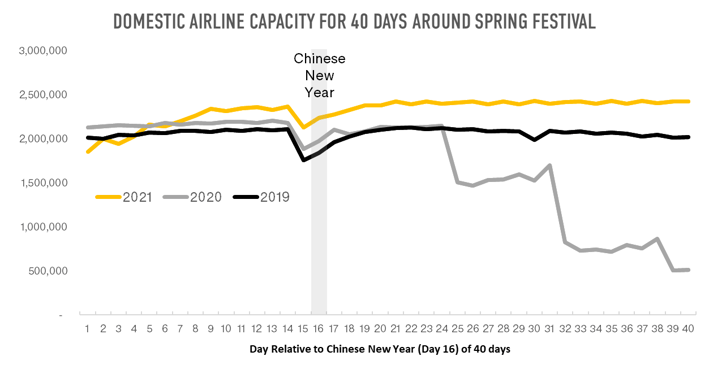 OAG Schedules Analyser
This year, it's looking like the build-up of capacity will continue after Chinese New Year, peaking around a week later. Of course this may simply be that the holiday occurs later in the year, on 12th February rather than 25th January in 2020 and on 5th February in 2019.
However, this is not the whole story. China recently experienced the highest daily cases – but no reported deaths – due to Covid-19 since last July, many centred around the northern Province of Hebei, neighbouring Beijing. There are 22 million people subject to a new state of lockdown and unable to leave their homes. The authorities, concerned about travel over the coming holiday period, are encouraging people not to travel and there are reports of local governments and businesses incentivising people to stay home throughout. A newly formed Pandemic Prevention Working Group is looking to ensure travel that does take place is staggered and will be monitoring passenger flows. Of course, much of the holiday travel is not by air but by rail and the trains are often fully booked at this time. China's Railway Authority are anticipating 407 million journeys between January 28th and March 8th.
The net result is that OAG is starting to see Chinese airlines withdraw capacity. Between the schedule on 18th January and 25th January a total of 4.8 million seats were removed, mostly in the next couple of weeks.
OAG Schedules Analyser
It may be too soon to know whether this is the start of a widespread scaling back of air travel for the holiday season but there are reasons to think it may not be. For instance, China has managed better than most countries to track and trace cases of the virus and take effective measures to stop its spread that way, and it has been swift to lockdown areas where the cases are growing. Another factor that may mean air travel continues is that the current pattern of capacity, and year over year capacity growth, points to travel taking place in parts of the country far from the current outbreak in the north.
As last year, the Number 1 air travel corridor by Province is between Guangdong and Shanghai, followed by Guangdong to and from Zhejiang to the south of Shanghai, and then by Guangdong to and from Jiangsu, to the noth of Shanghai. These areas are a long way from Beijing.
The travel corridors where the OAG schedule data currently shows the highest levels of year-over-year growth are Guangdong-Jiangsu, which currently shows 37% more seats over the 40 day period than last year, as well as Guangdong-Hainan, at +49%, and Guangdong-Yunnan at +42%.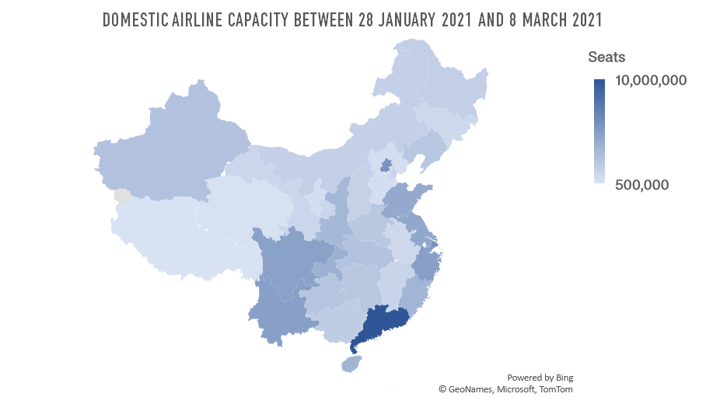 OAG Schedules Analyser
As the map below above shows, there is very clearly a concentration in departing capacity centred around Guangdong province. If the Chinese can take on the characteristics of the Ox, and work hard to keep the virus at bay, there may yet be plenty of travel around New Year.