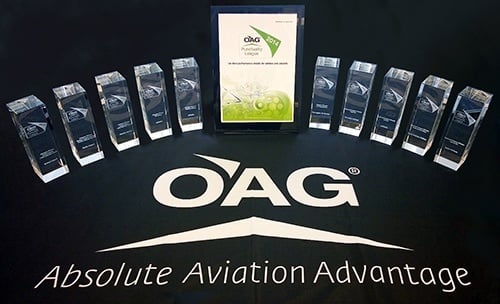 Congratulations to our Punctuality League winners!
It's been a busy week here at OAG HQ; no settling back in after Christmas and spending a day sorting through emails for us. Instead we were analysing all of our Flight Status data from 2014 to find out who the most punctual airlines and airports were.
The results are in and the big winners are Bristol Airport with an average 94.4% on-time performance and airBaltic with an average 94.9% OTP for the year.
Some key findings form the report include:
According to our report, while Bristol Airport (BRS) recorded the best on-time performance, with 94.4% of flights on time in 2014, nine of the top 20 performers in the small airport category achieved 90% of flights on time, a level of performance not replicated in the other categories. Fifteen of these 20 airports are in Europe.
There are eight North American airports in the 'Top 20'. Atlanta (ATL), the world's busiest airport in 2014, makes it to number 12 with 82.4% of flights on time. Dubai (DXB) also appears in the 'Top 20', ranked number 14, with 82.3% of flights on time. Beijing, predicted to soon replace Atlanta as the world's busiest airport, is the leading Chinese airport in the league but remains outside the 'Top 20', appearing at number 28 in terms of on-time performance.
When it comes to airlines, only the top three carriers in this category achieve nine out of 10 flights arriving on time. Latvia's national carrier, airBaltic, which operated some 3.9 million seats and 42,000 flights to 40 destinations from its main base in Riga, tops the League in 2014. Hawaiian Airlines, ranked number two, is one of only two US carriers in the 'Top 20', the other being Alaska Airlines, ranked at number 10. European carriers dominated the top airline category with 10 airlines falling within the 'Top 20' for 2014.
With the world's most comprehensive and definitive schedules database of more than 900 airlines, including 113 LCCs and 4,000 airports, OAG processes more than 21 million flight status updates every month, equivalent to 715,000 each day.