---
In contrast to news reports of weakness in the Chinese economy, there is no sign of weakness in the Chinese aviation market.

Whilst domestic capacity growth is undoubtedly enviable (8% this November versus last), international seats have also grown by 20% as Chinese carriers continue to seek expansion beyond their own borders. This growth has been driven by some star performing country markets.
At the top of the list is South Korea, which has 75% more seats to China than just 5 years ago. Japan also ranks highly, with November 2015 capacity sitting at a level 48% higher than the year before. There are also a staggering 48 new routes between China and Japan from points all over China, operated mostly by Chinese airlines. Vietnam, Thailand, Australia and the US also feature and similar patterns are emerging of strong growth in capacity over the last year, delivered mainly by Chinese carriers.
Chinese carriers operate 90% of direct services between China and Australia and are adding double the amount of frequencies on China-US routes than US carriers. Understand more behind this remarkable growth story and discover which next markets are the ones to watch in OAG's latest report, China to the World – available now.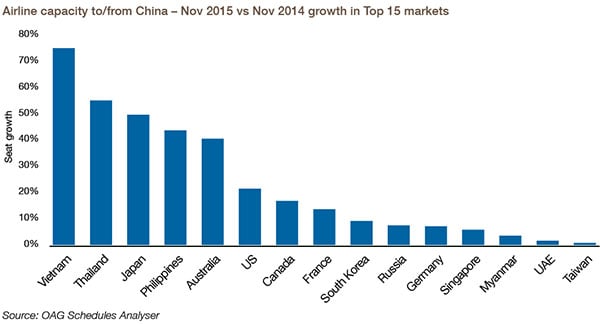 If you liked this post, you may also like: