The Virgin brand has always been different, a global phenomenon full of amazing success stories. It was the first airline to offer a premium economy seat, and to serve ice cream in-flight. It is a challenger brand with innovation at its heart and a fearless 'fail fast' approach.
---
Does anyone remember Virgin Cola, Vodka, Cars, Brides, Megastores or indeed Cosmetics? There was also Little Red, the attempted domestic carrier using wet-leased Aer Lingus aircraft. It lost out trying to compete with British Airways, which proved that high-frequency services will always beat a three-a-day proposition.
Virgin Atlantic's unique brand identity has led it to many an accolade, achieving the APEX 5* Global Airline Rating 2021 for the 4th year running and it is a Skytrax 4*Certified airline. A forerunner in creating personality behind the passenger experience and changing to innovate.
The Virgin Group brand personality and mantra of failing fast is also reflected in the airline's approach to its network. The latest announcement of dropping scheduled services to Pakistan makes us reflect on how it has managed its network strategy and destination churn in recent years.
Some Network Churn Is Good
Every airline has a degree of network churn and it is good practice to have a churn of destinations; markets change, leisure destinations become more fashionable, political events impact corporate demand and even movements in exchange rates can make one destination more popular than another. Some airlines even have a strategy of always reviewing and generally dropping four or five routes per annum as they seek to drive higher returns from their networks. But does Virgin do it more than most?
Since 2010, Virgin Atlantic has operated some eighty-one long-haul airport pairs, of which forty are scheduled to operate in the Summer 2023 season; a churn rate of over 50% in less than 12 years. Some of that churn was a result of vacating London Gatwick and relocating the entire network to London Heathrow during the pandemic, but even allowing for that move the amount of churn is considerably higher than many long-haul airlines which typically view long-haul markets as providing longer-term returns.
The table below shows just some of the routes the airline has dropped since 2010 and in some ways highlights one of the challenges of the Virgin network with its focus in particular parts of the world. Services to Accra, Nairobi, Vancouver, Sydney, Tokyo and Dubai are prime examples of the fragmented and experimental nature of the network. Given Virgin Atlantic's traditional reliance on its holiday division to sell the economy cabin on its flights, services that are not mass-market leisure destinations from the UK such as Accra, Nairobi and Tokyo may face challenges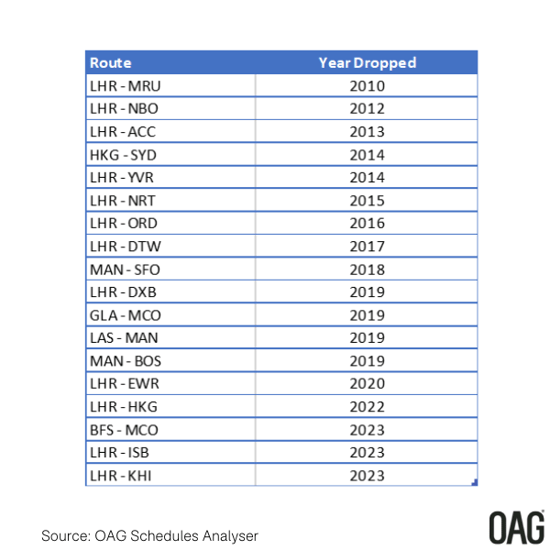 Three Years And You're Out!
It's broadly accepted amongst network planners that you know whether a short-haul route is going to be successful within the first six months of operation and in the case of low-cost airlines probably within the first few months of service. For long-haul services, determining the probability of success can take longer; there may be more of a seasonality issue in the market, forward booking curves may be longer and building connectivity through partnerships can take time. Typically an airline starting a new long-haul service will give the route four to five years to develop; but not Virgin.
Since 2010 several quite significant long-haul markets have been dropped by the airline within three years of the route being launched. Vancouver, Detroit and Mumbai all failed to survive the three-year itch! Detroit may be considered a broader alliance network decision given it's a major hub for Delta Air Lines who have a major shareholding in Virgin Atlantic, but the investment costs of launching new long-haul routes and then dropping them within three years must be painful for all concerned.
Play To Your Strengths
In any business the strategy must be to play to your strengths, identify those areas or markets in which you believe you have an advantage and maximise the opportunities that exist. In the case of the Virgin Atlantic brand there is a huge clue in the name: "Atlantic". It is quite simply where the airline has the greatest share of its capacity and the greatest share of its revenue. As the chart below highlights, pre-pandemic some 85 % of all revenues were generated from either a European or North American area of sale; in 2022 the share from those two regions had slipped slightly to 83% despite the addition of new destinations such as the two in Pakistan.
---
---
Whilst from a network risk and revenue perspective an exposure of such magnitude to two markets may seem high, it equally reflects the strength of the Virgin Atlantic brand in those regions and of course the benefits of being a major partner of Delta Air Lines and the broader Skyteam Alliance in the coming years. Ultimately, it's not wrong to focus on your core strengths and although trying new markets in other regions of the world may be interesting for Virgin Atlantic, the probability of long-term success seems low.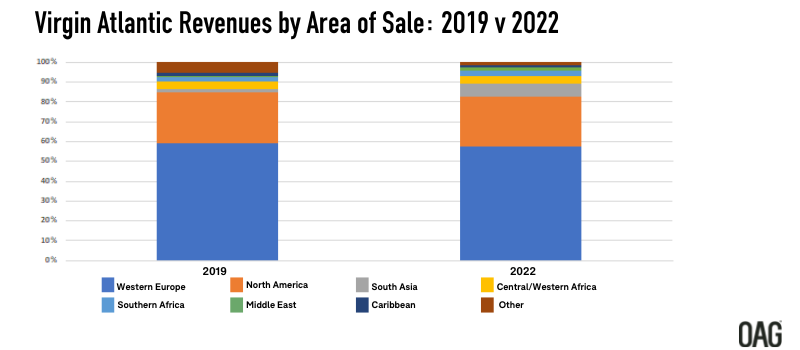 The "Follow Me" Strategy
So, if Virgin Atlantic is perhaps wise to focus on the North Atlantic, the key question is where do they go next? And that answer may be staring their pilots right in the face when they arrive at many airports around the world; the "Follow Me" operations vans could describe the way forward.
The North Atlantic market is one of the most lucrative in the world. The bounce back from the pandemic has been exceptionally strong, in part fuelled by the strength of the US Dollar against both the Euro and British Pound. In the past, much of Virgin's network development was based around jumping into mature markets where their major competitor, British Airways, had a significant presence. Is it time to return to that strategy?
Below are the North Atlantic destinations that will be served by Virgin Atlantic and British Airways this summer with the frequency planned over the season, using data from OAG's Schedules Analyser.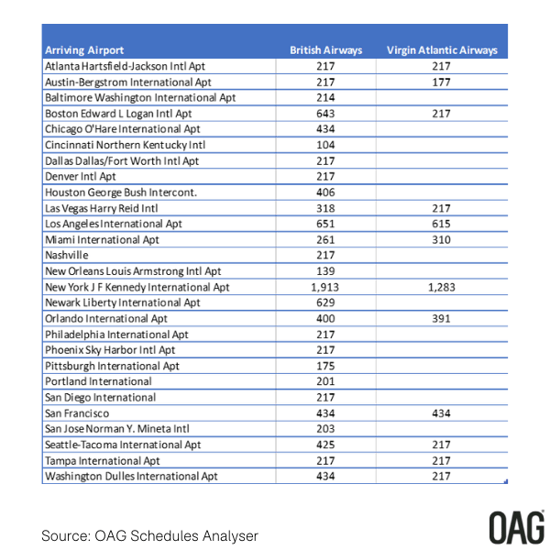 In total there are fifteen US cities and airports that are served by British Airways but not served by Virgin Atlantic, including some interestingly large markets such as Dallas/Ft Worth and Houston where the cachet of the Virgin Brand would be well received by the market, regardless of entering a competing alliance hub. Ultimately every airline needs to constantly review its network, adjust its schedules and frequencies as necessary and churn some destinations to keep its business relevant. In the case of Virgin Atlantic, as the Pakistan experiment has proven, they may just have been trying too hard and the answer was on the aircraft fuselage all the time!
---
Recommended: