It seems that even the most mature markets are capable of a growth spurt.
Asset utilisation has been a buzz word for airlines in recent years, getting as many hours flying on an aircraft as possible, pushing productivity to record levels and running an efficient business operation. For airports though that isn't quite as easy, especially when geography plays a part in where you fit in the market and the opportunities.
The planned US $13 billion redevelopment of New York JFK has started with a planned completion by 2025 at which point two new international terminals will have been constructed and four million square feet of space created. All very much needed as any traveller via JFK will know but how effective is the airports utilisation at the moment?
Using the OAG Bank Structure report, we ran a comparison of the number of scheduled passenger movements at JFK against some of its peers, including Los Angeles, Chicago, Atlanta and Houston.
As the scatter graph below shows, JFK at least in terms of frequencies has a relatively low number of inbound frequencies throughout the day compared to its peers. Indeed, between 06:00 and 11:59 there are only some 129 arrivals at the airport spread across the six operating terminals.
Chart 1 – Scheduled Arrivals at JFK and Other Major US Hubs by hour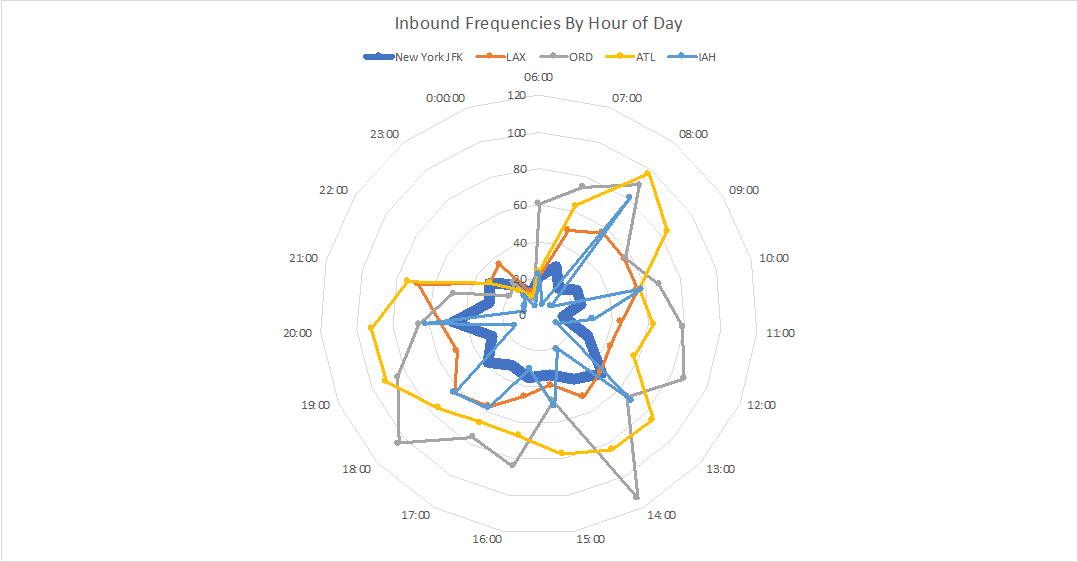 Source: OAG Schedules Analyser, Based on Wednesday 21st November 2018
Outbound departures from JFK also follow a similar type of pattern although the peak departing hour of the day is between 08:00 – 08:59 with 47 flights by 10:00 that has fallen to 20 departures. By means of comparison, in its peak hour Atlanta dispatches some 106 services and Chicago O'Hare has three hours of the day with more than 90 departures.
Chart 2 – Scheduled Departures at JFK and Other Major US Hubs by hour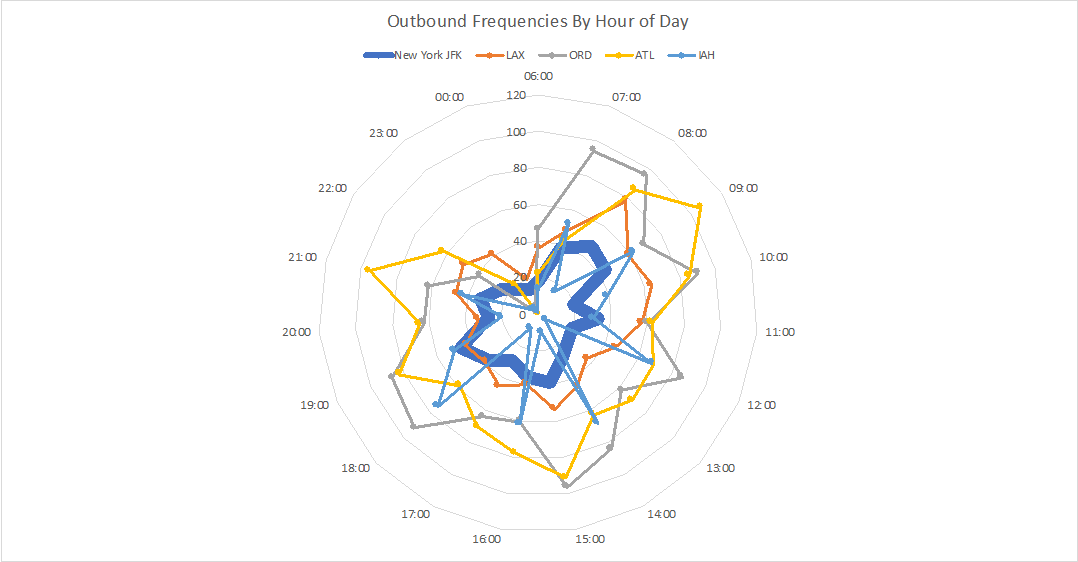 Source: OAG Schedules Analyser, Based on Wednesday 21st November 2018

The data perhaps suggest that compared to others, JFK should perhaps focus on better use of its assets before embarking on the development programme but perhaps this is a case of where geography just cannot be beaten!
In classic business strategy language, the strength of JFK is also perhaps it's weakness. This winter, the airport will handle some 7 million seats to and from the United States to Europe; twice as many as its closest competitor at Newark and nearly three times more than Los Angeles. New York and JFK's flagship location on the East Coast makes it the number one market for many airlines to operate from Europe and with that enviable position comes the reality that a 5-hour time difference and generally mid to late morning departures from Europe mean lunchtime arrivals in the Big Apple at best.
And geography also plays a part in the local market as well with for many travellers Newark and LaGuardia perhaps offering a more convenient early morning option than travelling out or in from Long Island. La Guardia consistently runs at near to its full capacity throughout the day for both arrivals and departures whilst at Newark inbound frequencies peak at 51 in the 08:00 – 08:59 hour compared to only 18 arrivals in JFK.
For JFK the US £13 billion development is in the eyes of many long overdue. But ultimately it cannot overcome the geographic challenge or strength that the airport enjoys. What it does do of course is provide some nice quiet morning down time for the major development work to be done!