---
Once again we've had a busy first week back in the office at OAG HQ; with no time to eat the last of the Christmas goodies or start our January health kick. Instead, we've been crunching numbers and analysing all of our 2015 Flight Status data to find out who topped our second annual Punctuality League.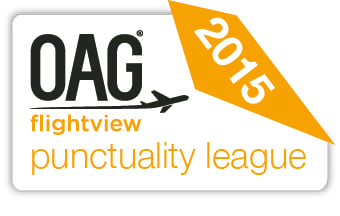 So we're delighted to announce the big winners are Osaka with 93.8% average on-time performance and for the second year in a row, airBaltic with an average of 94.4% of flights arriving on time in 2015.
Some key findings from our report include:
Japan continues to lead the way in punctuality – Osaka and Tokyo Haneda top our small and large airport categories, with both airports ensuring over 90% of flights arrive and depart on time.
Low-cost carriers are working hard to improve punctuality, with our Top 20 LCCs performing significantly better than last year.
OAG's geographic coverage has also been enhanced with the acquisition of Flightview and we are delighted to be able to include some of Latin America's most prominent airports and airlines in our 2015 Punctuality League as well as expanding our coverage elsewhere.
As we enter a new year, on-time performance remains high-profile and the subject of a recent debate about how and whether the tracking and measurement of on-time performance influences the scheduling of flights. The good news is that operational performance appears to have improved over the past year, with more flights arriving on time. We will watch with interest what 2016 brings!


To download the full report, click the button below.
If you liked this post, you may also like: