One of the last major Barack Obama initiatives was the formalisation of diplomatic relations with Cuba and of course the re-opening of scheduled air services between the two countries. Much was made of the new market opportunities; a plethora of new services were announced and yet only seven months later, capacity is ebbing back as carriers drop frequencies. Does the recent reductions in capacity reflect a market that has not lived up to initial expectations or was too much capacity added too quickly?
Assessing the possible demand for scheduled services in a market that has been closed for many years is very difficult; a degree of "scientific guessing" is inevitable. Capital city connectivity is a given, major ethnic flows are well known as well as potential leisure markets established from similar source markets. Major legacy and low-cost airlines need to add services to build their networks, smaller niche carriers view specific opportunities and some operators tip-toe in the water to see if they can generate some revenue. And that's probably what happened between the United States and Cuba.
While new flights, especially from low-cost airlines, stimulate interest from curious travellers about destinations, so too, their interest. The latent demand for travel in underserved markets is a beacon for airlines looking for opportunities to expand and develop air services.
In Eastern Europe we see all of this. Ryanair and Wizz Air are expanding fast and some legacy carriers are looking to grow their networks. At the same time, air traveller interest may never have been higher.
As the table below shows capacity only really increased significantly in December 2016 as airlines waited for the seasonal holiday period to support the introduction of new services. Prior to December, the already-established PublicServiceCharters.com operation and an American Airlines service to Holguín represented the whole market. In the case of American, the airline added some 26,000 one-way seats to the market in September from a zero base in August.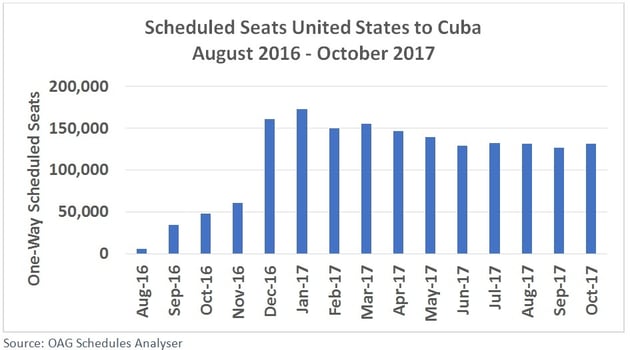 December 2016 was the launch month for new airlines and services. Southwest, Delta Air Lines, Spirit and Frontier all launched operations whilst JetBlue tripled its capacity from the previous month. Suddenly, in the space of one month available, capacity grew from 60,390 one-way seats to 160,648; some increase for a market that was only just opening.
By December 2016, ten airlines were offering scheduled services across twenty-two city pairs; only three months earlier in August, five airlines were operating to five city pairs. Such growth in capacity and the corresponding increase in demand has rarely been seen elsewhere and whilst some of this may have reflected pent up demand for direct services, it is hard to believe that such a capacity increase was likely to hold in the market.
Inevitably some cut backs in capacity have occurred since the opening of the market and capacity looks to be settling at around 135,000 one-way seats a month, some 20% down from the January peak. However, its still reflecting a near four-fold increase on capacity from the September 2016 levels when American Airlines first launched scheduled services.
Operating plans for the IATA Winter Season are still being finalised by airlines but there is no reason to believe that the current levels of capacity will be reduced heading into the second year of market access. The legacy carriers require Cuba as part of their network portfolio whilst the low-cost airlines fit with the market is obvious to all. The plethora may have passed and ebbed a little but Cuba is now an integral part of every major US airline's networks.