UK's Busiest Route in April 2021 is Isles of Scilly to Land's End
The fact that aviation is going through its toughest time ever, with airlines and airports operating a fraction of the scheduled capacity that used to be the norm, also means the data throws up some strange facts. Airports and flight routes which were minor players, overshadowed by international airlines and major hub airports, can now find their 15 minutes of fame.
In April 2021, heading the list of Top 10 routes from UK airports is Land's End (LEQ) to Isles of Scilly (ISC). This 20-minute hop from the southernmost tip of mainland UK to a small archipelago of five inhabited islands (as well as a few that are home to only birds and wildlife) has more flights than any other route. It has even increased the number of flights operating from 345 two years ago to 363 this month.
Of course, it's still small in terms of the overall number of passengers carried, with each flight having capacity for only 19 passengers, though many flights appear to be fully booked. With one-way flights selling for nearly £100 maybe the Isles of Scilly Skybus is one airline that is still making money.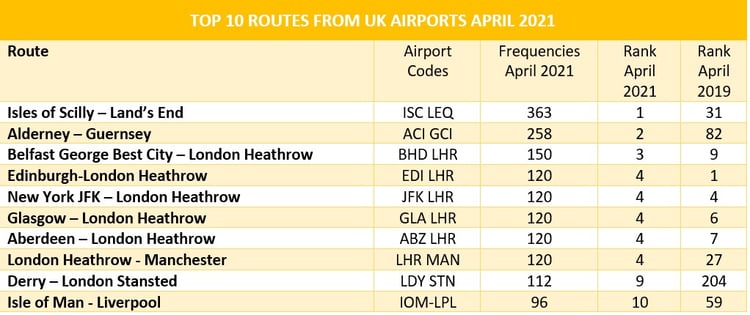 Source: OAG
More seriously, this demonstrates how much has changed in UK aviation over the past year. Isles of Scilly to Land's End, previously ranked 31st, may have risen up the rankings but so too has the Channel Islands route between Alderney and Guernsey, previously ranked 82nd, and now the second busiest route. Another three routes now move into the Top 10; Heathrow to Manchester, which has moved from 27th to 8th; Derry to Stansted which has risen from 204th place to 9th; and Isle of Man to Liverpool which now ranks 10th.
It's not that domestic routes were not significant before the pandemic; six of the Top 10 routes were domestic. What is different is the massive reduction in flights operating on what were the busiest routes. London Heathrow - Edinburgh, formerly the busiest route and heavily used route by business travellers, averaged 33 flights each day in April 2019. Today that has been reduced to just a pair of return flights each day. The fact that a route with just two rotations each day is ranked in joint 4th place shows just how little flying is taking place.

Source: OAG Mapper
So, until borders re-open, travel restrictions ease, and pent-up demand for air travel can be realised, we'll continue to see routes such as the Isles of Scilly to Land's End route enjoy their moment in the limelight.