---
We know that aviation is frequently a catalyst for economic activity and that trade flourishes when countries develop direct air services but the impact of sudden changes in relationships can be dramatic.
China and the United States continue to be at loggerheads in their dispute over tariffs and we have looked at the impact of this on overall demand elsewhere. But perhaps largely unnoticed outside of North-East Asia is the increasingly damaging dispute between South Korea and Japan that has seen trade collapse and airline capacity fall in line with the increasing rhetoric.
Dramatic Capacity Cuts
The chart below highlights a dramatic reduction in capacity with some 47,600 one-way seats dropped between the two countries, the equivalent of a 20% reduction is seats in a 10-week period. In total over 230 flights a week have been dropped between the two markets representing a serious and almost unprecedented drop in capacity in such a short period of time.
Chart 1- Scheduled Airline Capacity Japan – South Korea, Summer 2019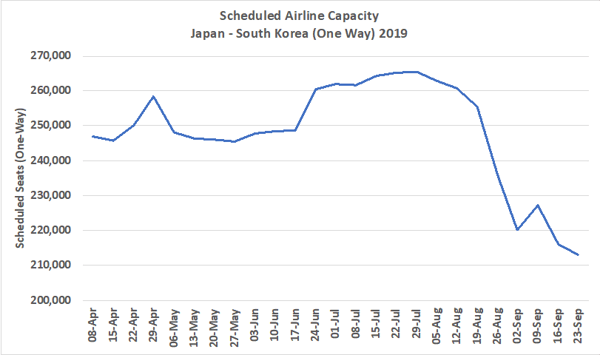 Source: OAG Schedules Analyser
Immediate Response from Low-Cost Airlines
The Japan – South Korea market has for many years been very competitive and some thirteen airlines, including one fifth freedom carrier operate between the two markets. Over half of those carriers have reduced capacity and in the case of two airlines Jin Air and Air Seoul more than 40% of their capacity has been dropped in the last two months as trade tensions increase. Perhaps the most noticeable development has been the speed with which low-cost airlines have responded, collectively the seven operating airlines have cut capacity by 25% whilst the legacy carriers capacity reductions have been closer to 12%.
Table 1 – Scheduled Airline Capacity Japan – South Korea, Summer 2019

Source: OAG Schedules Analyser
Expensive Cost for Tier Two Japanese Airports
The impact of such a sudden loss of capacity can be particularly damaging to Tier Two regional airports where such international services can have a higher impact on both general trade activity and tourism. Some 26 airports from Japan had scheduled services to South Korea in July and only one of those, Toyama appears to have lost their link with Air Seoul having dropped their three times weekly service from the 9th September.
However, some eight airports have seen capacity reduced by 20% or more and Kitakyushu, Oita and Yonago have all seen 40% plus reductions in seats offered whilst Okinawa, almost entirely dependent on tourism has seen a reduction of close to 4,000 seats a week with subsequent impact on hotel accommodation and visitor spend.
Table 2 – Scheduled Airline Capacity by Departing Japanese Airport, Summer 2019
Source: OAG Schedules Analyser
Trade disputes are generally resolved over a period of time and quite frequently airline capacity recovers just as quickly. In this particular case the levels of capacity reduction are severe and the impact for the airlines, airports and surrounding regions probably larger than anyone could have imagined. Japanese regional airports are not well served with international capacity, Incheon for many being the only hub with connectivity and whilst this may be a bi-lateral dispute the implication in those markets may have a wider global reach than originally considered.
Perhaps that is the law of unintentional consequences being applied…..