There's no doubt that Thailand's tourism industry has suffered as a result of the travel restrictions in place for international travel. Now, all eyes are on Thailand as it tests the water with opening up. As of 1st November, Thailand introduced Test & Go, an easing of travel restrictions allowing vaccinated travellers from 63 'low risk' countries to enter quarantine free. This is the most significant change in travel rules in South East Asia for some time, but will this be the boost needed to revitalise tourism to this formally popular destination?
Before the pandemic, scheduled airlines to and from Thailand carried around 73 million international passengers a year. Of these, around 65% had a foreign point of origin. Assuming every tourist on a flight takes a flight into the country and another home again, that makes for a market of 24 million international arrivals by air.
In theory, Test & Go has the potential to reboot Thailand's tourism industry, given the 63 countries on the permitted list would have included 91% of all inbound air passengers in 2019.
The Only Way Is Up
In contrast to the sizeable traffic volumes in 2019, this past August saw just 108,000 passenger arrivals by air into Thailand from abroad. While the top performing countries were largely similar to before the pandemic, at least in ranking, if not in volume, there were some traditional origin markets that have slipped far down the rankings. Most noticeably China, Malaysia and Vietnam, all close neighbours, have seen dramatic reductions in air travel to Thailand.
Hopefully the new measures will be enough to get people travelling again, especially if the prospect of lengthy quarantine on arrival was a major factor in deterring would-be travellers. The fact that arrivals no longer need to quarantine is not the same as removing all restrictions, however. Travellers can qualify for the new system if they are fully vaccinated and have a certificate for one of the approved vaccines. They must also book a hotel on arrival for at least one night and have pre-arranged transport from the airport to the designated hotel. The one-night hotel package must include a PCR test and antigen test. There are 50 hotels listed as taking part in the scheme in Bangkok.
In addition, travellers must have downloaded the Thailand Pass QR code, must be arriving by air, must have had a PCR test within 72 hours of travelling and must have covid insurance. Long gone are the days of just packing your passport.
Is Airline Capacity Now the Constraint?
While the travel restrictions may have been eased, will airline capacity come back in sufficient volumes to handle potential travellers? In December 2019, two years ago, there were 5 million scheduled airline seats into and out of Thailand. In December this year there are 682,000, just 14% of the former volume. The biggest single loss is China where there were 1.1 million airline seats previously and currently virtually none. But it's not just China. All the major airline markets are operating at a fraction of their previous levels and the other Top 10 origin markets have between 7% and 25% of the capacity scheduled this December that operated in December 2019.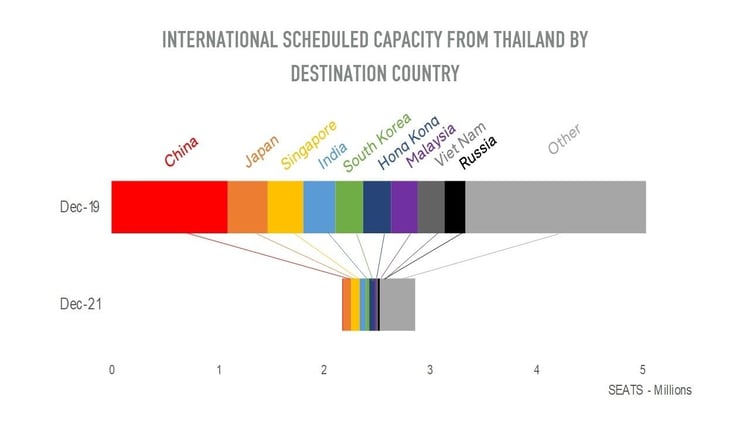 Source: OAG
As we look forward to the airline schedules of the next few months the signs are positive. December 2021 capacity shows a marked uptick in seats being flown by airlines and moving into the new year the trend continues. By January 2022 it is looking as if scheduled international capacity will be at 20% of the level it was in January 2019, and rise to 27% by March 2022.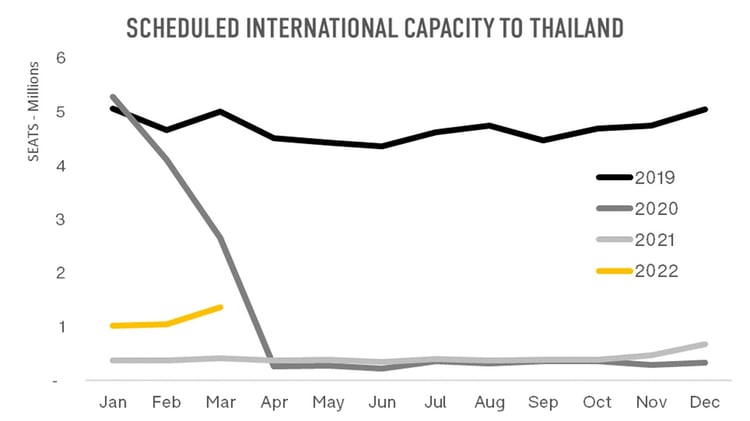 Source: OAG
This is good but the increase in capacity may be hampered by the ability of airlines to respond to a more positive market situation. In January 2022 there are only 77 airlines with scheduled capacity to Thailand, compared to 129 in January 2019. Thai Lion Air, Thai Air Asia X, NokScoot Airlines, Nok Air, SilkAir, Nord Wind, Rossiya Airlines, to name a few, will not be flying it seems. Some airlines are using the moment to come back more strongly than others; Singapore Airlines, IndiGo, SpiceJet and Finnair are a few that are expanding back into the Thai market faster than other carriers, spotting an opportunity or just needing somewhere to place their idle aircraft. Either way, Thai tourism doesn't seem to be out of the woods any time soon.