Our flight data provides insight into popular destinations for work and leisure, both present and up-and-coming. As IATA's summer season schedule is soon to start, now is a good time to look at the busiest international flight routes this month, using OAG's Schedule Analyser data.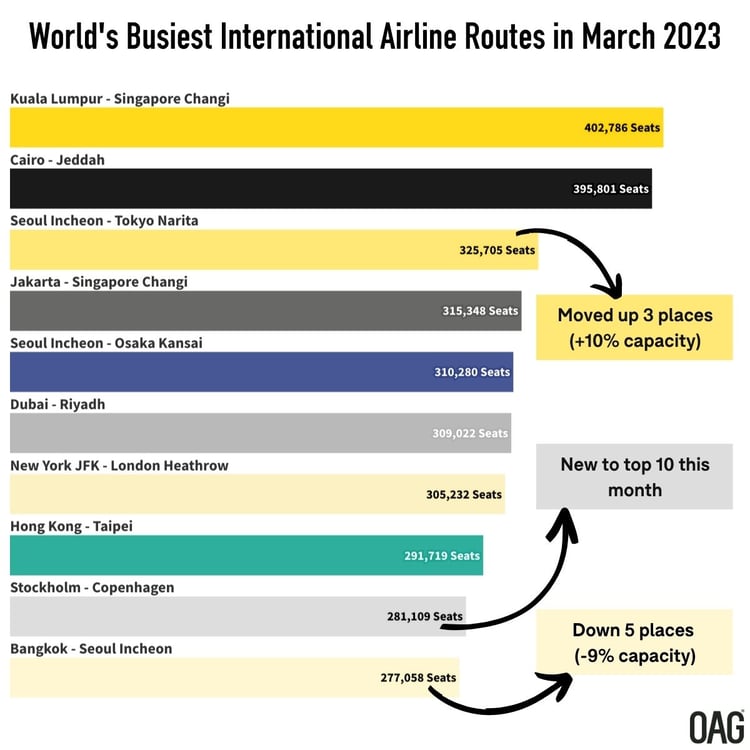 Kuala Lumpur (KUL) - Singapore (SIN) sits at the top of the list of busiest international routes this month. It's a short route (on average 185 miles) but popular for both leisure and business travelers.
The Bangkok (BKK)-Seoul Incheon (ICN) route saw capacity reduce by 9% in March, bringing it down 5 places from last month, to sit in 10th place.
Moving up is Stockholm (ARN) - Copenhagen (CPH), which enters the top 10 with 281,109 seats. Seoul Incheon (ICN) - Tokyo Narita (NRT) also moved up, by 3 places. A 10% capacity increase means there is a total of 325,705 seats on the route and it sits in third place.
Every month we track the busiest international and domestic airline routes. This month, other notable movements include:
Of the top ten global domestic routes, Beijing (PEK) – Shanghai (SHA) has had the biggest capacity increase this month compared to last, with 14% more seats.
In China, the routes moving into the top ten rankings are Guangzhou (CAN) – Beijing (PEK) and Beijing Daxing (PKX) – Shenzhen (SZX), while Chongqing (CKG) – Shenzhen (SZX) and Guangzhou (CAN) – Chengdu (CTU) drop out.
For the US, Newark (EWR) – Orlando (MCO) has dropped out of the top 10 for March, to be replaced by Atlanta (ATL) – Tampa (TPA) which is in tenth place.
Explore all the latest flight data and download your copy here.
---
Recommended: