Vienna has a reputation as a solid market. Solid in that it ranks among the Top 20 airports in Europe by capacity. Solid in that the home carrier, Austrian Airlines, has a significant share of capacity but not so much to scare off competitors.
Solid in that Vienna sits at the heart of Europe and most of the traffic it handles is between European countries with few visa and travel restrictions. And solid in that the low-cost airline presence has been relatively limited, allowing legacy carriers to maintain respectable yields.
All that may be changing. The last two years have seen four low-cost carriers – Laudamotion, Wizzair, Level and easyJet - ramping up capacity; the number of seats offered by low-cost airlines has risen by 55% in this period and easyJet alone has added almost 400,000 seats in the past year.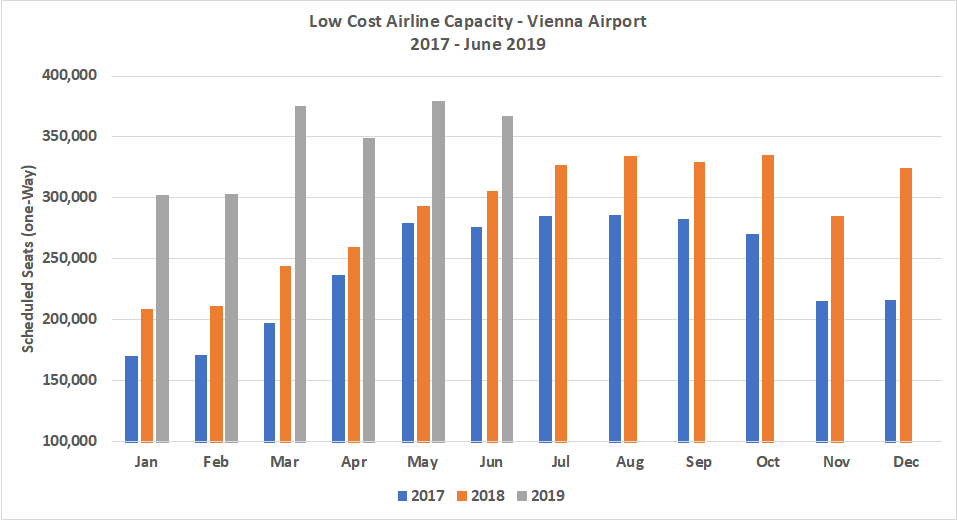 Source: OAG Schedules Analyser
While legacy carriers still control 80% of the market, many of the low-cost airline routes at Vienna duplicate routes offered by legacy airlines. Where does this lead? Inevitably it leads to more competition and lower fares. Good news for travellers to and from Vienna, but a less solid future, perhaps, for the airport itself.